Villach in Austria has a small but popular Christmas market, attracting visitors with its unique stalls and central location.
In this guide, I will detail the best hotels near Villach Christmas Market, prioritising hotel quality and proximity to the market.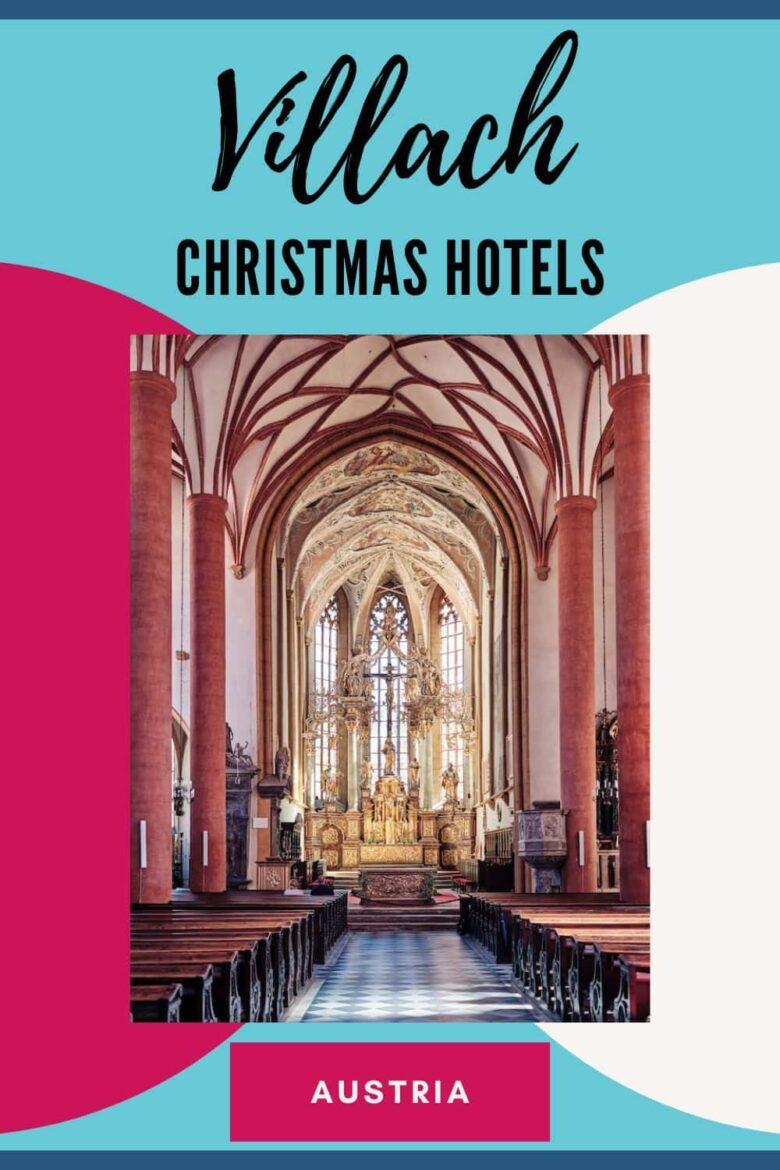 Hotels Near Villach Christmas Market
For convenient access to the Christmas market in Rathausplatz, staying in the historic Old Town of Villach is advisable. This area is a short walking distance to the market and is well-connected by public transport if you're arriving by train.
My top hotel pick, providing a balance of comfort and accessibility, is located in this very district.
Top Pick
Hotel Goldenes Lamm
Address: Hauptplatz 1, Villach
Neighbourhood: Old Town
Distance to the Christmas market: 2-minute walk (200 metres)
Hotel Goldenes Lamm is a well-situated hotel in the city centre of Villach, surrounded by a variety of shops and restaurants. The rooms are clean, recently renovated, and equipped with conveniences such as a kettle with tea and coffee facilities. Guests have praised the quiet, comfortable rooms, spacious bathrooms, and excellent food in the attached restaurant, where hotel guests receive a 10 per cent discount. Additional amenities include a well-regarded breakfast, bicycle storage, charging stations, and notably attentive staff.
Features:
Distinctive decor and design.
Stylish rooms with ample natural light.
Huge selection for breakfast.
Great location near Schiller Park and the Drava River.
Sustainability:
Efforts are made to minimise food waste.
Most food at the hotel is locally sourced.
Vegetarian and vegan menus are available.
Pros: City centre location; renovated rooms; generous breakfast.
Cons: Small hotel with limited on-site amenities.
Check Availability
In addition to Boutique Hotel Goldenes Lamm, I'll share a couple of other hotel options near the Christmas market.
These alternatives vary in aspects such as location, style, and eco-friendliness, providing you with a tailored selection to meet your preferences.
Next Best
Hotel Palais26
Address: Hauptplatz 26, Villach, Austria
Neighbourhood: Old Town
Distance to the Christmas market: 1-minute walk (100 metres)
Hotel Palais26 is located on a pedestrian street in a historically significant building close to the central square in Villach. The hotel is known for its attentive staff and unique, tasty breakfast offerings. Despite being in an old, historic structure, guests have reported that the rooms are surprisingly quiet and spacious. Notably, the hotel also provides convenient parking options.
Budget Hotel
Hotel City
Address: Bahnhofplatz 3, Villach, Austria.
Neighbourhood: Train Station
Distance to the Christmas market: 8-minute walk (700 metres)
Hotel City is situated conveniently across from the train station, making it an easy choice for short stays or transit visits. The hotel staff are known for their helpfulness, and the city centre, with its restaurants and attractions, is within easy walking distance. Rooms at this budget hotel are comfortable, featuring good-sized beds, large bathrooms, and ample storage. Guests can benefit from a varied breakfast selection, a small reading room for relaxation, and the use of 100% renewable electricity. Parking is also available in reserved spots in front of the hotel.
Luxury Hotel
Voco Villach
Address: Europaplatz 2, Villach, Austria
Neighbourhood: Train Station
Distance to the Christmas market: 6-minute walk (550 metres)
Voco Villach is a luxury hotel located near both the Villach Hauptbahnhof train station and the Old Town centre, known for its bars, restaurants, and shops. The hotel rooms offer striking views of the river, the city, and the Alps, and they come well-equipped with modern amenities for charging devices. Guests can enjoy a generous breakfast with an excellent range of choices, including gluten-free options. The hotel also features a well-equipped gym and sauna, aligning with its focus on sustainability.
Apartment Stay
City Appartements Villach
Address: Widmanngasse 23, Villach, Austria
Neighbourhood: Old Town
Distance to the Christmas market: 3-minute walk (200 metres)
City Appartements Villach is situated in the heart of Villach, making it an ideal choice for those who want to be close to the city centre and Rathausplatz. These newly built apartments are designed specifically for short and long stays, equipped with two bedrooms, a living room, a kitchen, and a terrace. The host is readily available for any inquiries, responding in a timely manner. The property also provides an underground car park and uses 100% renewable electricity.
In my guide to the Villach Christmas Market, you'll find essential information such as the latest dates, opening times, locations, and a focus on local Christmas specialties.

For a broader look at seasonal festivities, my Austria Christmas Markets 2023 guide provides details to help you plan an itinerary that includes various holiday markets across the country.
Sustainable Travel Tips
Here are some tips on travelling more responsibly in Villach this Christmas, including the selection of a sustainable hotel close to the Christmas market.
Eco-Friendly Accommodation: When booking your stay, prioritise hotels that are committed to sustainability. In Villach, you'll find establishments that operate on 100% renewable energy, which considerably lowers your carbon footprint during your visit. The proximity to the Christmas market means less need for transport, further reducing your environmental impact.
Minimising Food Waste: The Christmas markets in Villach are a gastronomic delight, serving traditional Austrian foods. While it's tempting to overindulge, aim to only order what you can eat. Many food stalls will allow you to bring your own reusable containers for takeaways, reducing the need for single-use plastics.
Ethical Consumption: Villach's markets feature an array of handcrafted items and souvenirs. It's easy to get carried away with the shopping, but consider your real needs and storage capabilities before making a purchase. Local crafts make meaningful gifts and support the community, so choose wisely.
Sustainable Transport: Villach is a walkable city, especially during the Christmas season when many of the main attractions are in close proximity. Opt for walking or cycling to the Christmas market and other venues. Should you need to go further, the city's public transport is efficient and often runs on clean energy, making it a responsible choice for getting around.
By incorporating these tips into your travel plans, you're contributing to a more sustainable holiday experience in Villach.
Further Information
On Visit Villach, you'll find detailed neighbourhood guides to enrich your understanding of various locales within the city. For trip planning, you can read practical tips and event information, making it easier for you to maximise your time and explore what interests you most.
If you have questions or want to leave a hotel review, please do so in the comments.
Recommendations are independently chosen based on personal travel experiences and extensive research. This post contains affiliate links to hotels in Villach, Austria. This means I get a small commission from any bookings at no extra cost to you.