Chicago Christmas Market is by far the most festive and entertaining winter event in the country. I know that's a bold statement, but it really is well-loved and deservedly so.
Known locally as Christkindlmarket, the timber Christmas chalets have lined Daley Plaza since the event's beginnings back in 1996. But in 2023, it's going to be bigger and more festive than ever.
In this guide, I share the latest details, including confirmed dates, opening times and the best Christmas stalls.
Christkindlmarket Chicago is inspired by Nuremberg's traditional, historic German Christmas market. You can spot the influences in the timber chalets' red and white striped roofs and images of Nuremberg's unique Christmas angel, Christkind.
Chicago Christmas Market 2023
There are more than 50 stalls at the Christmas markets in Chicago, plus a huge range of food stalls. Enter at West Washington Street and walk in a loop to take in everything on offer.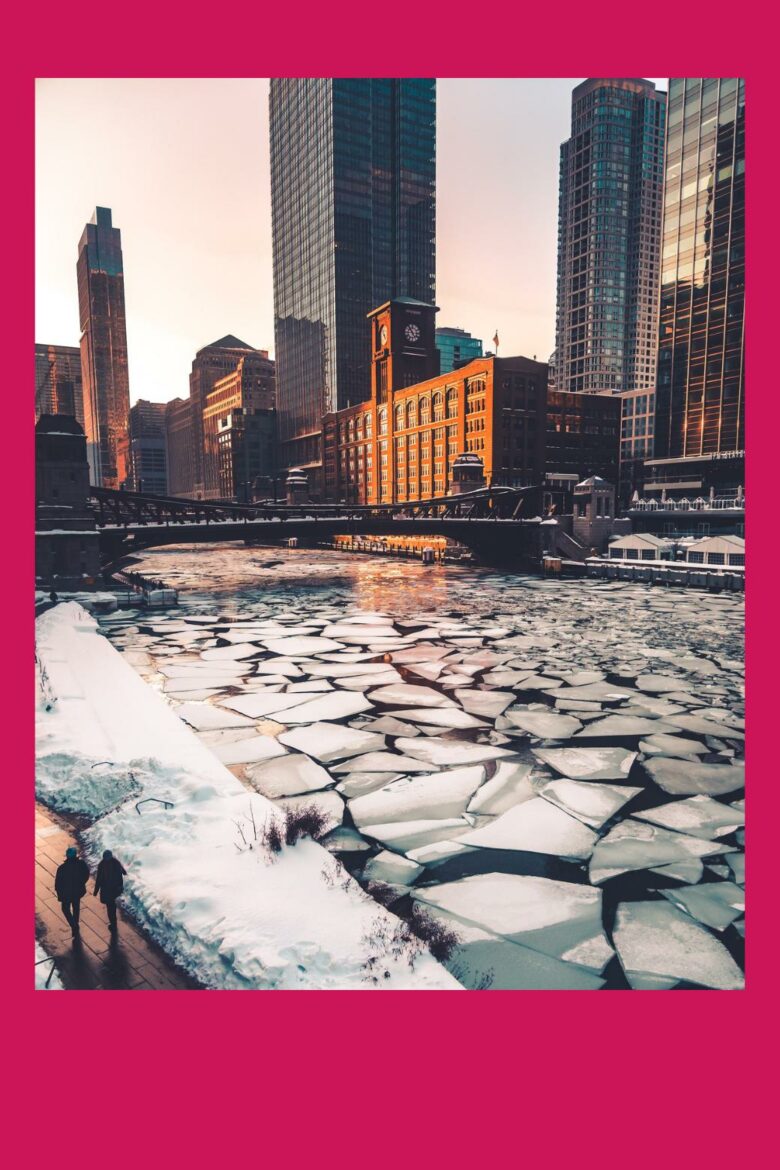 Some great, unique Christmas gifts available include:
Bavarian beer glasses.
Glass ornaments, including wildlife-themed ornaments.
Traditional folk crafts from Eastern Europe.
Cuckoo clocks from the Black Forest in Germany.
Meinel tablecloths and doilies from Germany.
Handcrafted figurines and carved wooden animals from Leipzig.
Alpaca scarves, beanies and plush toys.
Dates and Location
Chicago Christmas Market dates: 17th November to 24th December 2023.
Location: Daley Plaza.
Opening times: 11am to 8pm (closes at 9pm on Fridays and Saturdays).
Thanksgiving: 11am to 4pm.
Christmas Eve: 11am to 4pm.
Christmas Day: Closed.
Admission: Free, no tickets required.
Santa: Yes and Christkind.
Ice skating: Not at Christkindlmarket but at Millennium Park. See here for more information.
Vegetarian: Yes, plenty of options.
Vegan: Yes, plenty of options.
Gluten free: Yes, but limited.
Pet-friendly: Yes, but it may not be advisable during the busiest times.
Accessible: Yes.
Reason to visit: Gift giving by Christkind, Kinder Club and the Lanturn Parade.
Recommended tour: Take Chicago's most popular tour; exploring the unique architecture on a family-friendly boat ride.
Specialities: Gingerbread house kits, stuffed pretzels, German-style ossi grütze, currywurst, leberkäse, Austrian-style strudel, Swiss-style raclette and glühwein imported from Nuremberg.
Where to stay: Staypineapple is a unique hotel, 2 minutes from the Christmas market.
Hotels near Chicago Christmas Market
There are loads of interesting neighbourhoods and fun areas to stay in Chicago. It doesn't matter too much where you stay as the city has a great subway system to help you get around. Daley Plaza is located opposite Washington Station.
But if you want to be within walking distance of Daley Plaza, I suggest staying at Staypineapple, as it's a 2-minute walk away. The hotel has great views of the city skyline, and the rooms and cool and unique.
Location of Chicago Christmas Market
Visit another Christmas market this year and plant your Christmas vacation with my guide to the best Christmas markets in the US. Discover where to go, things to do and the best ways to experience local Christmas food, history and culture.
City and Christmas Tours
A city tour of Chicago is an excellent way to explore the city's rich history and vibrant culture. With its captivating downtown, vibrant streetscapes and impressive architecture, Chicago deserves a visit, even in winter.
If you're a first-time visitor to Chicago or looking for something different, you might like to take this tour, one of Chicago's most popular tours, an architecture tour from the river.
As an alternative, you might like to take this popular food tour to understand the local culture through their cuisine. Food tours are growing in popularity, and having been on several throughout my time as a travel blogger, I think they're well worth taking.
Christkindlmarket Chicago
Christmas Specialties in Chicago
Roast Turkey: A classic at many Christmas dinner tables across the United States, roast turkey is often the centrepiece of the meal. It's typically seasoned with a variety of herbs and spices, stuffed with a bread-based mixture and then roasted until the skin is crispy and the inside juicy.
Green Bean Casserole: This is a staple side dish often found alongside the turkey. It's a tasty mix of green beans, cream of mushroom soup and crispy fried onions. The dish has a creamy interior and a delightful crunch from the onions on top.
Mashed Potatoes and Gravy: A luscious mound of mashed potatoes doused in rich gravy is another much-loved component of a Christmas dinner. The potatoes are boiled, mashed until creamy, and then served with a savoury gravy often made from turkey drippings.
Sweet Potato Casserole: This dish transforms the humble sweet potato into something spectacular.
Cranberry Sauce: This tart and sweet condiment is typically served with turkey. It's made from cranberries, sugar and water, and its vibrant red colour adds a pop to the Christmas dinner table.
Pecan Pie: For dessert, you might enjoy a slice of pecan pie. This Southern classic is a rich, sweet pie filled with a gooey mixture of eggs, butter and sugar, topped with a layer of pecans. The nuts are toasted as the pie bakes, giving the dessert a wonderful aroma and a satisfying crunch.
Chicago Deep Dish Pizza: Though not traditionally associated with Christmas, Chicago's iconic deep-dish pizza deserves mention for its local significance. With a thick crust forming a deep dish, the pizza is layered with cheese, toppings (often including generous amounts of vegetables for a vegetarian option) and tomato sauce. It's a warm, hearty meal for a chilly Christmas Eve.
Pierogi: These Eastern European dumplings have a special place in Chicago's culinary scene, thanks to the city's sizable Polish community. They're often filled with a variety of ingredients, including potato, cheese and sauerkraut, and can be either boiled or fried. A vegetarian version can be easily made and is a delicious choice for your Christmas dinner.
Food at the Christmas Market
Here's a list of typical street foods and Christmas market snacks that you'll find at the Christkindlmarket in Chicago at Daley Plaza:
Sausages: A staple at any Christmas market, the smell of sausages cooking is practically synonymous with the festivities. At the Christkindlmarket, you can find a variety of sausages, including the local favourite, the Chicago-style hot dog – a beef sausage typically topped with mustard, chopped onions, pickle relish, a dill pickle spear, tomato slices, sport peppers and a dash of celery salt, all nestled in a poppy seed bun.
Pretzels: Pretzels are a German treat that has become popular worldwide. At the Christkindlmarket, you can find large, soft pretzels twisted into their iconic shape, sprinkled with coarse salt and baked to a golden brown.
Stollen: Stollen is a German Christmas bread from Dresden, filled with dried fruit and often marzipan, coated with powdered sugar. It's a wonderful sweet treat to enjoy while exploring the market.
Lebkuchen: These traditional German gingerbread cookies are another Christmas market staple. Whether glazed or covered in chocolate, these aromatic and spicy cookies bring holiday cheer with every bite.
Roasted Chestnuts: The aroma of chestnuts roasting is a signature scent of the holidays. Enjoy a bag of these warm, sweet nuts while you stroll through the market.
Deep-Fried Candy Bars: Deep-fried candy bars are a guilty pleasure for a local Chicago treat. Popular candy bars are coated in batter, deep-fried until golden, and then dusted with powdered sugar. It's a rich, decadent treat that's sure to satisfy your sweet tooth.
Mulled Wine: Also known as glühwein in German, this spiced, warm wine is a Christmas market favourite. Often served in a festive mug, mulled wine is the perfect drink to keep your hands warm on a chilly winter evening.
Potato Pancakes: Known as latkes in Yiddish, these crispy, golden brown potato pancakes are a delicious savoury snack. They're often served with sour cream or apple sauce and are a must-try at the market.
Pączki: These Polish doughnuts are a local Chicago speciality. Pączki is deep-fried pieces of dough filled with sweet fillings such as fruit preserves or custard and then dusted with powdered sugar.
What to Buy
The Christmas markets have some interesting options if you're looking for traditional Christmas items and regional gifts.
Hand-Blown Glass Ornaments: These delicate, colourful ornaments are often imported from Germany and are a joy to behold. Each piece is unique, showcasing intricate designs and vibrant colours that will stand out on your Christmas tree.
Nutcrackers: Nutcrackers are a traditional German Christmas decoration and make an excellent gift. At the Christkindlmarket, you can find these ornately painted wooden figures in a variety of designs, some reflecting the character and spirit of Chicago.
Beer Steins: Originating in Germany, beer steins are decorative beer mugs often featuring intricate designs and a metal lid. They make great souvenirs, especially the ones depicting iconic Chicago landmarks.
Handmade Soaps and Candles: These locally made products are practical and serve as great reminders of your trip. Handcrafted soaps and candles come in a variety of scents, some of which might even capture the essence of the holiday season.
Wooden Toys: Wooden toys have a certain nostalgic charm about them. Find beautifully crafted, traditional wooden toys that make thoughtful, long-lasting gifts for the younger ones in your family.
Gingerbread Houses: A sweet treat that's also a festive decoration, gingerbread houses are a Christmas market staple. You can find pre-assembled houses or kits to make your own at home.
Woollen Accessories: Keep warm with locally made woollen hats, scarves and mittens. These cosy accessories, often showcasing traditional knitting patterns, make lovely, practical gifts for loved ones.
Chicago-themed Gifts: Local artisans often create products that celebrate the city's culture and history. From artworks featuring iconic landmarks to locally produced food items, these gifts are perfect for those who want a piece of Chicago to take home.
Glühwein Mugs: A visit to the Christkindlmarket wouldn't be complete without sipping mulled wine from a festive glühwein mug. These collectable mugs often feature the market's unique design for the year, making them practical and memorable souvenirs.
Choose Chicago is a great resource for those visiting the city, especially for first-time visitors. They have the latest information regarding events and the best ways to experience Chicago at Christmas. This time of year, Chicago, is full of lights and decorations, so it's worth planning to get the most out of your vacation.
Winter Events in Chicago
Winterland – Experience Christmas at Gallagher Way and Wrigley Field. Includes ice skating, movies, Santa visits and Christkindlmarket Wrigleyville.
Chicago Botanical Garden – Lightscape is a Christmas light trail and installation.
Lincoln Park Zoo – Visit the zoo in a festive environment during Zoo Lights.
Museum of Science and Industry – The impressive Christmas tree is the highlight.
Millenium Park – Chicago's best ice skating.
Navy Pier – Ice skating, children's events and an indoor winter wonderland.
Garfield Park – A snow-themed flower show.
Sustainable Christmas Tips
Many of us are increasingly concerned about climate change and sustainability. I've listed some small actions we can take to help lower our impact at this Christmas event in Chicago.
Choose a Hotel Powered by Renewable Energy: Chicago has a growing number of eco-friendly hotels that are committed to sustainable practices.
Reduce Food Waste: Being mindful of portion sizes when dining out can greatly help in reducing food waste. Chicago has plenty of farm-to-table restaurants, such as The Purple Pig, focusing on using every part of their ingredients to minimise waste. Also, consider sharing dishes to prevent over-ordering.
Support Ethical Consumption: Choose to buy from local artisans and vendors who engage in ethical production practices. For example, the Christkindlmarket offers handmade crafts and local produce. Not only does this support the local economy, but it also reduces the carbon footprint associated with transporting goods over long distances.
Adopt a Sustainable Diet: Opt for plant-based or vegetarian meals whenever possible, as this helps reduce your diet's environmental impact. Chicago has a wealth of vegetarian and vegan-friendly restaurants like the Chicago Diner, famed for its meat-free spins on classic American dishes. There are also many vegetarian and vegan options at the Christmas stalls.
Use Sustainable Transport Options: Chicago is a city that's ideal for walking or biking, with Divvy bikes readily available for rent throughout the city. The city also has an extensive public transportation system, including buses and the 'L' train, which can take you almost anywhere in the city. Choosing these options over private vehicles can significantly reduce your carbon footprint.
FAQ
Where is Chicago Christmas Market?
The Christkindlmarket in Chicago will be held at Daley Plaza in 2023.
When is Chicago Christmas Market?
Chicago Christmas Market dates start on 17th November and ends on 24th December 2023.
What time does Chicago Christmas Market open?
The Christkindlmarket Chicago Christmas Market open at 11am to 8pm (except Friday and Saturday when it closes at 9pm).
What time does Chicago Christmas Market close?
The Christmas markets close at 8pm except on Fridays and Saturdays when it closes at 9pm.
Please comment below if you want to leave a review of Chicago Xmas Market.
—
Recommendations are independently chosen based on personal travel experiences and extensive research. This post contains affiliate links to hotels and tours in Chicago, United States. This means I get a small commission from any bookings at no extra cost to you.