Cambria is a beautiful town to visit during the winter, especially during the Christmas season. The Cambria Christmas Market is a highlight, with lots of festive stalls selling handcrafted gifts and tasty treats. The event takes place each evening, so be sure to arrive at the opening to have time to visit all the stalls and attractions.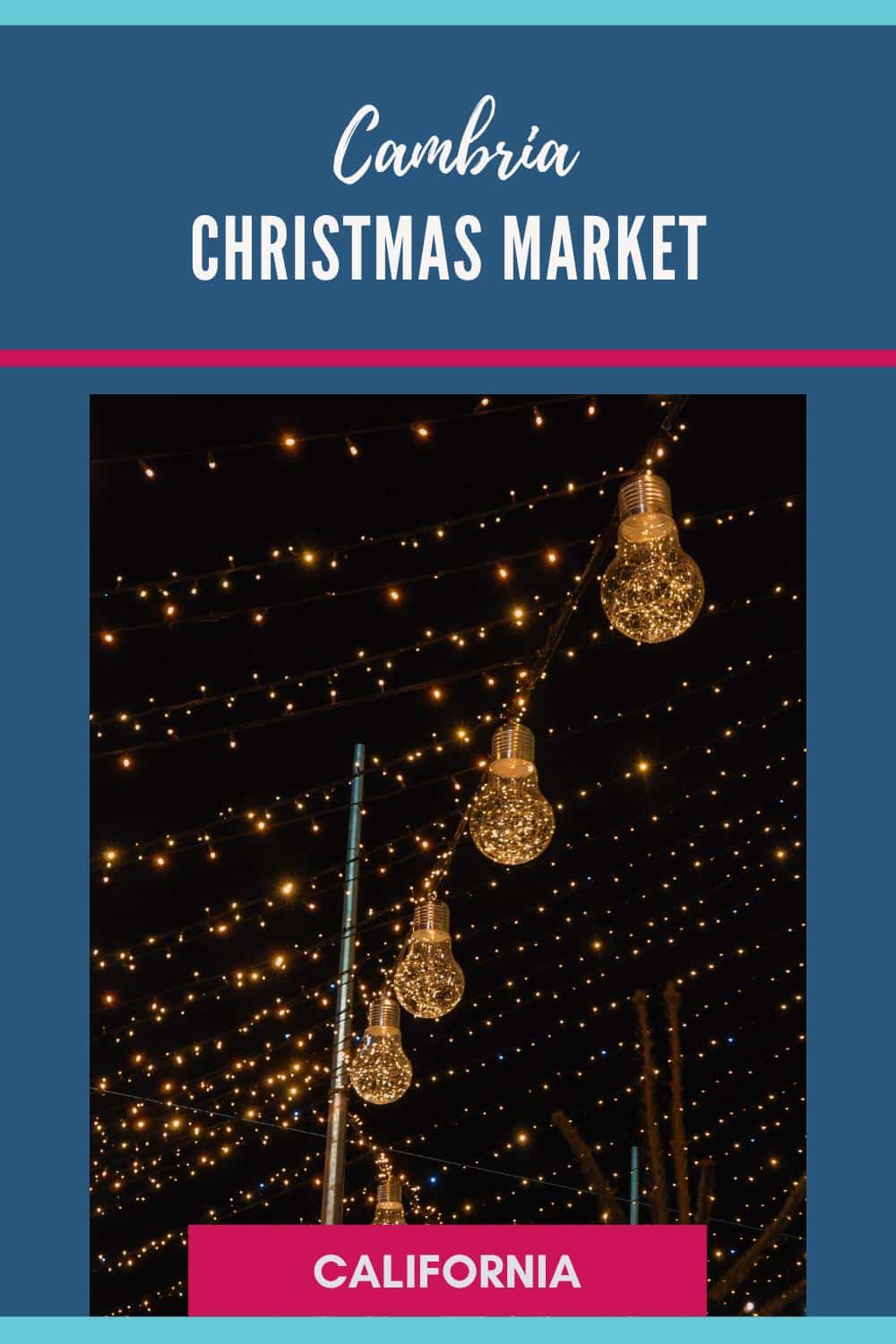 Cambria Christmas Market 2022
The Christmas market in Cambria is the most popular winter celebration in the region. It features a Christmas train ride, live music, a German-style Biergarten and a great coastal location.
The Christmas lights are particularly beautiful at this event, so it's recommended to allow a couple of hours to see everything on display.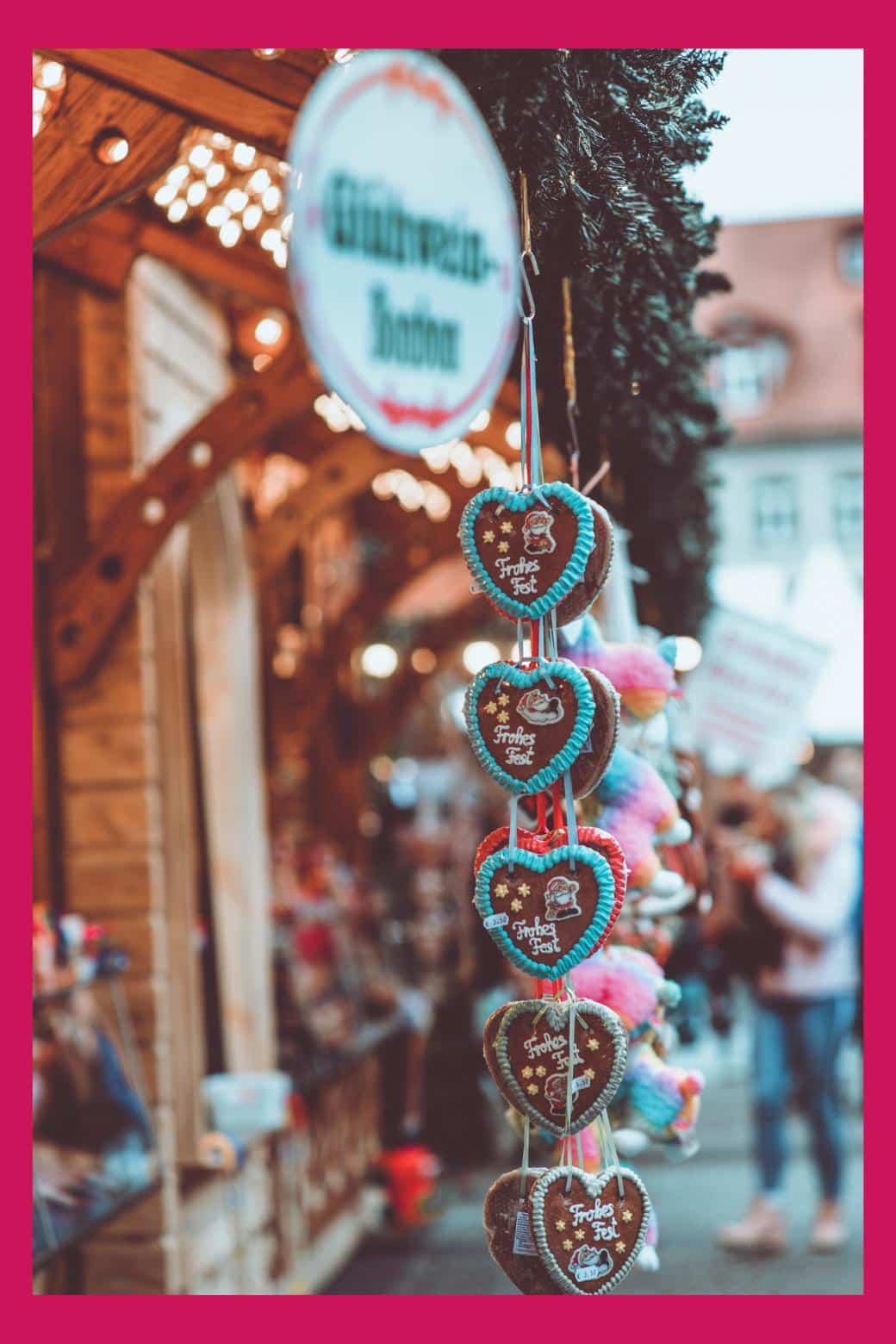 Dates and Location
Note that this is an evening-only event and parking is available offsite only.
Cambria Christmas Market dates: 25th November to 23rd December 2022.
Opening times: 5pm to 8:30pm.
Christmas Day: Closed.
Location: Cambria Pines Lodge.
Address: 2905 Burton Drive, Cambria, California.
Admission: Tickets are required and are available for purchase online. If not sold out, tickets are available at the door but it's best to buy in advance. Tickets cost between $15 – $35 (more expensive at the door). Book here.
Payment: This is a cashless event.
Santa: Yes, most nights.
Accessible: Yes.
Pet-friendly: No, pets are not allowed on the shuttle buses or at the event.
Parking: Parking is available offsite with shuttle buses to the event. There is no street parking near the event.
Reason to visit: Christmas train ride, live music, a German-style biergarten and a great coastal location.
Specialities: Bratkartoffeln, currywurst, apple streusel, lebkuchen (gingerbread), stollen (Dresden-style Christmas cake), Gluhwein and hot cider.
Where to stay: Cambria Pines Lodge is the host of the Christmas market and they may still have rooms available.
Hotels near Cambria Christmas Market
The host hotel is likely fully booked, but there are several other nice hotels in Cambria.
I suggest staying at Olallieberry Inn as the reviews are exceptional and it's only a 4-minute drive or 20-minute walk to the Christmas market.
Location of Cambria Christmas Market
Check out my guide to the best Christmas markets in the USA for festive fun and unique gift ideas.
The Cambria tourist office has a helpful website with information on local events, activities, and things to do.
Sustainable Travel Tips
Many of us are increasingly concerned about climate change and sustainability. To be more sustainable this Christmas:
Consider using renewable energy sources like solar or wind power to reduce your carbon footprint.
You can also reduce food waste by planning meals carefully and composting any leftovers.
Limiting consumerism and choosing sustainable transport options, such as walking or cycling, can also make a big difference.
Eating a sustainable diet, such as one that is plant-based or locally sourced, can also help protect the environment.
FAQ
When is Cambria Christmas Market?
Cambria Christmas Market starts on 25th November and ends on 23rd December 2022.
Where is Cambria Christmas Market?
The Christmas markets in Cambria are held at Cambria Pines Lodge, 2905 Burton Drive, Cambria, California.
What time does Cambria Christmas Market open?
The Christmas markets are open from 5pm to 8:30pm.
If you would like to leave a review of Cambria Xmas Market, feel free to comment below.
—
Recommendations are independently chosen based on personal travel experiences and extensive research. This post contains affiliate links to hotels and tours in Cambria, California. This means I get a small commission from any bookings at no extra cost to you.