Stratford-upon-Avon is home to one of the newest Christmas markets in the UK. At the uniquely themed Victorian Christmas Market, you'll find all the stallholders dressed in Victorian-style costumes. The event is returning in 2023 and is expected to be bigger than ever.
In this guide, you'll find confirmed 2023 dates for the Stratford Upon Avon Christmas Market, along with opening times and what to find at the Christmas stalls.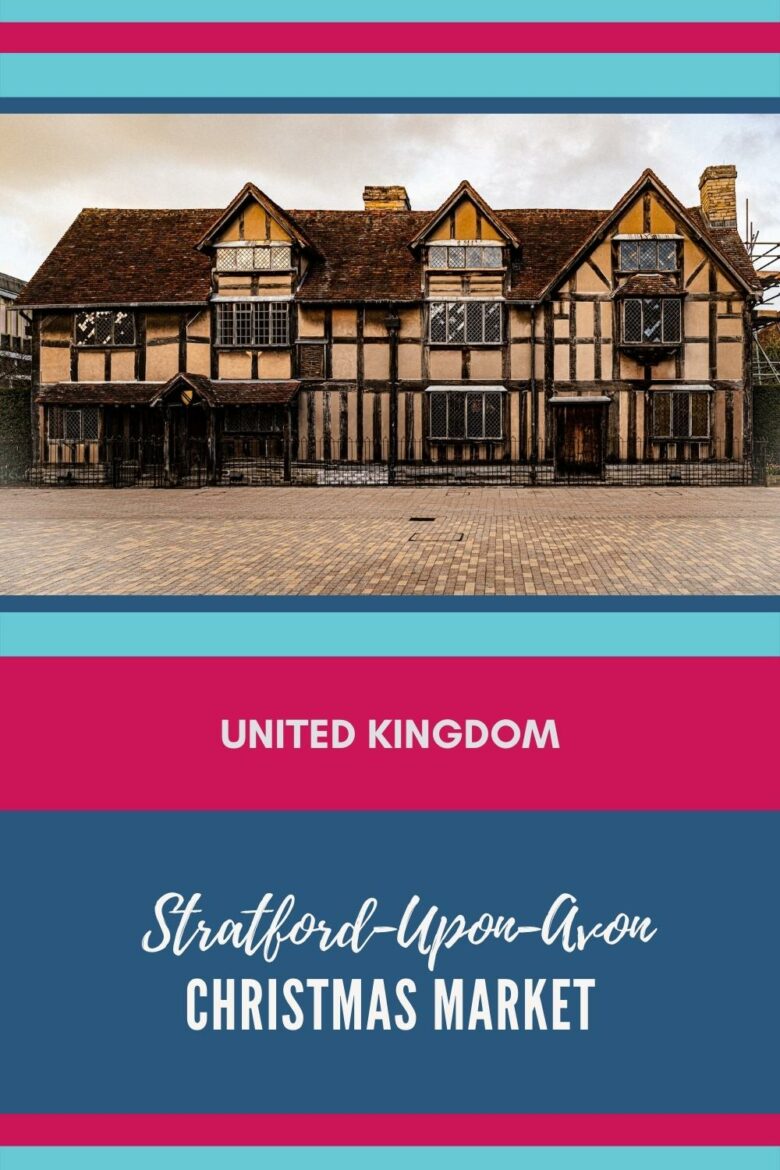 As one of the UK's most beautiful historic towns, Stratford-upon-Avon is a great place to visit over a weekend.
When not visiting the Christmas market, you can explore the rest of the pretty town and visit museums and all the highlights of Shakespeare's birthplace.
Stratford Upon Avon Christmas Market 2023
Set against the charming backdrop of Stratford Upon Avon, the exuberant 4-day Christmas market weaves a tapestry of family-focused entertainment and enticing treats.
A symphony of musical events reverberates throughout the festivities, harmonising with the merry notes of the carousel on Wood Street.
This traditional funfair component, a beloved feature of the market, never fails to draw families into its delightful whirl.
Wood Street further tantalises the senses with an array of food and drink stalls, serving up delicious aromas and flavours.
The market brims with over 300 stalls across the vibrant town centre, creating a bustling hub of holiday cheer and commerce.
These elements combine to create an engaging, cohesive Christmas market experience in Stratford Upon Avon.
Dates and Location
Stratford Upon Avon Christmas Market dates: Thursday 7th December to Sunday 10th December 2023.
Location: Wood Street, Bridge Street, Henley Street, High Street, Meer Street and Waterside.
Opening times: 10am to 8pm (closes 5pm on Sunday).
Christmas Day: Closed.
Admission: Free, no tickets required.
Christmas lights: The Christmas lights will be switched on in Stratford on the 18th November 2023.
Santa: Yes, meet Father Christmas, his reindeer and Frosty the Snowman.
Ice skating: No.
Vegetarian: Yes, plenty of options.
Vegan: Yes, plenty of options.
Gluten free: Yes, but limited.
Accessible: Yes. If you have questions regarding accessibility, email [email protected].
Pet-friendly: No.
Parking: Please take public transport to help limit congestion. Park and Ride service is available at Bishopton Park & Ride.
Reason to visit: The Victorian-era themed stalls and Father Christmas and his reindeer.
Recommended tour: Walking tour with a local guide.
Specialities: Classic Christmas drinks plus spiked hot chocolate and local street food.
Where to stay: Hotel Indigo is a highly-rated hotel, 4 minutes from the Christmas market.
Hotels near Stratford-upon-Avon Christmas Market
The historic centre of Stratford is compact and easy to get around. The Christmas market is spread throughout the town, so anywhere from Shakespeare's Birthplace and Shakespeare's Schoolroom would be well-located.
I suggest staying at Hotel Indigo, just opposite Shakespeare's Schoolroom. The Christmas markets are a 3 or 4-minute walk from the hotel.
Location of Stratford-upon-Avon Christmas Market
Christmas in Stratford-Upon-Avon
If you're thinking of visiting other Christmas markets, read my Christmas markets 2023 UK guide for ideas and inspiration.
Food at the Christmas Market
Roast Chestnuts – As you wander around Stratford-Upon-Avon Christmas market, the comforting scent of roasting chestnuts envelops you. This snack, an emblem of the festive season, is sure to warm your hands and heart alike.
Mulled Wine – No Christmas market experience is complete without cradling a cup of hot mulled wine. This warm, spiced beverage, often embellished with a slice of orange, provides the perfect counterpoint to the winter chill.
Mince Pies – These petite, buttery pastries, brimming with a rich, sweet filling, have long held a spot in British Christmas tradition. Enjoy them straight out of the oven for a blissful taste of Christmas.
Bratwurst – A staple of German Christmas markets, the bratwurst has also found a home in Stratford-Upon-Avon. Sizzling on grills across the market, these succulent sausages, tucked into a fresh bun, make for a satisfying savoury bite.
Churros with Chocolate – Not to be missed are the churros. These Spanish-style fried dough pastries, coated in sugar and served with a side of warm chocolate dipping sauce, present a sweet indulgence that's worth every calorie.
Gourmet Cheese – Stratford-Upon-Avon market also shines a spotlight on local artisans, with several stalls featuring an assortment of gourmet British cheeses. From creamy cheddar to tangy Stilton, these are ideal for taking home and adding a touch of luxury to your festive feasts.
Hot Apple Cider – Toast the season with a glass of hot apple cider. This heart-warming drink, made from locally sourced apples, is a favourite winter warmer and a tasty alternative to mulled wine.
What to Buy
Stratford Honey – The local beekeepers of Stratford-Upon-Avon present their prized produce at the Christmas market. Choose a jar of honey as a sweet souvenir or a thoughtful gift. With its natural flavour profile, it can enrich your holiday baking and hot drinks.
Handmade Soaps – Gentle on the skin and fragrant, the handmade soaps available at the market are crafted using natural ingredients. Coming in a variety of fragrances, they make for delightful stocking fillers.
Shakespeare Memorabilia – Given the town's association with the legendary playwright William Shakespeare, a piece of themed memorabilia would be a unique memento. Whether it's a finely bound collection of his works or a quote-inscribed mug, you'll find something to suit every literature enthusiast.
Festive Decorations – Traditional Christmas decorations fill the market stalls, from intricate glass baubles to handmade wooden ornaments. These bring the spirit of the season to your home decor.
British Cheeses – Much like the food stalls, the gift sections take pride in local produce. Opt for a selection of British cheeses beautifully packaged for the festive season. They're perfect for gifting to foodies or for treating yourself to a decadent cheeseboard.
Hand-knitted Scarves – The Christmas market also features stalls laden with hand-knitted scarves. Made from warm, high-quality yarns and featuring traditional patterns, these scarves make for practical gifts that are sure to be appreciated in the chill of winter.
Artisan Chocolate – A box of artisan chocolates, handcrafted by local chocolatiers, can be a deliciously indulgent treat. With a variety of flavours to choose from, these make a delightful gift that's likely to be enjoyed immediately.
Shakespeare's England has some useful information for visitors to Stratford and those who would like to travel elsewhere in Warwickshire.
Sustainable Travel Tips
The choices we make have an environmental and social impact on the places we visit. Try to implement these responsible travel measures when visiting Stratford at Christmas.
Opt for Public Transport – When visiting Stratford-Upon-Avon, consider travelling by public transport. The town has excellent rail links, and trains from London, Birmingham, and other nearby cities are frequent. Not only is this a greener option than driving, but it also offers a stress-free way to enjoy the picturesque English countryside along the way.
Choose Local Produce – In your pursuit of a sustainable diet, prioritise buying local. At the Christmas market, plenty of stalls sell locally-sourced food items. Not only will you be supporting local businesses, but you're also reducing carbon emissions associated with transporting goods over long distances.
Think Ethically – Be conscious of your purchases and favour ethically produced items. Look for products that are fair-trade or made by local artisans. Consider the supply chain and the working conditions under which the items you're buying have been made.
Reduce Food Waste – Be mindful of the quantity of food you purchase at the market, trying to buy only what you can consume. Leftovers can often be taken home and used in the next day's meals. If you're staying in a hotel, check if they have a policy for dealing with leftover food.
Recharge Responsibly – If you're staying overnight, many accommodations in Stratford-Upon-Avon provide renewable energy options. Some hotels and B&Bs run on solar power or have energy-efficient heating systems. Make a point to turn off lights, heating, and electrical devices when not in use.
Carry Reusable Items – Bring a reusable shopping bag to carry your purchases, reducing the demand for plastic bags. You might also consider carrying a reusable water bottle and coffee cup, which can be refilled at many food stalls and cafes around town.
Walk the Town – Stratford-Upon-Avon's town centre is compact, and most of the attractions are within walking distance of each other. Enjoy the town on foot or rent a bicycle. Not only will this help reduce your carbon footprint, but it's also a great way to appreciate the charm of this historic town.
FAQ
When is Stratford Upon Avon Christmas Market?
Stratford Upon Avon Christmas Market dates start on 7th December and ends on 10th December 2023.
Where is Stratford Upon Avon Christmas Market?
The Christmas markets are located throughout the town centre, including Wood Street, Bridge Street, Henley Street, High Street, Meer Street and Waterside.
When are the Christmas lights switched on in Stratford Upon Avon?
The Christmas lights will be switched on in Stratford on 18th November 2023.
If you want to leave a review of Stratford Upon Avon Xmas Market, please comment below.
—
Recommendations are independently chosen based on personal travel experiences and extensive research. This post contains affiliate links to hotels and tours in Stratford upon Avon, England. This means I get a small commission from any bookings at no extra cost to you.