From unique gifts to delicious treats, the Salisbury Christmas Market has plenty of opportunities to get into the holiday spirit. Enjoy browsing through the many stalls and vendors offering food, crafts, and entertainment.
Note: Unfortunately, there is no Christmas market in Salisbury in 2023.
The following guide lists all the essential details for planning your Christmas visit, including events in Salisbury but no official markets.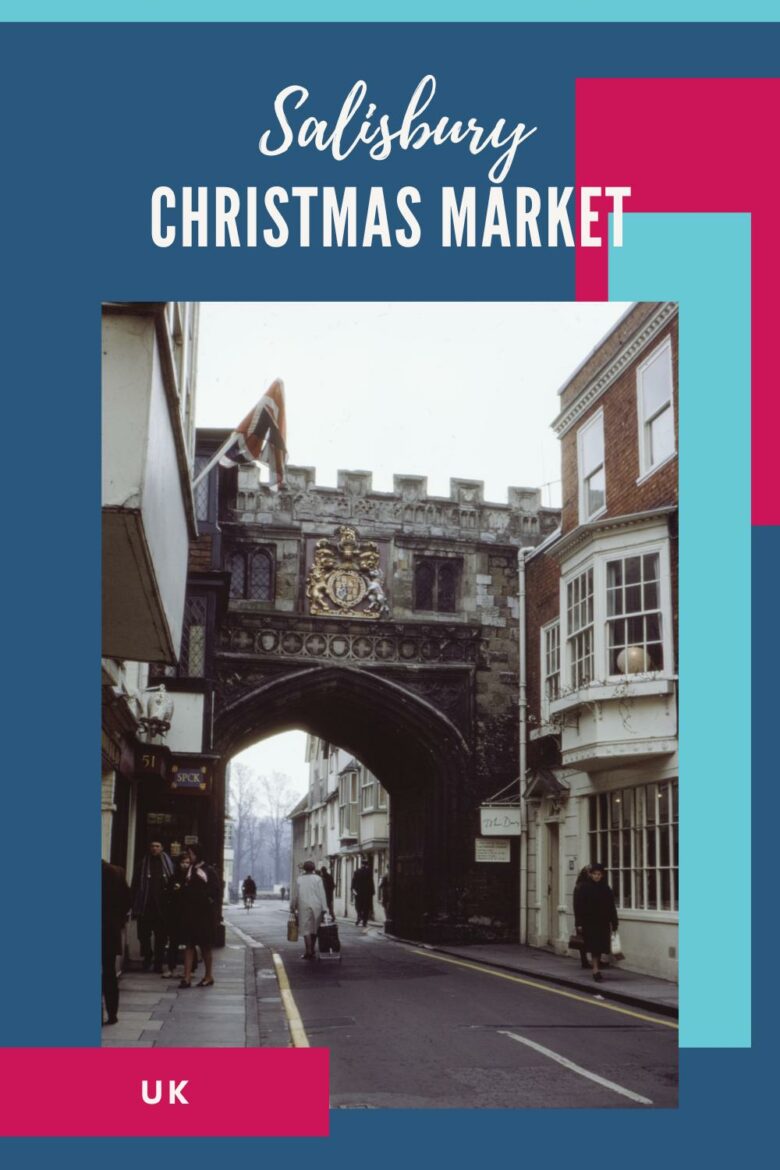 Salisbury is especially beautiful in winter, with its cobbled streets, historic buildings, and festive decorations.
Salisbury Christmas Market 2023
Update: There is no Christmas market this year.
Christmas in Salisbury is a festive affair marked by several captivating events and activities:
Christmas on the Square: As the festive season begins, Salisbury transforms into a hub of holiday cheer with the "Christmas on the Square", a showcase of local artisans, food stalls and live entertainment. Open until New Year's Eve, it's the ideal place to find unique gifts, feast on traditional holiday food and soak up the festive atmosphere.
Santa's Grotto: Offering a slice of enchantment for younger visitors, Santa's Grotto is a must-visit. Children can immerse themselves in the magic of Christmas as they step into Santa's workshop, hear captivating Christmas stories, and even pen a wish list for Santa. The joy continues as they meet Santa in person, an experience that runs until Christmas Eve.
Christmas Light Trail: Lighting up Salisbury's historic streets, the Christmas Light Trail invites visitors to follow a path of glowing decorations and delightful Christmas characters. The journey starts at the imposing Salisbury Cathedral and winds its way through the city. Illuminating the winter darkness from the 18th of November until the 2nd of January, it's a festive spectacle not to be missed.
Salisbury Cathedral's Twilight Tower Tour: For a different perspective on the city, embark on the Twilight Tower Tour at Salisbury Cathedral. Starting on the 18th November, the tour provides visitors with a stunning view of Salisbury under the twinkling Christmas lights.
Christmas Window Displays: Salisbury's shops join the festive celebration with windows decorated by talented local artists. These creative displays, which can be admired from the 17th November, add an extra dash of seasonal charm to the city streets.
Christmas Pantomime: Rounding out the festive offerings is the much-anticipated Christmas pantomime. Last year's event was "Snow White and the Seven Christmas Elves". This performance delivered laughs, drama and the unmistakable magic of Christmas.
Dates and Location
Salisbury Christmas Market dates: 18th November to 31st December 2023. Not running in 2023.
Location: Guildhall Square.
Opening times: 11am to 7pm. Bars open until 11pm.
Christmas Day: Closed.
Admission: Free.
Christmas lights: No switch-on this year. The Christmas Light Trail runs from 18th November until the 2nd January. The starting point is Salisbury Cathedral.
Santa: Yes. Book in advance for Santa's Grotto tickets. £6 per child.
Ice skating: No.
Accessible: Yes.
Parking: Please take public transport to help limit congestion.
Reason to visit: Many events for children and the Twilight Tour at Salisbury Cathedral.
Specialities: Frost Bar, mulled wine and the festive afternoon tea.
Where to stay: The Merchant's House is a highly-rated hotel, 3 minutes from Guildhall Square.
Where to Stay
I recommend staying near Guildhall Square in Salisbury city centre. From here, you can walk to places of interest, such as Salisbury Arts Centre, Salisbury Cathedral, Magna Carter Chapter House and Arundalls. Anywhere near these attractions is a convenient area to stay.
I suggest staying at the Merchant's House in the city centre.
Discover more places to visit with my guide to the UK Christmas markets 2023. Start planning your itinerary now to avoid missing out.
Experience Salisbury is Salisbury Tourism's official website with information regarding the latest events and the best ways to experience Salisbury at Christmas and winter.
Sustainable Travel Tips
While you're soaking up the festive spirit in Salisbury, consider these suggestions on how to celebrate a sustainable Christmas:
Choose Green Accommodation: Salisbury is known for its selection of accommodations that prioritise sustainability. When booking your stay, choose eco-friendly hotels committed to renewable energy sources. These places employ various practices to reduce their environmental footprint, such as using energy-efficient lighting and heating and reducing food waste.
Be Mindful of Food Waste: When sampling the culinary delights at Christmas on the Square, consider portion sizes to avoid unnecessary food waste. Share larger dishes with travel companions or opt for smaller portions if available. Don't forget to dispose of any waste responsibly, using the designated recycling bins around the city.
Buy Only What You Need or Can Use: Salisbury's shops are teeming with tempting items, but remember the principles of ethical consumption. Avoid impulse buying and choose quality over quantity. Support local artisans by purchasing handmade crafts, and consider the environmental impact of your purchases – preference for items with minimal packaging or made from recycled materials.
Go for a Sustainable Diet: Many of Salisbury's eateries have plant-based or locally sourced options. Choosing a vegetarian meal or one made with ingredients from nearby farms can significantly reduce your carbon footprint.
Use Sustainable Transport: Explore Salisbury by foot or by bike to reduce your carbon emissions. The city centre is compact and well-signposted, making it easy to get around. Consider using public transport, such as the local buses or trains, for longer distances.
Please comment below if you want to leave a review of Salisbury Xmas Market.
—
Recommendations are independently chosen based on personal travel experiences and extensive research. This post contains affiliate links to hotels and tours in Salisbury, UK. This means I get a small commission from any bookings at no extra cost to you.