The German-influenced Leeds Christmas Market, also known as Christkindelmarkt, is due to celebrate its 20th anniversary. But it won't be this year, with a last-minute cancellation just announced. But there are still great events taking place in the city, including the popular Millenium Square Ice Rink and the Corn Exchange Christmas Market.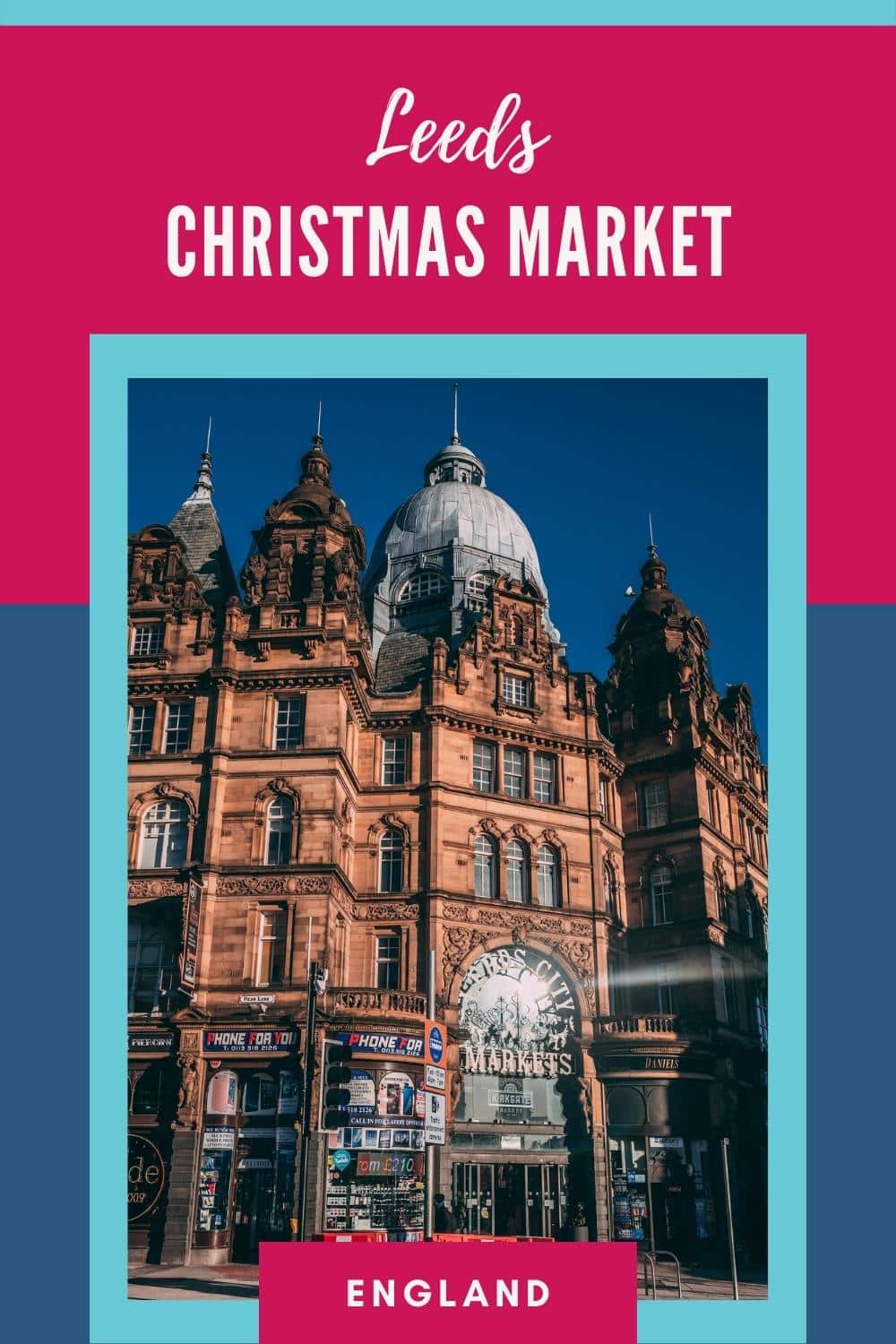 Leeds Christmas Market 2022 – CANCELLED
It's official, the Leeds German Christmas Market (Christkindelmarkt) has been cancelled for 2022. This is the third cancellation in a row for the main Christmas market which is normally located at Millenium Square.
According to a BBC report, the cancellation is mostly due to Brexit-related issues. Read the confirmation from Leeds City Council.
Please note there are several other Christmas events that are taking place in 2022. These are either weekend markets, pop-up Christmas markets or themed events. Continue reading to see what's on.
Leeds Christmas Market dates: 18th November to 23rd December 2022. CANCELLED
Opening times: 12pm to 10pm. CANCELLED
Location: Millenium Square, Leeds.
Reason to visit: Presented in collaboration with Frankfurt Christmas Market, this market has much of the authenic Christkindelmarkt atmosphere that you would expect to experience in Germany.
Specialities: Classic German Christmas specialties like gluhwein, bratwurst, schnitzel but also the unique to Leeds, festive buffet breakfast.
Recommended tour: Highlights walking tour – The most popular sightseeing tour of Leeds.
Travel tip: There are several Christmas events and the ice rink taking place this year. Christmas decorations, lights and the Christmas tree will still be happening to light up the city. Don't miss out on the Christmas experience just because the main market isn't being held.
Where to stay: Quebecs Hotel is a highly-rated hotel, 6 minutes from the Christmas market.
Hotels near Leeds Christmas Market
Millenium Square is located to the north of Leeds City Centre. If you would like to stay near the Christmas market (maybe next year) or the Ice Rink then I suggest staying at Ibis Styles Leeds. This is a relatively basic yet affordable chain hotel. I've stayed at the Ibis Styles many times and it's perfectly fine, clean and comfortable.
If you would like to stay somewhere a little nicer but still near Millenium Square then I recommend Quebecs. This hotel is only a 6-minute walk to the Christmas market yet also close to City Square and some great eateries.
Location of Leeds Christmas Market
Corn Exchange Christmas Market
For the second year, Leeds Corn Exchange will be hosting the best Christmas market in Leeds from 11th November for 7 weeks. Support independent businesses, musicians, local restaurants, artisan distilleries and breweries at the Christmas shops.
Corn Exchange Christmas Market dates: 11th November to 30th December 2022.
Opening times: 11:30am to 8pm.
Location: Leeds Corn Exchange, basement floor.
Location of Leeds Corn Exchange
Ice Cube @ Christmas
At the Ice Cube Christmas event, you can enjoy the ice rink, street food and amusement rides.
Ice Cube @ Christmas dates: Starts 25th November 2022.
Ice rink tickets: On sale from 21st October 2022.
Location: Millenium Square, Leeds.
Kirkgate Market
One of the UK's largest indoor markets and the birthplace of Marks & Spencer, Kirkgate Market holds several Christmas events and pop-up Christmas markets.
Kirgate Market Christmas Market: Events each weekend from the 26th November 2022.
Opening times: 8am to 5:30pm (closed Sundays).
Ice rink: Free entry.
Location: 34 George Street, Leeds.
Christmas Makers Market
A small makers' market is located at Leeds Station.
Leeds Station Christmas Market dates: 2nd December to 18th December 2022.
Opening times: Friday 8am to 7pm, Saturday 10:30am to 7pm, Sunday 10:30am to 4pm.
Location: Leeds Station via New Station Street.
Mini German Market
It's all in the name, a mini German market.
Mini German Market dates: Daily until 24th December.
Opening times: 10am to 6pm.
Location: Sydney Street.
Artisan Winter Market
Support local makers, craftspeople, artists and artisans and the Artisan Winter Market. A great event for purchasing unique Christmas gifts.
Artisan Winter Market dates: 3rd November to 6th November 2022.
Opening times: 10am to 4pm.
Entry: £5 (free for Harewood members).
Location: Harewood House, 25-minute drive north of Leeds.
Hopefully, the Christmas market in Leeds will return in 2023.
Discover more places to go with my guide to the UK Christmas markets 2022.
Visit Leeds is the city's official tourism website. They have all the latest information regarding what's on this winter and the best ways to experience Leeds at Christmas.
Sustainable Travel Tips
The choices we make have an environmental and social impact on the places we visit. Try to implement these responsible travel measures when visiting the Christmas markets.
Shop mindfully. Only purchase what you really need.
Walk, cycle and use public transport to get around.
Stay in a sustainable hotel powered by renewable energy.
Avoid using plastic or buying items made or packaged with plastic.
Try to eat locally sourced organic food where possible.
Limit your consumption of meat and dairy.
Be open to diverse cultures and experiences.
Explore more than just the main tourist areas.
Support the arts and attend local events.
Visit fewer places but stay longer at each destination.
FAQ
When is Leeds Christmas Market?
The German Christmas Market in Leeds has been cancelled in 2022. However, there are several other Christmas events taking place around the city.
Where is Leeds Christmas Market?
The Christmas market is normally located at Millennium Square, however, this market is cancelled in 2022.
Is Leeds Christmas Market on this year?
No, the Christmas market has been cancelled in 2022 due to issues arising from Brexit.
If you would like to leave a review of Leeds Xmas Market, feel free to comment below.
—
Recommendations are independently chosen based on personal travel experiences and extensive research. This post contains affiliate links to hotels and tours in Leeds, UK. This means I get a small commission from any bookings at no extra cost to you.