The ten days of festivities at Harrogate Christmas Market are set to be bigger and better this year, with a range of new stallholders participating. The usual traditional Christmas stalls are back, and some of the region's most popular artisans and gourmet food makers will make up the rest of what's on offer.
In this guide, I list the confirmed Christmas Fayre dates for 2023, opening times and popular Christmas stalls.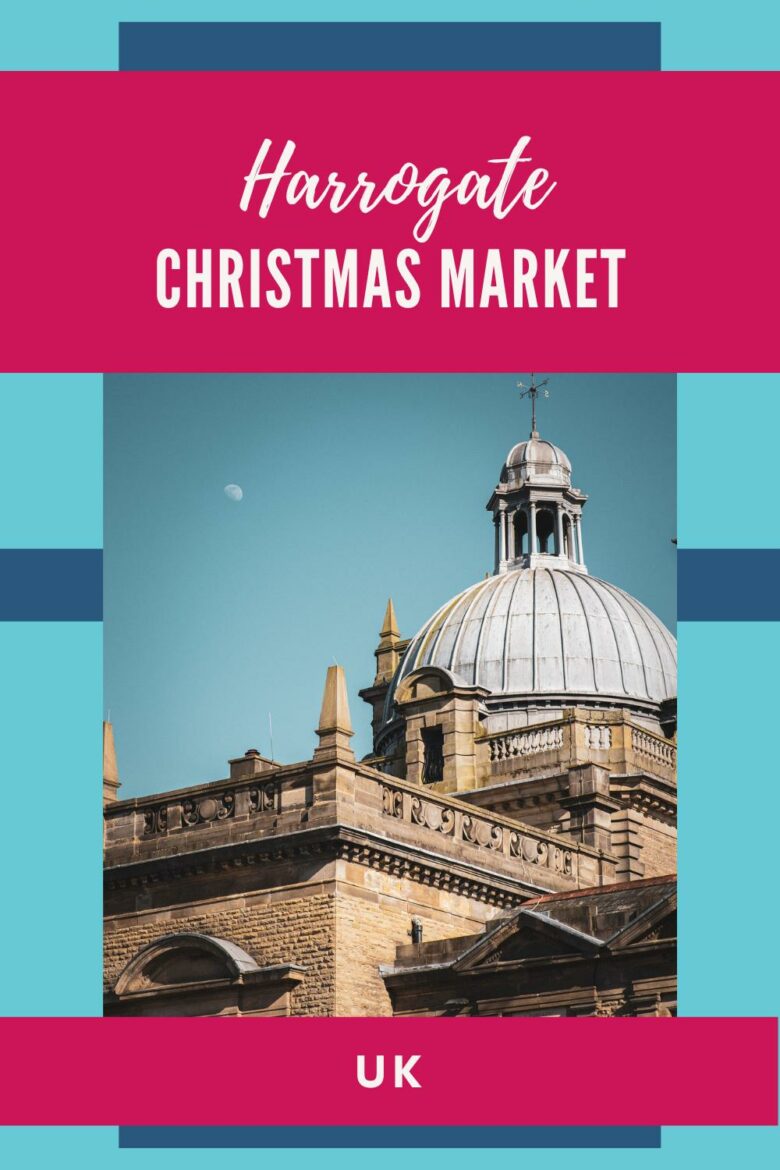 Also known as Harrogate Christmas Fayre, the popular event is once again taking place in the pedestrian-only area of the town centre. Christmas lights and decorations add a festive atmosphere to the cobblestone streets, with the Christmas tree taking its place in the very centre.
Harrogate Christmas Market 2023
The Christmas market in Harrogate is a cosy winter experience filled with unique gifts, Christmas decorations, tasty food and entertainment for kids.
The white Christmas train is available to get you around if you need it, and live music will play during busy times.
Dates and Location
Harrogate Christmas Market dates: 1st to 17th December 2023.
Location: Cambridge Street and Market Place in the the town centre.
Opening times: Monday to Saturday: 10am to 7pm. Sunday: 10:30am to 4:30pm.
Christmas Day: Closed.
Admission: Free, no tickets required.
Christmas lights: Yes, but no switch on date.
Santa: No.
Ice skating: Yes, at Crescent Gardens.
Pet-friendly: Yes, but not recommended during busy periods.
Accessible: Yes.
Parking: Please take public transport to help limit congestion.
Reason to visit: The lively Christmas decorations create a festive atmosphere to the high street.
Specialities: Classic Christmas treats like bratwurst and mulled wine. Plus classic British pork pies and vegetarian snacks.
Where to stay: Prospect Crescent is a very nice, highly-rated apartment hotel, 1 minute from the Christmas market.
Hotels near Harrogate Christmas Market
Harrogate is a small city with a town centre that is easy to get around on foot. If you're arriving by train, Harrogate train station is only a couple of minutes walk to the Christmas markets.
The high street is located along Cambridge Street and Market Place, where the markets are located. I suggest staying in this area if you want to be close to the main sights and attractions in the city.
I recommend staying at Prospect Crescent as it's one street away from the Christmas markets. It's a lovely apartment hotel with classic decor and great views of the park and the Cenotaph.
Plan your Christmas holiday with my guide to the best Christmas markets UK edition for 2023. Discover where to go, things to do and the best ways to experience Christmas food, history and culture.
Location of Harrogate Christmas Market
Christmas in Harrogate
Christmas Stalls in Harrogate
At the Harrogate Christmas markets, you'll discover a variety of food stalls and vendors offering traditional Christmas treats and local Yorkshire delights:
Yorkshire Pudding Wraps: A local twist on a British classic, these hearty wraps are filled with roast meat and vegetables, all snugly tucked inside a large, soft Yorkshire pudding.
Hot Mulled Wine: A staple of Christmas markets across the UK, mulled wine at Harrogate is gently spiced and warmed to perfection, providing a comforting drink to enjoy while exploring the market.
Vegan and Vegetarian Pies: Local bakeries often have stalls offering a variety of pies, including vegan and vegetarian options. These handcrafted pies are full of rich, savoury fillings and encased in flaky pastry.
Yorkshire Cheese: Many local cheese producers set up stalls at the Christmas markets. Look out for Wensleydale, a regional favourite, alongside a selection of other locally-produced cheeses.
Gingerbread: Traditional gingerbread is a common sight at the Harrogate market. These spicy, sweet biscuits are often beautifully decorated, making them both a delicious snack and a delightful gift.
When it comes to gifts and stocking fillers, Harrogate Christmas Market showcases the best of Yorkshire craftsmanship:
Yorkshire Tweed: This locally-produced fabric is used to make a range of items, from clothing to home decor, offering a touch of Yorkshire heritage.
Handmade Soaps and Candles: Some stalls at Harrogate's Fayre offer beautifully scented, handmade soaps and candles, often created with locally sourced ingredients.
Yorkshire Tea: A local favourite, tea from the region makes an ideal gift for the tea drinker in your life. You can find beautifully packaged varieties perfect for a stocking filler.
Handcrafted Jewellery: Several stalls offer a range of handcrafted jewellery, often made from locally sourced materials, for those looking for a special, one-of-a-kind gift.
Locally Made Ceramics: Harrogate and the surrounding area are home to a number of skilled ceramicists. Look out for their stalls selling everything from mugs to decorative ornaments.
All of these delicious foods and quality goods make Christmas in Harrogate a destination not to be missed during the festive season.
Visit Harrogate is a useful resource if you're visiting the city and are looking for things to do and the best ways to experience Harrogate at Christmas.
Sustainable Christmas Tips
As you enjoy the festive delights of Harrogate this Christmas, I encourage you to travel responsibly and adopt sustainable practices. Here are some tips that might help:
Selecting Eco-friendly Accommodations: A range of hotels in Harrogate are dedicated to environmental sustainability, with some harnessing renewable energy sources. When booking your stay, consider these options to reduce your carbon footprint.
Reducing Food Waste at the Market: The vast variety of foods at the Christmas market can be tempting, but buying only what you'll eat is important. Consider sharing larger dishes with friends or family to ensure nothing goes to waste. Additionally, many vendors use compostable packaging, so be sure to dispose of it correctly.
Ethical Consumption: The market has an array of beautiful products, but consider whether you truly need an item before purchasing it. Buying from local artisans who use sustainable materials is another great way to support the local economy and reduce environmental impact.
Sustainable Diets: Many vendors at the Harrogate Christmas Fayre offer vegetarian and vegan options. Choosing these plant-based foods can help lower the carbon footprint of your diet. There's also an abundance of local produce available, reducing the carbon emissions associated with transporting goods.
Sustainable Transport: Harrogate is a compact town, making exploring on foot or by bicycle easy. If you need to travel further, consider using public transport such as local buses and trains, which are less carbon-intensive than driving.
Incorporating these practices into your visit can help ensure Harrogate remains a wonderful Christmas destination for years to come.
FAQ
When is Harrogate Christmas Market?
Harrogate Christmas Market dates are from 1st December to 17th December 2023.
Where is Harrogate Christmas Market?
The Christmas markets in Harrogate are held at Cambridge Street and Market Place in the town centre.
What time does Harrogate Christmas Market open?
The Christmas markets open from Monday to Saturday: 10am to 7pm. Sunday: 10:30am to 4:30pm.
What time does Harrogate Christmas Market close?
The Christmas markets close at 7pm, except on Sundays when it closes at 4:30pm.
If you would like to leave a review of Harrogate Xmas Market and Fayre, feel free to comment below.
—
Recommendations are independently chosen based on personal travel experiences and extensive research. This post contains affiliate links to hotels and tours in Harrogate, UK. This means I get a small commission from any bookings at no extra cost to you.