Cardiff Christmas Market and Winter Wonderland are back again in 2023 when the city transforms into an illuminated festive winter experience. The markets bring out the locals and tourists alike to explore an array of beautifully crafted goods and local specialties.
In the following sections, I'll share all the necessary details for your visit this year, such as the confirmed 2023 dates, opening times and unique local foods to seek out.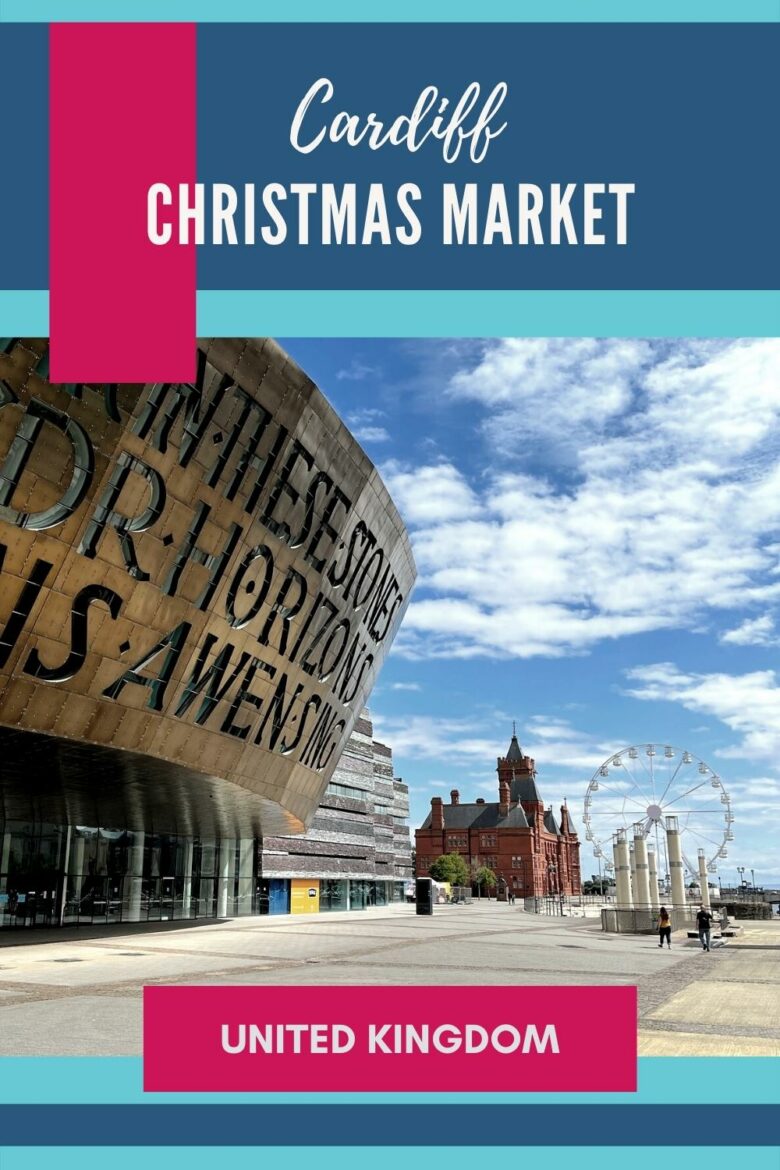 The Christmas markets in Cardiff have been taking place for 30 years. Celebrate this great tradition at what has become one of the best winter festivals in the country.
The Christmas markets and Winter Wonderland are near each other, meaning you can easily visit both on one trip or make multiple visits for a more relaxing experience.
Cardiff Christmas Market 2023
Cardiff Christmas Market is a vibrant hub that brings together the creative spirit of over 200 local artisans, offering an extensive range of high-quality, locally-made products.
The market is set against the city's stunning historic architecture backdrop and is known for its cosy, intimate feel.
It offers a truly authentic Welsh Christmas shopping experience that encourages the support of local businesses.
Dates and Location
Cardiff Christmas Market dates: 9th November to 23rd December 2023.
Location: St John Street, Working Street, Trinity Street and the Hayes.
Opening times: Monday to Saturday: 10am to 6pm. Sunday: 10am to 5pm.
Christmas Day: Closed.
Admission: Free, no tickets required.
Santa: Yes.
Ice skating: No.
Vegetarian: Yes, plenty of options.
Vegan: Yes, plenty of options.
Gluten free: Yes, but limited.
Accessible: Yes.
Pet-friendly: Yes, but not recommended during busy periods.
Parking: Please take public transport to help limit congestion.
Reason to visit: The handmade products from Welsh makers and artisans. Woodworkers, glassmakers, ceramic artists and silver jewellery designers will be present.
Recommended tour: Cardiff welcome tour.
Specialities: Snacks and food stalls from well-known Cardiff vendors.
Where to stay: The Parkgate Hotel is a popular hotel, located 5 minutes from the Christmas market.
Hotels near Cardiff Christmas Market
Most of Cardiff's sights, attractions and places to eat out are centred around the historic Cardiff Castle. The Christmas market is just opposite the castle walls, while Winter Wonderland is located directly at the castle and near City Hall Lawn.
I recommend staying anywhere between Cardiff Castle, Cardiff Central train station and Cardiff Queen Street train station. This area is the historic centre.
I suggest staying at the Parkgate Hotel as it's a 5-minute walk to the Christmas markets. Winter Wonderland is 2 minutes away at Cardiff Castle, and City Hall Lawn is a 10-minute walk.
In my guide to hotels near Cardiff Christmas Market, you'll find further places to stay.
Location of Cardiff Christmas Market
Cardiff Winter Wonderland 2023
Winter Wonderland presents as an ultimate festive treat at Cardiff Castle and City Hall Lawn this winter.
At Cardiff Castle, the star attraction is the Ice Walk and Ice Rink, nestled within the castle's picturesque grounds.
Against the striking backdrop of the Norman Keep, an undercover ice rink caters to all ages and abilities. A notable feature is that every Wednesday afternoon, between 1:30pm and 2:30pm, accessible sessions are available, making the joy of ice skating more inclusive.
Moving on to the City Hall Lawn, a host of family funfair attractions awaits. The iconic Giant Wheel provides the perfect vantage point for panoramic city views.
The popular Sur la Piste, a two-story ski lodge bar, returns this year with a brand-new outdoor roof terrace. For those seeking a truly frosty experience, the new Ice Bar offers sub-zero temperatures in a setting where everything, quite literally, is made out of ice.
Lastly, the Alpine Village's covered seating areas provide a cosy spot to sit back and enjoy a selection of festive food and drink, rounding off the Winter Wonderland experience in the heart of Cardiff.
Cardiff Winter Wonderland dates: 16th November 2023 to 2th January 2024.
Location: Cardiff Castle and City Hall Lawn.
Opening times: 11am to 10pm.
Ice skating: Yes, including accessible skating.
Attractions: Giant Wheel, Ice Bar, Ice Walk and funfair attractions.
Tickets: Book online.
Location of Cardiff Winter Wonderland
Cardiff Christmas Festival
This year, the much-anticipated Cardiff Christmas Festival is making a comeback. The event, now situated within the lush landscape of Sophia Gardens, will be held in a heated, 550-seat Spiegeltent, creating a unique environment for festival attendees.
At the heart of the Cardiff Christmas Festival are three spectacular shows, each providing a different flavour of entertainment. One of these, "Santa's Wish," has returned due to popular demand. This enchanting musical adventure received critical acclaim last year and was met with such enthusiasm that supply couldn't keep up with demand.
Another crowd-pleaser is the highly anticipated "Castellana." This show blends world-class cabaret, circus acts, burlesque and comedy in a mesmerising spectacle.
Finally, "Welsh of the West End," an internationally known musical theatre group and Britain's Got Talent participants, will bring their show to the intimate setting of the Spiegeltent. Their performance, scheduled for one night only on Sunday 17th December, promises a chance to witness their talent up close and personal.
Cardiff Christmas Festival dates: 1st to 24th December 2023.
Location: Sophia Gardens.
Tickets: Book online.
Christmas in Cardiff
Christmas Specialties in Cardiff
Plan your Christmas holiday with our best Christmas markets UK guide. Discover where to go, things to do and the best ways to experience the country's food, history and culture.
Welsh Cakes: These scrumptious treats are a classic Welsh speciality. They're a type of griddle cake, made with flour, butter, currants, eggs, milk and spices such as cinnamon and nutmeg. Each cake is rolled out to a round shape, cooked on a griddle until golden and then sprinkled with caster sugar. Welsh Cakes have a unique texture, somewhat between a cookie, scone and pancake, and are perfect with a cup of tea.
Bara Brith: A rich fruit loaf that stands as a festive favourite in many Welsh households. Bara Brith, which means 'speckled bread' in Welsh, features dried fruit soaked in tea, giving it a distinctive flavour and moist texture. It's commonly sliced and buttered, enjoyed as a hearty snack during the cold winter months.
Glamorgan Sausages: Hailing from the historic county of Glamorgan in South Wales, these vegetarian sausages are a delightful alternative to traditional meat sausages. They consist of cheese (usually Caerphilly), leeks and breadcrumbs and are often served with a side of red onion and cranberry chutney.
Laverbread: Not to be confused with a typical 'bread', Laverbread is a traditional Welsh dish made from laver, a type of seaweed. It's usually mixed with oats and fried into small patties. While it might be an unconventional Christmas dish to some, it's often enjoyed over the festive period in Wales, particularly with a cooked breakfast.
Cawl: This is a hearty, warming Welsh stew, ideal for those cold winter nights. Cawl is typically made with lamb and winter vegetables like swedes, carrots, and potatoes. While not strictly vegetarian, it's easily adapted by substituting the lamb with chunky winter vegetables and pulses, ensuring everyone can enjoy this Welsh comfort food.
Mince Pies with Welsh Mead: Last but not least, no Christmas in Cardiff is complete without mince pies. These small, sweet pies filled with a mixture of dried fruits and spices are a staple on British Christmas tables. They're often enjoyed in Wales with a glass of warm Welsh mead, a honey-based alcoholic beverage with ancient origins, adding a unique Welsh twist to the tradition.
Food at the Christmas Market
Yorkshire Pudding Wraps: Taking centre stage at Cardiff Christmas Market, these wraps turn the traditional British roast dinner into a handheld delight. A large, thin Yorkshire pudding serves as the wrap, enveloping succulent roast meat, stuffing, crispy potatoes and a dash of gravy. Vegetarian versions with roast vegetables and gravy are also readily available.
Toasted Marshmallows: No winter festival is complete without them. You'll find vendors toasting plump marshmallows over an open flame, creating a perfect balance of crisp, caramelised exterior and gooey, melting interior. Enjoy them straight from the stick or sandwiched between two biscuits.
Roasted Chestnuts: Sold in paper bags and served piping hot, roasted chestnuts are a traditional street food snack, their sweet, nutty aroma permeating the crisp winter air of Cardiff Winter Wonderland. They're a lovely treat while you're walking around and exploring the festival.
Hot Mulled Wine and Cider: To keep the chill at bay, there's nothing better than a steaming cup of mulled wine or cider. These traditional festive drinks are made by heating red wine or apple cider with spices like cloves, nutmeg, and cinnamon and sweetening it with sugar and orange slices.
Crepes: These thin French pancakes are popular at many Christmas markets. Vendors whip up these delectable treats right in front of you, offering a variety of fillings from classic lemon and sugar to indulgent Nutella and banana.
Bratwurst: Reflecting the international influence on Christmas market food, you'll find German bratwurst stalls. The sizzling sausages are served in a crusty roll with a choice of sauerkraut, onions, and a selection of mustards.
Churros with Chocolate: Originating from Spain, these deep-fried doughnut-like pastries are dusted with sugar and often served with a cup of thick, hot chocolate for dipping. They're a favourite indulgence at the Cardiff Winter Wonderland, providing a sweet contrast to the more savoury street food options.
What to Buy
Welsh Love Spoons: These handcrafted wooden spoons are a distinct part of Welsh tradition, usually given as a token of affection. You'll find them in a variety of designs and sizes, some intricately carved with symbols of love, luck and happiness. They make an ideal souvenir or gift.
Welsh Wool Products: Among the stalls, you'll discover vendors selling high-quality wool products from local Welsh sheep. These items range from cosy woollen scarves and blankets to stylish hats and gloves. Each product is warm and practical and carries a piece of Welsh heritage.
Handmade Jewellery: Many skilled artisans exhibit at Cardiff's Christmas market, offering unique, handmade jewellery pieces. From beautifully crafted Celtic designs to modern and stylish accessories, there's a broad range of items to browse and potentially find the perfect gift.
Local Art and Prints: Cardiff's artistic spirit shines brightly at the Christmas market, with stalls showcasing works from local artists. Beautiful prints depicting iconic Cardiff scenes, abstract art, or nature-inspired pieces can be found, each adding a touch of Welsh culture to your home or making a thoughtful gift.
Welsh Food Hampers: A quintessential Christmas gift, Welsh food hampers are a popular find. They typically include a selection of local produce like Welsh cakes, preserves, cheeses and ales.
Hand-poured Candles: Several stalls feature candles made by local artisans. These hand-poured delights come in a range of festive scents, like mulled wine, cinnamon, and pine. Packaged beautifully, they make an excellent gift or a way to bring the festive spirit into your own home.
Welsh Slate Products: Utilising the natural resources of Wales, many vendors sell items made from Welsh slate. This might include coasters, cheese boards, or picture frames. Each slate piece, often engraved with Welsh words or symbols, is a unique piece of Wales to take home with you.
Christmas Ornaments: A classic purchase at any Christmas market, Cardiff's stalls will be filled with a variety of festive ornaments. You'll find handmade baubles, wooden tree decorations, and unique trinkets, many with a unique Welsh twist, to add to your collection.
Visit Cardiff is the official website of the city. They have information regarding events and the best ways to experience Cardiff and elsewhere in Wales at Christmas.
Sustainable Travel Tips
The choices we make have an environmental and social impact on the places we visit. Try to implement these responsible travel measures when visiting Cardiff at Christmas.
Walk or Cycle around Cardiff: The city is known for its extensive cycling and walking paths. The Taff Trail, for example, is a multi-purpose route that connects Cardiff Bay to the heart of the city and beyond, providing a green, safe and tranquil route for your city explorations. Choose to walk or rent a bike from one of the city's many Nextbike stations. Not only does this reduce carbon emissions, but it also allows you to experience Cardiff more leisurely.
Eat Local and Seasonal Food: When dining out, opt for restaurants and cafes that source their ingredients locally and seasonally. Cardiff has a growing food scene, with many establishments prioritising sustainable practices. For example, the award-winning Milkwood in Pontcanna prides itself on using Welsh produce and adjusting its menu according to the season.
Reduce Food Waste: Keep an eye on food portions when eating out or ordering takeaway and try not to over-order.
Opt for Public Transport: Cardiff has an excellent public transport system. Use the city's buses and trains to get around, reducing your carbon footprint.
Shop Responsibly: Look for local artisans and crafters when shopping for gifts. Not only are you supporting the local economy, but you're also likely buying products that have been made ethically and sustainably. The stalls at the Cardiff Christmas Market are an excellent place to start.
FAQ
When is Cardiff Christmas Market?
Cardiff Christmas Market 2023 dates are from 9th November to 23rd December 2023.
Where is Cardiff Christmas Market?
The Christmas markets in Cardiff are located along St John Street, Working Street, Trinity Street and the Hayes.
What time does Cardiff Christmas Market open?
The Christmas markets open at 10am daily.
What time does Cardiff Christmas Market close?
The Christmas markets close at 6pm daily, except for Sundays when it closes at 5pm.
When is Cardiff Winter Wonderland?
Winter Wonderland is from 16th November 2023 to 2th January 2024.
When does Winter Wonderland open?
Winter Wonderland opens at 11am and closes at 10pm daily.
If you want to leave a review of Cardiff Xmas Market, please comment below.
—
Recommendations are independently chosen based on personal travel experiences and extensive research. This post contains affiliate links to hotels and tours in Cardiff, Wales. This means I get a small commission from any bookings at no extra cost to you.