Bournemouth is well-regarded for its seven-mile stretch of award-winning beaches and vibrant nightlife, but it has a distinctive appeal in winter too. The city transforms into a festive hotspot, with the Bournemouth Christmas Market and Christmas Tree Wonderland as its centrepieces.
In this guide, I'll give you all the details on these markets, providing key dates for 2023, opening times, locations and the unique festive offerings you can expect to encounter.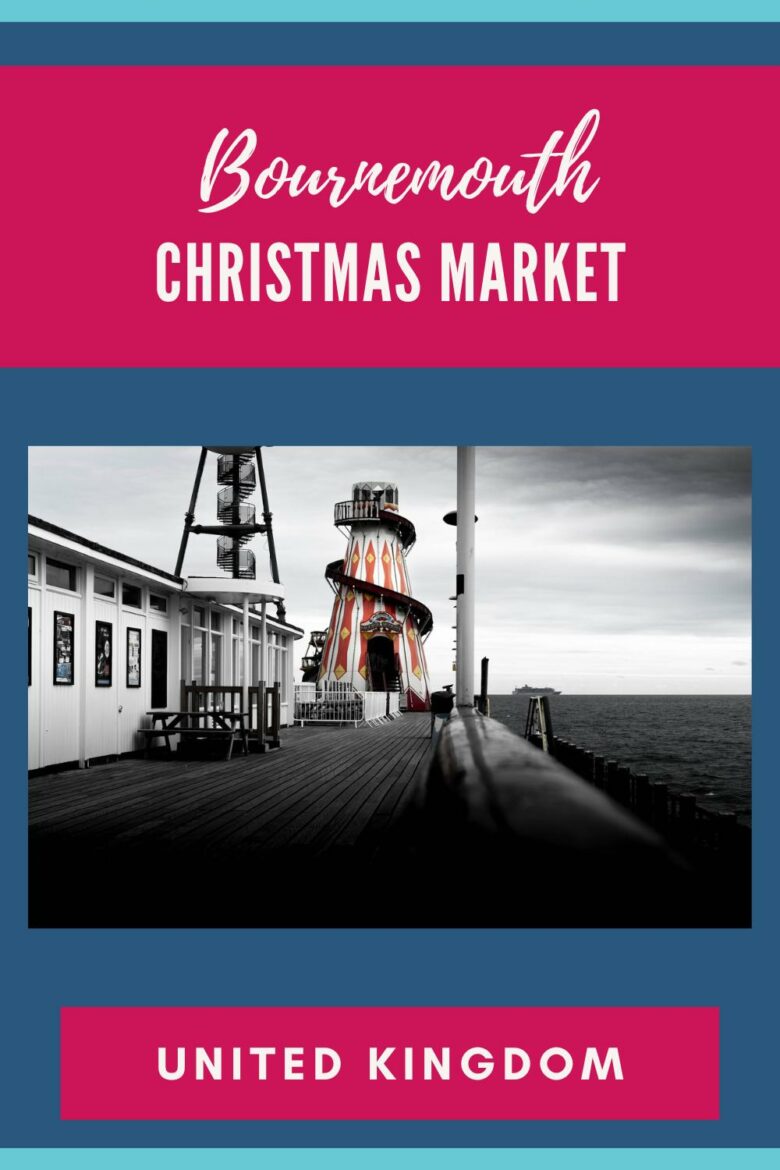 While you're in Bournemouth this winter, take a stroll along the beach to soak up the winter sun, enjoy the stunning coastal views, or visit Old Harry Rocks.
For an even more unique experience, try a winter surf lesson on the beach or take a tour of the area's historic sites.
Bournemouth Christmas Market 2023
The Christmas markets in Bournemouth is a popular event with stalls selling gifts, decorations, food and drinks. It takes place throughout December and into January, with a Christmas party atmosphere in the air.
There's also the Christmas Ice Rink, where you can skate to festive music, shows, and activities at the Bournemouth International Centre. Full Christmas stalls details can be found below.
Dates and Location
Bournemouth Christmas Tree Wonderland and the Alpine Christmas Market are open during the same period.
Bournemouth Christmas Market dates: 17th November 2023 to 1st January 2024.
Location: Bournemouth Square.
Opening times: 11am to 11pm.
Admission: Free, no tickets required.
Payments: Vendors accept cash, contactless and card.
Christmas lights: No switch-on this year.
Christmas Tree Wonderland: The light trail opens from 17th November 2023 to 1st January 2024.
Santa: Meet Santa at Russell Cotes Art Gallery on the 2nd and 3rd December 2023.
Ice skating: Yes, at Lower Gardens. Book online here.
Alpine Bar: In Bournemouth Square, next to the Obscura Café.
Vegetarian: Yes, many options.
Vegan: Yes, many options, including pizza and vegan wieners.
Gluten free: Yes, including gluten free bratwurst.
Accessible: Yes.
Pet-friendly: Yes. Dogs are allowed on a lead.
Parking: Please take public transport to help limit congestion.
Reason to visit: The Christmas tree light trail that includes 100 illuminated trees.
Specialities: Hog roast, loaded hot chocolate, Swiss-style raclette, vegan wieners, Yorkshire pudding wraps, baklava.
Where to stay: Hampton by Hilton is a comfortable hotel, 3 minutes from the Christmas market.
Hotels near Bournemouth Christmas Market
The Christmas market is located in The Square in Bournemouth. This is a popular pedestrianised shopping area. Most hotels are located a little bit away from here in the Town Centre and towards the Bournemouth Pier.
I suggest staying at Hampton by Hilton Bournemouth as it's the closest hotel to the Christmas markets while also being near many of the city's sights.
Location of Bournemouth Christmas Market
Christmas in Bournemouth
Christmas Specialties in Bournemouth
Bratwursts – At the heart of the Bournemouth Christmas Market, this stall serves up award-winning German sausages masterfully crafted by a seasoned butcher. They're gluten-free, cooked over lump wood charcoal for an authentic smoky taste, and served with fresh white or wholemeal bread rolls.
Norris & Binglewort – No visit to Bournemouth Christmas Markets would be complete without a warming beverage. The market favourite Norris & Binglewort will be there to make sure you stay warm with their epic loaded hot chocolates, a decadent drink sure to brighten up the chilliest winter day.
The Yorkshire Pudding Wrap Co – For a hearty bite, try a Yorkshire Pudding wrap from The Yorkshire Pudding Wrap Co. Imagine a traditional Sunday Roast, but wrapped in a giant Yorkshire pudding, combining British culinary classics into a mouthwatering package.
Hog Roast – It wouldn't be a proper Christmas market without a hog roast. This crowd-pleaser stall serves up spit-roasted pork complemented by apple sauce, stuffing, crackling, and a host of festive favourites.
Sprout & Bean – When it's time for a coffee break, find your way to Sprout & Bean. Along with your piping hot cup of freshly ground coffee or tea, you can enjoy freshly baked festive bakes, a wonderful treat to pair with your warm drink.
Mighty Weiners – The Mighty Weiners stall is a go-to spot for vegan visitors. Their menu features plant-based wieners served in soft brioche-style rolls, available with a variety of toppings for a customised, plant-based feast.
Raclette – A winter market classic, raclette cheese finds its way into the Christmas market in Bournemouth. Enjoy piping hot roast potatoes, bread or fries covered in freshly grilled raclette cheese and ham, a simple yet deliciously satisfying dish.
El Murrino – For pizza lovers, El Murrino is a must-visit. They serve Neapolitan-style pizzas with all the classic Italian toppings, including vegetarian and vegan options. And if you're after something sweet, don't miss out on their sweet Nutella pizzas!
Churros Kings – The Churros Kings have reimagined the humble churro. Sprinkled with cinnamon and served with your choice of milk or white chocolate, these treats are a festive favourite not to be missed.
Christmas Crêpes – Round off your Christmas market culinary tour with Christmas Crêpes. Serving sweet crêpes and savoury galettes, this stall promises traditional favourites and inventive new fillings.
Discover other great winter destinations with my guide to the best Christmas markets UK edition.
Christmas Gifts and Stocking Fillers
Cherry Tree Preserves – This stall is a treasure trove of high-quality, award-winning preserves, chutneys, marmalades and curds, all locally made. Cherry Tree Preserves also offers a selection of flavoured cheeses for a cheese lover. You can even pick up a mini food hamper, perfect for gifting to the foodie in your life.
Butternut Box – Don't forget about your furry friends this Christmas. Butternut Box specialises in freshly prepared dog food, adding a touch of festive cheer to your pet's meal times. It's a great opportunity to treat your four-legged companion to some delicious and healthy food.
Dorset Chilli – Spice things up a notch with Dorset Chilli, a stall dedicated to all things chilli. Alongside their in-house range, they feature a collection from other British craft producers. It's a perfect stop to find a gift for the spice lovers in your life.
Viking Drinking Horns – For a unique and historically inspired gift, consider a polished Viking Drinking Horn. Each horn is treated with a food-safe varnish, ensuring no bad smell or taste. They add a touch of drama and historical charm to any drink.
Moswicks Wines and Spirits – A perfect gift for adults, Moswicks Wines & Spirits provides a fun range of wines and spirits in an array of quirky flavours. Imagine a bottle of chocolate wine, bubblegum gin, or caramel vodka under the Christmas tree.
Kohler Kusse – Give the gift of luxury German chocolate with Kohler Kusse. These chocolates have a crisp wafer base and a light, fluffy marshmallow centre and come covered in chocolate with over 12 flavours to choose from.
Olde English Fudge – A visit to the Olde English Fudge stall will transport you back in time. The award-winning fudge is handmade the old-fashioned way, creating a rich, creamy texture that's hard to resist. With around 40 flavours to choose from, there's something to satisfy everyone's sweet tooth.
Luxury Personalised Christmas Decorations – What's more special than a personalised Christmas decoration? Made from ceramic, these decorations can be personalised while you wait, making them a truly unique and thoughtful gift.
Christmas Jumpers & Gifts – Embrace the festive spirit with a fun Christmas jumper. You'll find a wide range of Christmas jumpers and novelty gifts for the whole family, adding a fun touch to the holiday season.
South Coast Makers Market – Celebrate local talent by visiting the South Coast Makers Market. This collective of Bournemouth's best independent businesses offers the finest local produce, crafts and design, ideal for picking up unique, locally-made gifts.
Star Baubels – The Star Baubels stall adds a handcrafted touch to Christmas decorations. Their hand-blown glass and paper mache Christmas baubles are handpainted and can even be personalised, making each bauble a special piece of festive art.
Bournemouth is the local tourism website. They have a good range of information on things to do in the city and along the coast. They're also useful for winter travel and monthly lists of events.
Things to do in Bournemouth
Bournemouth Pier – A leisurely stroll along the Bournemouth Pier lets you take in sweeping views of the sea and beach. The pier is also home to various amusement arcades offering fun and games for adults and children alike.
Russell-Cotes Art Gallery and Museum – Situated in an exquisite Victorian villa, the Russell-Cotes Museum houses an intriguing array of art and historical artefacts. Here you can immerse yourself in culture and history, gaining insights into the intriguing stories behind each piece.
Shopping in Bournemouth City Centre – Bournemouth city centre is a shopping haven with an eclectic mix of shops. From popular high-street chains to unique independent retailers, the city offers a varied shopping experience sure to satisfy everyone's tastes.
Lower Gardens – The beautiful Lower Gardens are perfect for a relaxing stroll. Blanketed with a variety of plants and flowers, the gardens offer tranquillity within the city. You can also embark on a peaceful boat ride along the river, observing the serene environment at a leisurely pace.
Bournemouth Beach – Bournemouth Beach is a stunning sandy shore expanse, ideal for sunbathing and paddling in the sea. Its pristine conditions make it a favourite among visitors and locals alike.
Bournemouth International Centre – The Bournemouth International Centre is a premier venue for events. From pulsating music concerts to exciting sports tournaments, there's always something happening here, offering a touch of entertainment and culture.
Bournemouth Wheel – The Bournemouth Wheel offers a unique vantage point to view the city. As the wheel carries you up, you'll get to witness breathtaking views of Bournemouth in all its winter splendour.
Bournemouth Pavillion Theatre – The Bournemouth Pavillion Theatre is the city's cultural heartbeat. Hosting a diverse range of music and theatre performances, it offers a cultural feast for performing arts fans.
Local Cuisine – Bournemouth is a gastronomic delight, with numerous restaurants and cafes serving local delicacies. Sampling the local cuisine is a must-do, offering an insight into the city's culinary culture.
Sustainable Christmas Tips
Let's explore some ways to travel more responsibly in Bournemouth this Christmas season.
Choose Eco-Friendly Accommodation – Bournemouth has a wide range of hotels and bed and breakfasts that are making strides in sustainability. Seek out accommodation providers that use renewable energy sources such as solar or wind power and implement water-saving measures. You'll support businesses that prioritise environmental responsibility while reducing your carbon footprint.
Reduce Food Waste – When indulging in the delicious treats at Bournemouth Christmas Market, try to only order what you can comfortably eat. Many food vendors also encourage customers to bring their own reusable containers for takeaway meals, which can help reduce packaging waste.
Ethical Consumption – With a vast array of shopping opportunities in Bournemouth, going on a spending spree can be tempting. Try to buy only what you need or can use. Consider purchasing gifts and souvenirs from local artisans and makers at the South Coast Makers Market; this way, you're buying unique items and supporting the local economy.
Sustainable Diets – Enjoying local cuisine can be a highlight of any holiday, but we can make our diets more sustainable. Look for Christmas market stalls offering vegetarian and plant-based options, such as Sprout & Bean or Mighty Weiners. Reducing our meat consumption, even just for a few meals, can significantly impact our carbon footprint.
Sustainable Transport – Bournemouth is a compact city with good public transport links. Try to reduce your carbon emissions by taking the bus or, better yet, walking or cycling. Bournemouth's well-maintained cycle paths, like the one from Boscombe to Sandbanks, offer a greener and healthier way to explore the city and its stunning coastal views.
Remember, every small step can contribute to a more sustainable and eco-friendly Christmas holiday in Bournemouth.
FAQ
When is Bournemouth Christmas Market?
Bournemouth Christmas Market starts on 17th November 2023 to 1st January 2024.
Where is Bournemouth Christmas Market?
The Christmas markets in Bournemouth are held at The Square.
What time does Bournemouth Christmas Market open?
The Bournemouth Christmas Market and Alpine Bard are open daily from 11am to 11pm.
If you want to leave a review of Bournemouth Xmas Market, please comment below.
—
Recommendations are independently chosen based on personal travel experiences and extensive research. This post contains affiliate links to hotels and tours in Bournemouth, UK. This means I get a small commission from any bookings at no extra cost to you.