Despite starting in 2004, Belfast Christmas Market has become one of the largest winter events in Northern Ireland, attracting over 1 million visitors annually. The market is situated at City Hall Gardens, which provides a spacious and open central area, perfect for accommodating its 100 chalets.
Featuring a wonderful assortment of Christmas gifts, decorations, and high-quality holiday cuisine, the festive market is a must-visit. This guide contains the most up-to-date information regarding the market's dates and opening hours for 2023.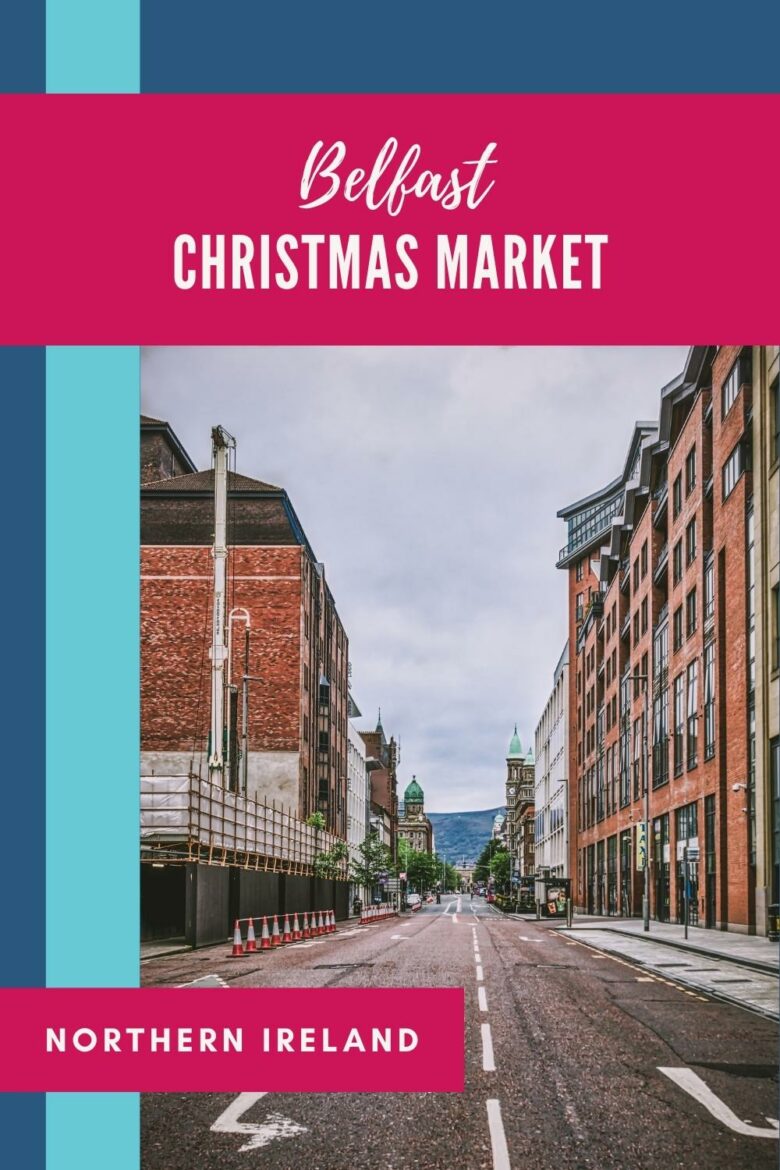 Belfast Christmas Market 2023
When visiting the Christmas markets in Belfast, prepare to be tempted by an array of local specialties as well as products from around the globe. Choose from mouthwatering treats to handmade crafts; there's something for everyone to enjoy.
A significant portion of the local cuisine on offer at the markets is supplied by the nearby St. George's Market, a beloved Belfast institution. Keep an eye out for your favourite vendors as you wander through the festive stalls.
At the markets, you can find an array of unique holiday gifts and delicious festive fare. The markets offer a wide range of products, including local specialties and international delicacies, to cater to all tastes and preferences.
You can attend the grand opening of the Christmas market at 6pm on Saturday, November 18th. Make sure to visit and enjoy the Christmas lights, window displays, and street performances.
Dates and Location
Belfast Christmas Market dates: 18th November to 22nd December 2023.
Location: Belfast City Hall, Donegall Square.
Opening times: Monday to Wednesday: 10am to 8pm. Thursday to Saturday: 10am to 10pm. Sunday: 12pm to 6pm. Bars close 1 hour later, except Sundays.
Christmas Day: Closed.
Admission: Free, no tickets required.
Christmas lights: Yes, switch on date: Saturday, 18th November at 6pm.
Santa: Yes.
Ice skating: Yes, there is a covered ice skating rink.
Vegetarian: Yes, plenty of options.
Vegan: Yes, some options.
Gluten free: Yes, but limited.
Accessible: Yes.
Pet-friendly: Yes, dogs are allowed on a lead.
Parking: Please take public transport to help limit congestion.
Reason to visit: Take your pick from more than 100 Christmas chalets, have a drink at the famous beer tent and don't miss the Hug in a Mugof, a German gluhwein direct from the Mosel Valley.
Recommended tour: Take a tour with a local tax driver in this popular Political Taxi Tour of Belfast.
Specialities: French crepes, Dutch pancakes, Belgian chocolates, Spanish paella are some of the classic European foods you can sample. Mulled wine, hot cider, local beer and hot choclate are all immensely popular at the markets.
Where to stay: Ten Square Hotel is a popular hotel located directly across the road from Belfast City Hall.
Hotels near Belfast Christmas Market
Belfast has a compact city centre stretching from the Grand Opera House to Waterfront Hall, with Belfast City Hall between the two. This area is easily walkable, but there are regular bus services if you find that easier.
I suggest staying at the Ten Square Hotel as it's located directly across from Belfast City Hall, the location of the main Christmas market.
Alternatively, my guide to hotels near Belfast Christmas Market lists several well-located hotels covering all budgets.
Location of Belfast Christmas Market
City and Christmas Tours
Exploring Belfast through a city tour is an excellent way to immerse oneself in the city's rich history and culture. With its picturesque old town, vibrant facades, and remarkable architecture, Belfast is a city that captivates visitors of all ages.
I highly recommend this Political Taxi Tour of Belfast that showcases the history of Belfast and the Troubles. It's an interesting take on a city tour and one of the most popular ways to discover Belfast.
Alternatively, a food tour can provide an opportunity to learn about the local culture through the city's diverse cuisine. This food tour blends a walking food tour with street art.
During a city tour, you can explore the city's iconic landmarks and attractions, such as the historic Titanic Quarter, the magnificent City Hall, and the impressive St. Anne's Cathedral. Discover the fascinating history of Belfast and admire its stunning sights along the way.
After a quiet couple of years, many people are deciding to travel this year. Plan your Christmas break with my best UK Christmas markets 2023 guide. Discover where to go, things to do and the best ways to experience UK food, history and culture.
What to Expect in Belfast
If you're curious about the Belfast Christmas Market, you'll want to check out this video. It provides a firsthand look at the festive atmosphere, charming stalls, and mouth-watering delicacies that await you at the market.
Christmas Specialties in Belfast
Belfast and Northern Ireland have a rich culinary history when it comes to traditional Christmas food, but the city is embracing contemporary dishes too. Here are some popular options, including vegetarian alternatives:
Champ: A side dish made from mashed potatoes, scallions, milk, and butter.
Colcannon: Another side dish consisting of mashed potatoes, cabbage or kale, and sometimes bacon or ham.
Mince pies: small, sweet pies filled with mincemeat, which is a mixture of chopped dried fruits, spices, and sometimes nuts.
Christmas pudding: a rich, dense pudding made with dried fruit, spices, and sometimes alcohol. It is typically served with brandy sauce or custard.
Vegetarian nut roast: a flavorful and hearty vegetarian option made with nuts, breadcrumbs, vegetables, and herbs.
Cranberry sauce: a tangy and sweet sauce made from cranberries, sugar, and sometimes orange zest or spices.
These festive dishes are just a few of the many traditional Christmas foods that can be enjoyed in Belfast and Northern Ireland.
Food at the Christmas Market
The Belfast markets offer a wide selection of street food options that are perfect for enjoying on the go while exploring the festive stalls. Although you'll find plenty of Belfast specialties, here are some typical international street foods you can expect to find:
Bratwurst: A type of German sausage typically grilled and served in a bun with mustard and ketchup.
Crepes: Thin, French-style pancakes that can be filled with sweet or savoury fillings such as Nutella, fruits, cheese, or ham.
Churros: A Spanish pastry that is fried and coated in sugar, often served with a side of hot chocolate or caramel sauce for dipping.
Belgian waffles: Crispy, light waffles that are typically served with a variety of toppings such as fresh fruits, whipped cream, chocolate sauce, or Nutella.
Goulash: Hearty Hungarian stew that is typically made with beef or pork, potatoes, vegetables, and paprika.
Poffertjes: Small, fluffy Dutch pancakes that are typically served with butter and powdered sugar.
Paella: A Spanish rice dish that can be served with seafood, meat, or vegetables.
Gluhwein: A traditional German drink that is made with red wine, spices, and sometimes orange peel. It's a warm, comforting drink perfect for sipping on a cold day.
What to Buy
The Christmas markets have an array of traditional and unique gifts and products that make for perfect holiday presents or souvenirs. Here are some typical gifts and products you can find in Belfast:
Handcrafted pottery and ceramics: a selection of handmade pottery and ceramics, including bowls, vases, and mugs.
Traditional Christmas decorations: a range of classic Christmas decorations such as baubles, ornaments, and wreaths.
Handmade jewellery: unique, locally made jewellery crafted from a variety of materials, such as wood, glass, and metal.
Local art and prints: a collection of artwork and prints from local artists featuring scenes from Belfast and Northern Ireland.
Handmade candles and soaps: hand-poured candles in various scents and handmade soaps and skincare products.
Wooden toys and ornaments: a variety of wooden toys and ornaments, including puzzles, figurines, and tree decorations.
These are just a few examples of the typical gifts and products you can find at the Belfast Christmas markets. With over 100 chalets, the market offers a wide selection of unique and traditional items, making it the perfect place to shop for holiday gifts or to treat yourself to something special.
If you're planning a visit to Belfast during the Christmas season, Visit Belfast is an excellent resource for information on events and the best ways to experience the city's holiday festivities. The website also provides tips on things to do in winter, museums to visit, unique attractions to explore, and interesting tours.
Sustainable Christmas Travel Tips
When visiting Belfast's Christmas markets or any other destination, it's important to consider the impact of your choices on the environment and local communities. Here are some responsible travel measures you can implement:
Shop mindfully by purchasing only what you really need. Consider buying locally-made products and gifts that support the local economy.
Walk, cycle, or use public transportation to get around the city, reducing your travels' carbon footprint. This is easy to do in Belfast, thanks to the increasing number of protected cycling lanes.
Stay in a sustainable hotel that uses renewable energy sources or supports local environmental initiatives.
Avoid using plastic or purchasing items made or packaged with plastic. Bring a reusable bag, water bottle, and food container.
Try to eat locally sourced organic food where possible, supporting local farmers and reducing the carbon footprint of food transportation.
Limit your consumption of meat and dairy, which can have a significant environmental impact.
Be open to diverse cultures and experiences. Try local foods, attend cultural events, and engage with local people.
Explore more than just the main tourist areas. Belfast has many hidden gems and neighbourhoods waiting to be explored.
Support the arts and attend local events. Belfast has a vibrant arts scene, with many galleries, theatres, and music venues to enjoy.
Visit fewer places but stay longer at each destination. This allows you to have a deeper experience of the local culture and reduces the environmental impact of frequent travel.
FAQ
When is the Christmas market in Belfast?
The Christmas markets in Belfast dates take place from the 18th November to 22nd December 2023.
What time does Belfast Christmas Market open?
The Christmas markets in Belfast open Monday to Wednesday: 10am to 8pm. Thursday to Saturday: 10am to 10pm. Sunday: 12pm to 6pm. Bars close 1 hour later, except Sundays.
What time does Belfast Christmas Market close?
The Christmas market closes at 8pm from Monday to Wednesday, 10pm on Thursday to Saturday and 6pm on Sundays. Bars close 1 hour later, except on Sundays.
When is Belfast Christmas lights being switched on?
The Christmas lights are switched on at the opening event on Saturday 18th November 2023 starting at 6pm.
Please comment below if you want to leave a review of Belfast Xmas Market.
—
Recommendations are independently chosen based on personal travel experiences and extensive research. This post contains affiliate links to hotels and tours in Belfast, Northern Ireland. This means I get a small commission from any bookings at no extra cost to you.