Winter in Barcelona is a fantastic escape, as you'll find yourself wandering through the enchanting streets under the soft glow of festive lights.
The city's vibrant spirit is complemented by the unique Fira de Santa Llúcia, Barcelona's historic Christmas market, that truly captures the essence of Catalonian holiday traditions.
In this post, I'll take you on a journey through the wonders of the Barcelona Christmas Market, ensuring you don't miss out on any must-see attractions and hidden gems. Read on for updated dates, opening times and locations for 2023.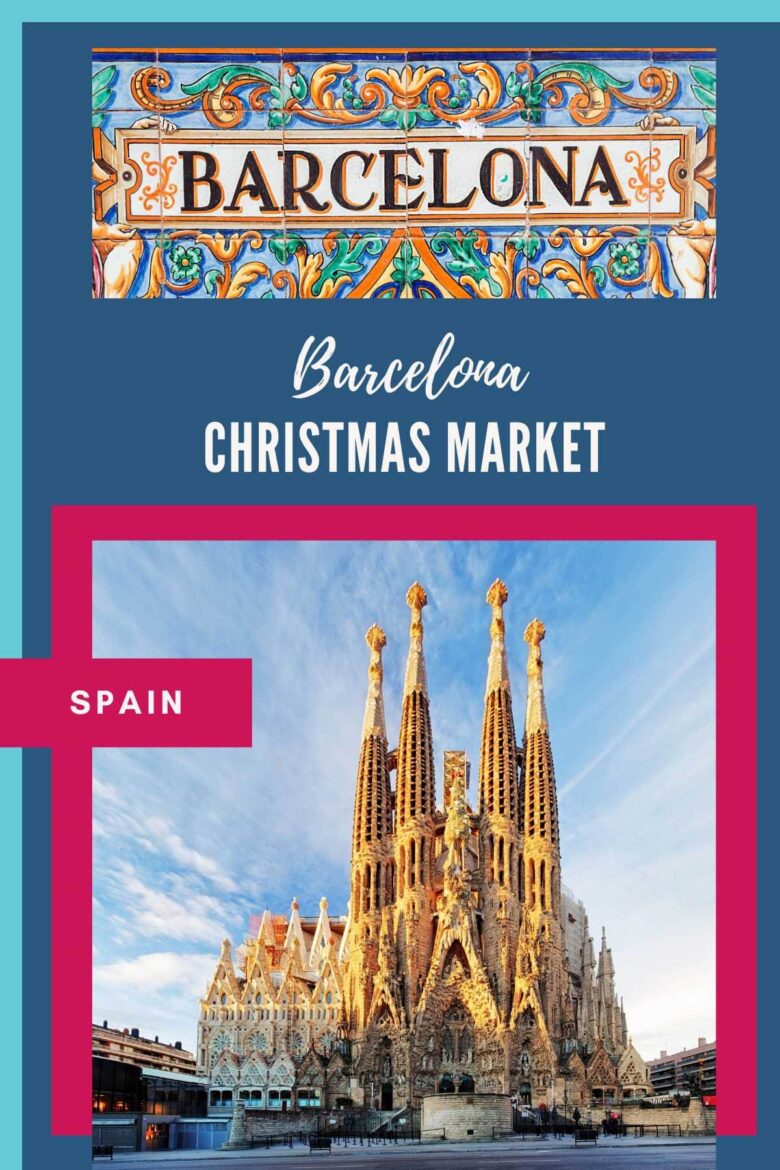 Immerse yourself in the festive atmosphere of Barcelona during Christmas, where colourful nativity scenes and sparkling decorations create a magical cityscape.
The air fills with the aroma of delicious seasonal treats, inviting you to indulge in scrumptious Catalan holiday delicacies.
Experience the warmth of the locals as they come together to celebrate the magic of the season, ensuring that your Christmas in Barcelona is a heartwarming encounter you'll cherish.
Barcelona Christmas Market 2023
Step into the Barcelona Christmas Market world, where over 300 Christmas stalls await, showcasing an array of handcrafted gifts, artisanal products and tasty local cuisine.
One of the highlights is the Caga Tió, a whimsical wooden log adorned with a painted face, which brings joy and laughter to children and adults alike.
Don't miss the opportunity to explore the stalls selling unique Catalan decorations, such as the caganer, a quirky figurine that adds a touch of humour to the traditional nativity scene.
While you're there, indulge in some traditional holiday treats like turron, a nougat confection, and warm up with a cup of steaming hot chocolate, perfect for savouring the festive spirit that envelops the bustling market.
Dates and Location
Barcelona Christmas Market dates: Possible dates: 29th November to 24th December 2023.
Location: Pla de la Seu, in front of the Cathedral of Barcelona in the Gothic Quarter.
Opening times: From around 10am to 9pm.
Christmas Day: Closed.
Admission: Free, no tickets required.
Christmas lights: Yes, but no switch on date.
Santa: No.
Ice skating: Yes, at Pla de la Seu.
Vegetarian: Yes, plenty of options.
Vegan: Yes, but limited.
Gluten-free: Yes, but limited.
Accessible: Yes.
Pet-friendly: Yes, dogs are allowed on a lead.
Parking: Please take public transport or walk to help limit congestion.
Reason to visit: Ancient traditions meet modern flair; vibrant Catalan culture; exclusive artisanal products; Caga Tió experience; uniquely whimsical decorations.
Recommended tour: This Old Town and Gothic Quarter walking tour is a great introduction to Barcelona.
Specialities: Turron, neules, panellets, escudella i carn d'olla, cava, hot chocolate, churros, roasted chestnuts. See below for full details.
Where to stay: Hotel Catalonia Catedral is a highly-rated hotel located directly across from the Christmas market.
Hotels near Barcelona Christmas Market
The Gothic Quarter is your ideal destination for a convenient stay in Barcelona near the Christmas market, as its brimming with history and charm.
Its winding, narrow streets lead to cosy cafes, lively plazas, and enchanting shops, set the perfect scene for your winter holiday.
To stay in this quarter and be near the Christmas market, I suggest staying at Hotel Catalonia Catedral, which provides a superb location and modern comforts, just a stone's throw away from the festive markets (known locally as Fira de Santa Llúcia).
Location of Barcelona Christmas Market
City and Christmas Tours
A city tour of Barcelona is a fantastic way to experience the city's rich history and vibrant culture.
With its enchanting old town, colourful facades and awe-inspiring architecture, Barcelona is a city that truly has something for everyone. But it's a big, widespread city, so a tour is a great way to orient yourself and get a great overview of what there is to see,
I recommend this Gothic Quarter city tour of Barcelona as you get to see all the highlights of the city and this unique district.
You might also want to take a food tour as a way to discover Barcelona's incredible tapas scene. There are many food tours in Barcelona, but this tour focuses on tapas, and it's one of the best-rated tours in the city.
On a city tour, you'll visit some of the city's most iconic landmarks and attractions, like the historic Gothic Quarter, the mesmerising Sagrada Familia and the bustling Las Ramblas promenade.
What to Expect in Barcelona
Get a glimpse of the Christmas markets in Barcelona through this video, as it walks you through the heart of the market celebrations.
Let yourself be immersed in the vibrant atmosphere, colourful stalls and local charm that define this magical market experience.
Christmas Specialties in Barcelona
Turron: A cherished Christmas confection originating from Spain, Turron is a delectable nougat made from a mixture of honey, sugar, egg whites and either almonds or other nuts. This unique treat comes in various textures and flavours, such as soft (jijona) or hard (alicante), and is often enjoyed alongside other seasonal sweets during the festive period in Barcelona.
Neules: These delicate, crispy, rolled wafer cookies are a quintessential Catalan Christmas treat. Light and airy, neules are expertly crafted into their signature spiral shape and are traditionally enjoyed with a glass of cava, the local sparkling wine. Their subtly sweet flavour and satisfying crunch make them a delightful accompaniment to any festive gathering.
Panellets: A beloved Catalan dessert, panellets are small, round pastries made from a blend of almonds and potatoes. These petite treats are coated in a layer of pine nuts, giving them a unique texture and flavour. Panellets are customarily prepared for All Saints' Day, but they have also become a popular choice for Christmas celebrations throughout the region.
Escudella i carn d'olla: This hearty, two-part dish is a staple of Catalan cuisine during the Christmas season. The first part consists of a rich, nourishing broth made from a variety of meats and vegetables, providing warmth and comfort on chilly winter days. Following the broth, a mix of tender meats and flavorful vegetables, often including local sausages, are served, creating a satisfying and festive meal.
Cava: As the renowned Catalan sparkling wine, Cava holds a special place in Barcelona's Christmas celebrations. Produced using the traditional méthode champenoise, Cava has a fine effervescence and a variety of flavour profiles, from crisp and dry to fruity and sweet. This versatile bubbly is perfect for toasting and savouring during the holidays.
Hot Chocolate: A cherished drink during the colder months, Barcelona's hot chocolate is known for its thick, rich consistency. The luxurious drink is often served with churros or melindros, which are ideal for dipping and soaking up the velvety chocolate. Enjoyed by both young and old, this comforting sweet drink adds a touch of warmth and indulgence to festive gatherings.
Churros: These long, thin pastries made from fried dough are a popular treat throughout Spain and are particularly beloved during the Christmas season in Barcelona. Dusted with sugar, churros have a slightly crispy exterior and a soft, tender interior, making them the perfect accompaniment to a steaming cup of hot chocolate. Whether enjoyed for breakfast or as a dessert, churros are a Christmas market favourite.
Roasted Chestnuts: A popular street food in Barcelona, roasted chestnuts offer a warming, vegetarian alternative to other festive snacks. Locals and visitors enjoy these freshly roasted nuts' comforting aroma and earthy flavour, traditionally cooked over an open fire in portable street-side braziers. Simple yet satisfying, roasted chestnuts are an iconic taste of Christmas in the Catalan capital.
Crema Catalana: A slightly sweet Catalan custard dessert reminiscent of crème brûlée, Crema Catalana is characterised by its luscious, smooth custard base infused with fragrant lemon zest and cinnamon. The dish is crowned with a thin, caramelised sugar crust that provides a satisfying contrast to the creamy custard. Crema Catalana is a cherished dessert in the region, especially during festive occasions.
Fideuà: This paella-inspired dish hails from the coastal regions of Catalonia and Valencia, replacing the traditional rice with short, thin noodles. Fideuà is packed with a delicious assortment of seafood, such as fish, shrimp, and squid, and seasoned with saffron, garlic and paprika. This savoury and visually striking dish is often served with a dollop of garlicky aioli, making it a popular choice for gatherings and celebrations.
Bombas: These mouthwatering potato croquettes are a classic Catalan tapas dish. Bombas feature a crispy exterior encasing a tender mixture of mashed potatoes and minced meat. They are typically served with a duo of sauces – a spicy brava sauce and a cool, creamy aioli – allowing diners to customise their flavour experience. Bombas are a popular choice for those seeking a satisfying and flavoursome snack.
Empanadas: A versatile and delectable treat, empanadas are savoury pastry pockets filled with an array of ingredients, such as vegetables, cheese, and meats. These portable snacks are popular throughout Spain and Latin America, each region offering its unique twist on the filling and dough. Ideal for sharing or as an on-the-go meal, empanadas are a delicious and convenient choice any time of year.
Garrapiñadas: A sweet and crunchy treat enjoyed during the holiday season, garrapiñadas are caramelized almonds or other nuts coated in a hard, glossy sugar shell. Typically prepared by street vendors, the enticing aroma of these candied nuts wafts through the Christmas markets of Barcelona. Their combination of sweetness and crunch makes garrapiñadas an irresistible snack for both locals and visitors alike.
Pintxos: Hailing from the Basque Country, pintxos are bite-sized, skewered tapas showcasing a variety of toppings artfully arranged on a slice of bread. These culinary snacks may feature ingredients such as seafood, cured meats, cheeses and vegetables. Often enjoyed with a glass of cava, wine or beer, pintxos provide a flavourful and visually appealing way to sample the region's cuisine.
Mulled Wine: A warm and aromatic beverage enjoyed across Europe during the Christmas markets, mulled wine is made by gently heating red wine with a blend of spices such as cinnamon, cloves, and star anise. The addition of citrus peel from oranges or lemons imparts a subtle brightness to this comforting drink.
Gingerbread: A beloved holiday treat across Europe, gingerbread biscuits are made from spiced dough that is rolled out and cut into festive shapes, such as stars, hearts, or gingerbread people. Once baked, these cookies are often intricately decorated with royal icing, adding a whimsical touch to their already delightful appearance. Enjoyed by children and adults alike, gingerbread cookies are a cherished symbol of the holiday season.
What to Buy
Caganer Figurines: These quirky figurines are a popular part of Catalan Christmas traditions. They depict a small, defecating character in the nativity scene, adding a humorous and irreverent touch to the solemnity of the scene. Caganer figurines come in a variety of styles, from traditional to modern, and are often sought out as unique and amusing holiday decorations.
Caga Tió: A festive wooden log adorned with a painted face, Caga Tió is a charming part of Catalan Christmas celebrations. Children "feed" the log with sweets and small gifts in the weeks leading up to Christmas. On Christmas Day, the log is beaten with sticks until it "defecates" its gifts. Caga Tió is a fun and playful tradition that adds a unique element to holiday decor.
Modernist Souvenirs: Inspired by the renowned Catalan architect Antoni Gaudí, these artistic souvenirs are an iconic representation of Barcelona. Featuring colourful mosaics, striking sculptures, and other unique designs, these gifts showcase the creativity and ingenuity of Gaudí's modernist style. From keychains to home decor, these souvenirs offer a beautiful way to bring a piece of Barcelona home with you.
Ceramics: Catalonia has a rich tradition of ceramic craftsmanship, and Barcelona's Christmas markets offer a plethora of beautiful pottery and dishware showcasing traditional Catalan designs and techniques. From intricate tile work to colourful vases and bowls, these pieces are both decorative and functional, providing a lasting memento of your time in Barcelona.
Textiles: Local artisans craft a range of high-quality textile products, such as espadrilles, scarves, and other clothing items, in Barcelona. Vibrant colours and unique patterns are hallmarks of these textiles, reflecting the region's rich history and cultural influences. These high-quality products make excellent souvenirs or gifts for loved ones back home.
Handcrafted Jewellery: Catalan jewellery designers offer a range of unique and distinctive pieces featuring elements inspired by the region's culture and heritage. From intricately designed earrings to statement necklaces and bracelets, these handmade pieces are a beautiful and meaningful way to commemorate your time in Barcelona.
Local Delicacies: Barcelona's Christmas markets are home to a wide range of artisanal cheeses, cured meats, and sweets, showcasing the region's rich culinary traditions. These delicious treats make perfect gifts or are ideal for enjoying during your stay in Barcelona.
Holiday Ornaments: Exquisite, hand-painted ornaments and festive decorations are also found at Barcelona's Christmas markets. These beautifully crafted pieces capture the spirit of a Barcelona Christmas and make for a memorable addition to any holiday decor. From traditional baubles to unique and quirky designs, these ornaments are sure to add a touch of holiday magic to your home.
Christmas Fair at Sagrada Família
The Christmas Fair at Sagrada Família is a charming and bustling Christmas market set against the breathtaking backdrop of Antoni Gaudí's iconic Sagrada Família (which is almost completed).
This cosy market, filled with the warmth of Catalan traditions and the aroma of seasonal treats, features a variety of stalls selling unique gifts, artisanal products and festive decorations.
A visit to the Christmas Fair is an excellent opportunity to experience the festive spirit of Barcelona while marvelling at the city's architectural gem.
Christmas Fair at Sagrada Família dates: Likely dates: Late November to 24th December 2023.
Opening times: Around 10am to 9pm.
Location: Carrer de Mallorca, Barcelona (in front of the church).
Location of the Christmas Fair at Sagrada Família
Further explore the festive holiday season with my comprehensive guide to the best Christmas markets in Spain, designed to help you discover the hidden gems and interesting travel experiences that await you.
For a wealth of valuable information and resources tailored to your Barcelona experience, the tourist office is a useful tool to help you make the most of your time in and plan an itinerary.
Sustainable Christmas Tips
Many of us are increasingly concerned about climate change and sustainability. Here are a few tips on how we can travel more responsibly in Barcelona at Christmas.
Renewable Energy: Choose a hotel that uses solar power or other renewable energy sources, to reduce energy emissions.
Energy Efficiency: Be mindful of your energy use by turning off lights and electronics when not in use, and opt for hotels with energy-saving measures in place.
Reducing Food Waste: Visit food markets like La Boqueria or Mercat de la Concepció, buying only what you need and supporting local producers to minimise waste.
Ethical Consumption: Support local artisans and eco-friendly businesses by purchasing sustainably-made products at the Christmas markets or in the city's eco-conscious shops.
Sustainable Diets: Savour plant-based dishes at vegetarian and vegan restaurants, such as Flax & Kale, Barceloneta Sangria Bar, or Veggie Garden, to reduce your environmental impact.
Sustainable Transport: Use Barcelona's efficient public transport system, including buses, trams, and the metro, or rent a bike through the city's Bicing bike-sharing program to explore the city in an eco-friendly manner.
FAQ
When is Barcelona Christmas Market?
The Christmas markets start in late November and until the 24th December 2023.
Where are the Christmas markets in Barcelona held?
The Barcelona Christmas Market, Fira de Santa Llúcia, is located in the Gothic Quarter in front of the Cathedral of Santa Eulàlia.
What time does Barcelona Christmas Market open?
The Barcelona Christmas Market usually opens daily from around 10am to 8:30pm or 9pm, depending on the day of the week.
What is the weather like in Barcelona during the winter?
Winter in Barcelona is relatively mild, with daytime temperatures ranging from 10°C to 15°C (50°F to 60°F) and occasional rain.

What are some must-try local foods at the Barcelona Christmas Market?
At the Christmas Market, be sure to taste traditional treats like turron, neules, panellets and hot chocolate with churros.

Are there other Christmas markets in Barcelona besides Fira de Santa Llúcia?
Yes, there is another notable Christmas market called the Christmas Fair at Sagrada Família, located in front of the famous Sagrada Família Basilica.
Final Thoughts
Embrace the magic of Barcelona this winter as you explore the city's vibrant Christmas markets and immerse yourself in the rich culture and history that define this captivating destination.
As you stroll through the enchanting streets adorned with festive lights, savour the local flavours and discover unique artisanal gifts that will surely make your visit a cherished experience.
With its mild climate and undeniable charm, Barcelona truly shines as a remarkable winter getaway.
If you would like to leave a review of Barcelona Xmas Market, comment below.
—
Recommendations are independently chosen based on personal travel experiences and extensive research. This post contains affiliate links to hotels and tours in Barcelona, Spain. This means I get a small commission from any bookings at no extra cost to you.