Winter in Barcelona is a fantastic escape, as you'll find yourself wandering through the streets under the glow of festive lights.
The unique Fira de Santa Llúcia is one of the highlight events. The Christmas Fair at Sagrada Familia and the Fira de Reis (Three Wise Men Festival) are Catalonian traditions taking place at the same time.
In this post, I share the confirmed Barcelona Christmas Market dates for 2023. Read on for all the details you need to plan your visit.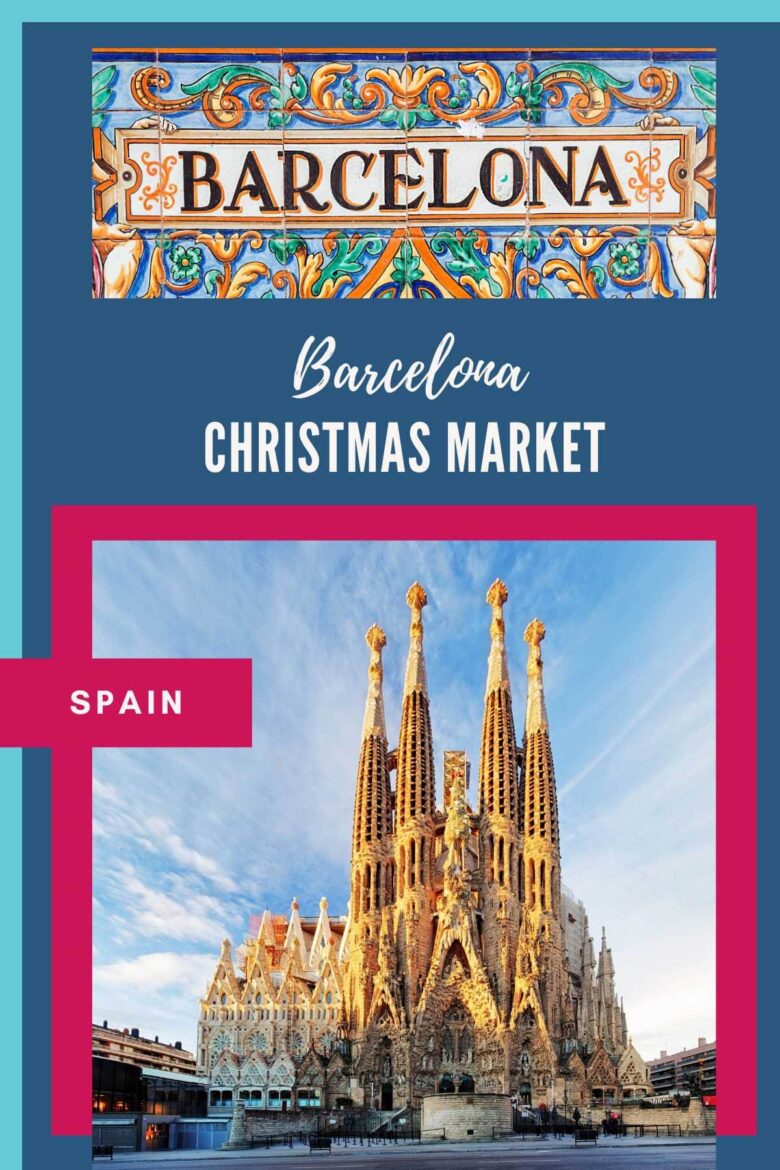 I've visited Barcelona at different times of the year, and there doesn't seem to be an off-season period. It's always busy with a never-ending list of celebrations and things to do.
At Christmas, you'll come across colourful nativity scenes, decorated trees and unique Catalan specialties.
Barcelona Christmas Market 2023
Across the three Christmas markets, there are over 300 stalls showcasing the work of local makers.
Start your visit with La Fira de Santa Llúcia, located in front of the Cathedral of Barcelona. Established in 1786, it's especially known for its nativity scene pieces, including the "caganer" figurines.
This market also features a tió gigante, dances, and live music that lend a festive backdrop as you explore the stalls.
Next head to the Sagrada Familia where you can find a mix of traditional and international crafts, plus festive food like torrons and cheeses.
Finally, pay a visit to the Fira de Reis. This market specialises in toys, gifts, and handicrafts, making it a key part of the local celebration of the Three Wise Men.
Dates and Information
Barcelona Christmas Market dates:

La Fira de Santa Llucia: 24th November to 23rd December 2023.
Location: Pla de la Seu.

Christmas Fair: 25th November to 23rd December 2023.
Location: Sagrada Família.

Three Wise Men Festival: 15th December 2023 to 6th January 2024.
Location: Avenue Gran Via de les Corts Catalanes.

Opening times: 10am to 9pm.
Christmas Day: Closed.
Admission: Free.
Christmas lights: Yes, 25th November, Plaça de Soledad Gustavo at 7pm.
Nativity scene: Yes. XIX Biennial of the Catalan Nativity Scene at Plaça del Rei. Free admission.
Santa: No.
Ice skating: No.
Vegetarian: Yes, plenty of options.
Vegan: Yes, plenty of options.
Gluten-free: Yes, but limited.
Accessible: Yes.
Pet-friendly: Yes, dogs are allowed on a lead.
Public transport: Metro: Jaume I.
Parking: Please take public transport or walk to help limit congestion.
Reason to visit: One of the most exciting European destinations. Incredible Catalonian food, tapas and cava.
Recommended tour: This Old Town and Gothic Quarter walking tour is a great introduction to Barcelona.
Specialities: Cava sparkling wine, torrons, panellets, Basque pintxos.
Where to stay: Hotel Catalonia Catedral is a highly-rated hotel located directly across from Pla de la Seu and the cathedral.
Where to Stay
To be near the festivities around Pla de la Seu, I recommend staying in this area which is the Gothic Quarter. Hotel Catalonia Catedral is a good choice in this district. It gets excellent reviews and great views from its rooftop pool area.
To get an overview of other places to visit in the region, read my Spain Christmas Markets 2023 guide.
Location
Recommended Tours
A city tour of Barcelona is a fantastic introduction to the city and Catalonian history and culture.
I recommend this Gothic Quarter city tour of Barcelona as you get to see the highlights of this unique central district.
You might also want to take a food tour to discover Barcelona's incredible tapas scene. There are many food tours in Barcelona, but this tour focuses on tapas, and it's one of the best-rated tours in the city.
Christmas in Barcelona
An interesting Catalan custom is the Caga Tió, where a wooden log is adorned with a painted face, a red hat and wooden legs. On Christmas Eve, children break open the log to receive sweet treats.
I'm not sure this is something you can experience as a visitor, but it would be interesting to hear about it from locals if you get the chance to ask.
Local Specialties
Turrón (Nougat): A staple in Catalan celebrations, turrón is a sweet nougat made from almonds and honey. It comes in a variety of flavours and textures, ranging from soft and chewy to hard and crunchy.
Neules: These are light, crispy wafers usually served at Christmas. Neules are often enjoyed with a glass of cava, the local sparkling wine.
Canelons (Cannelloni): A popular dish during Boxing Day, canelons consist of pasta tubes filled with leftover meat from Christmas Day. They are baked in the oven with a creamy béchamel sauce.
Polvorones: Shortbread-like cookies, polvorones are crumbly and made mainly from flour, sugar, milk, and nuts.
Cava: Not to be confused with champagne, Cava is Catalonia's own sparkling wine. It's delicious. A great place to try it is at one of the city's cava bars. Can Paixano is one of the most famous but there are many others.
Tronc de Nadal (Christmas Log Cake): A sponge cake rolled to look like a log, often covered in chocolate and decorated with small, edible festive decorations.
Panellets: Though more associated with All Saints' Day, these small cakes made from marzipan are sometimes found at Christmas as well.
You'll find these food specialties at various stalls in Barcelona and throughout Catalonia.
What to Buy
Ceramic Figurines: Especially in the Gothic Quarter, stalls and shops focus on ceramic items including the famous 'caganer,' a traditional Catalan figurine depicted in the act of defecation. These figurines are placed in nativity scenes for good luck.
Espardenyes (Traditional Catalan Shoes): These are flat canvas shoes adorned with ribbon. They are part of the traditional Catalan costume but also serve as practical summer shoes. These are very popular and great value.
Saffron and Spices: Several vendors focus on high-quality saffron, along with other spices commonly used in Catalan and Spanish cuisine. They are typically sold in small, ornate tins or jars.
Musical Instruments: Traditional Catalan instruments like the timple, a small guitar-like instrument, can also be found. These make unique gifts for music enthusiasts.
Travel Information
For travel information and resources tailored to your Barcelona experience, the tourist office is a useful tool to help you make the most of your time and plan an itinerary. This district guide is a good starting point.
Sustainable Travel Tips
These are some quick tips for responsible travel in Barcelona.
Eco-friendly Hotels: When booking a place to stay, select a hotel that runs on renewable energy sources like solar or wind power.
Reduce Food Waste: As tempting as it is to try everything at the Christmas markets, consider sharing dishes with your travel companions to avoid food waste. Barcelona's markets often sell small portions, making it practical to share.
Ethical Consumption: As you browse through the shops and stalls, focus on buying only what you truly need or can use. Barcelona is known for its handcrafted goods, so if you buy gifts, go for ones that are made locally and sustainably.
Sustainable Diets: Barcelona offers plenty of options for plant-based diets, which are generally more sustainable. You'll find vegan and vegetarian options not just in restaurants but also in the markets.
Public Transport and Walking: Barcelona's public transport is efficient and well-connected. The city is also highly walkable, especially in the central areas.
If you would like to leave a review of Barcelona Xmas Market, comment below.
—
Recommendations are independently chosen based on personal travel experiences and extensive research. This post contains affiliate links to hotels and tours in Barcelona, Spain. This means I get a small commission from any bookings at no extra cost to you.