Short days, cooler temperatures and maybe a little snow shouldn't deter you from visiting the Bratislava Christmas market. In fact, Bratislava in winter is beautiful and busy with seasonal events and Christmas customs.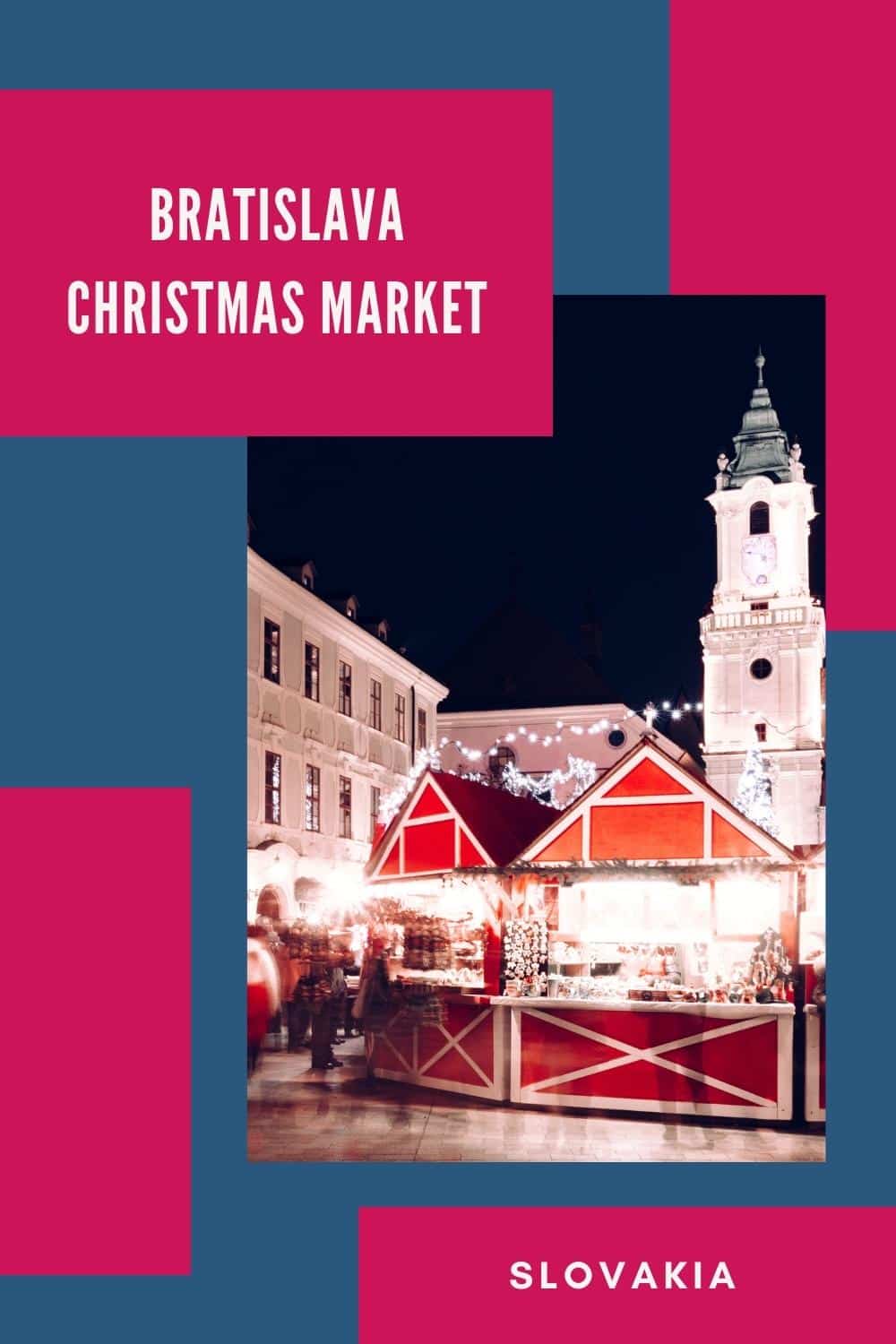 Slovakian Christmas markets may not have the reputation of their Austrian and German counterparts, yet Bratislava, in particular, has Christmas traditions going back hundreds of years.
Christmas is not just an event for tourists, Slovakians meet their friends and family for a Christmas market lunch or enjoy an after-work mulled wine with colleagues. It's the warm, local people who really make Bratislava worth visiting.
The Christmas markets in Bratislava may be small but they are cosy, less crowded and more authentic than neighbouring markets. The food is carefully prepared and delicious while decorations and gifts are crafted by artisans.
Bratislava Christmas Market 2022
Bratislava is one of the quieter Christmas market holiday locations. It's a great family-friendly destination. The central city is small and easy to get around and there are interesting museums and the castle that are worth visiting while you're there.
Dates and Locations
Bratislava Christmas Market dates: 22nd November to 22nd December 2022.
Location: Hlavné Námestie (Main Square), Hviezdoslav Square and Františkánske Square.
Reason to visit: Bratislava is an easy day trip from Vienna or a stop on the way from Prague to Budapest. It's quiet and affordable with a chance of snow.
Specialties: Potato pancakes, poppy strudel and grog.
Bratislava weather in winter: Temperatures average 4°C / -2°C (high / low) in December.
Plan your trip: Follow my tips to help plan your Christmas holiday or winter break.
Travel tip: Visit popular Christmas destinations like Vienna and Budapest on the same trip or smaller cities like Esztergom, Hungary or Kosice, Slovakia.
Hotels near Bratislava Christmas Market
In this guide, I recommend hotels near Bratislava Christmas Market and the Main Square. If you're arriving by train, you might prefer to stay near the train station but as it's easy to get around the city, either should be fine.
I've visited Bratislava on many occasions as I used to live nearby in Budapest. I recommend staying at Arcadia Boutique Hotel due to its perfect location near the Christmas markets and all the main sights.
Bratislava Christmas Market Specialities
The main Bratislava Xmas market is located in Hlavné Námestie and spills into the surrounding streets.
During December, the historic centre is lit up with Christmas lights and the markets feature regional Slovak food and producers and traditional Christmas music.
Some Slovak food specialties include the following:
Loksa – a dense savoury pancake.
Potato pancake – made with grated potato, kind of like a rosti.
Grog – hot rum and spices.
Mead – hot honey wine.
Mulled wine – Slovakian hot wine, prepared with local spices.
Strudel – all kinds of strudel, often with poppy seeds. This is a classic Central European dessert.
Things to Do in Bratislava in Winter
Bratislava is a small, compact city with most of the main sights within walking distance of the old town.
If you arrive by train, (for example, if you are on a day trip from Vienna) then the most walking you would do is downhill towards the old town from the train station.
This walk takes you by the Archbishop's Palace, the Presidential Garden and the Presidential Palace.
A little further along you'll spot white-washed Bratislava Castle on the hill to your right.
Then continue walking through the city gates towards the historic, cobblestone streets and baroque architecture of the old town.
It's a beautiful sight as the narrow street opens up to the main square, the location of the Christmas market in Bratislava in 2022.
The top things to do in winter include:
Bratislava Castle – Beautifully renovated and now the Museum of History. Enjoy incredible views of the old town and the extended city.
Old Town Hall – The former government building is now the Bratislava City Museum.
Primate's Palace – An absolutely stunning classicist palace which you can visit for a small fee.
Blue Church – A unique Art Nouveau church with a blue facade and mosaic features.
UFO – The modern observation deck is situated on the bridge above the Danube River.
The city is an affordable destination that you can visit on a city break or include in a tour of the region with cities like Vienna and Budapest.
Or if you prefer to stay in Slovakia, think about visiting Kosice, an off-the-beaten-path destination in eastern Slovakia.
Visit Bratislava is the official tourism website of Bratislava where you can find further information on travelling to the city and other destinations in Slovakia.
In particular, you can search for places to eat and drink, winter events, things to do in Bratislava in winter and how to get the Bratislava Card.
Location of the Market
Sustainable Travel
When visiting the Christmas markets, it's important to keep sustainability in mind. Simple changes to the way we travel can make all the difference for the environment and local communities.
Bratislava is working towards being a more sustainable city. The Main Christmas Market is focusing on quality, ecology, safety and also on visual attractiveness.
Go zero waste. The City of Bratislava has implemented a zero waste policy for the Christmas markets.
Shop mindfully. Only purchase what you really need. Wooden toys and Christmas decorations might be a good option if that's what you need.
Walk, cycle and use public transport to get around. Bratislava's historic centre is relatively small so if you're physically able, you should be able to walk to most places. The city also has an affordable public transport system. The tram is a particularly easy way to get around.
Stay in a sustainable hotel powered by renewable energy.
Stay in hotels. Short-stay apartment accommodation can lead to a lack of affordable housing for locals.
Avoid using plastic or buying items made or packaged with plastic as these are made using fossil fuels. Take your own reusable bags for your purchases.
Try to eat locally sourced organic food where possible. This supports the local community that works in this sector.
Limit your consumption of meat and dairy. You might not associate Central Europe with low-carbon food but Bratislava is a big city with a diverse range of foods available.
Be open to diverse cultures and experiences.
Explore more than just the main tourist areas. If you step away from the city centre you might find some cool bars with live music for example. Cross over the Danube to explore the other side of Bratislava.
Support the arts and attend local events.
Visit fewer places but stay longer at each destination. I highly recommend spending 5 days in Bratislava if you can as there's a lot to see in the city centre and nearby.
FAQ
Does Bratislava have Christmas markets?
Yes! There is a large Christmas market located in the Main Square that continues through to Franciscan Square.
What is there to do in Bratislava at Christmas?
Visit the Christmas market, palaces, museums, Bratislava Castle and the UFO.
Is Bratislava worth visiting in December?
Yes! Bratislava is a quiet but charming city with a stunning castle, historic streets, interesting history and a wonderful Christmas market.
If you have visited Bratislava in winter or experienced Christmas in Slovakia, leave a comment below to share your story.
—
Recommendations are independently chosen based on personal travel experiences and extensive research. This post contains affiliate links to hotels and tours in Bratislava, Slovakia. This means I get a small commission from any bookings at no extra cost to you.