Short days, cooler temperatures and maybe a little snow shouldn't deter you from visiting the Bratislava Christmas Market. In fact, Bratislava in winter is beautiful and busy with seasonal events and Christmas customs.
In the following guide, I share everything you need to know for planning your visit in 2023, including dates, opening times and locations.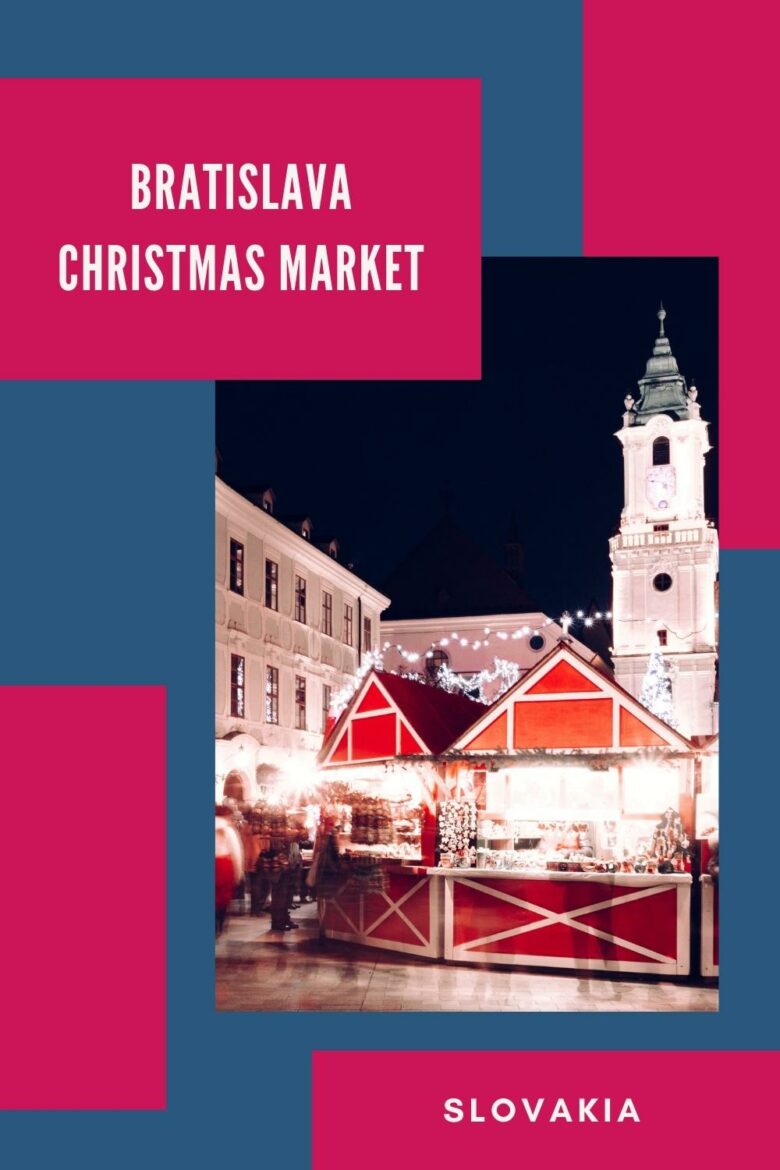 Slovakian Christmas markets may not have the reputation of their Austrian and German counterparts, yet Bratislava, in particular, has Christmas traditions going back hundreds of years.
Christmas is not just an event for tourists; Slovakians meet their friends and family for a Christmas market lunch or enjoy an after-work mulled wine with colleagues.
It's the warm, local people who really make Bratislava worth visiting.
The Christmas markets in Bratislava may be small, but they are cosy, less crowded and in some ways more welcoming than neighbouring markets. The food is carefully prepared and delicious, while decorations and gifts are crafted by artisans.
Bratislava Christmas Market 2023
Bratislava is one of the quieter Christmas market holiday locations, making it a great family-friendly destination. The central city is small and easy to get around, and there are interesting museums and the castle that are worth visiting while you're there.
Dates and Locations
Bratislava Christmas Market dates: Likely dates: 21st November to 21st December 2023.
Location: Hlavné Námestie (Main Square), Hviezdoslav Square and Františkánske Square.
Opening times: 11 am to 7 pm.
Christmas Day: Closed.
Admission: Free, no tickets required.
Santa: No.
Ice skating: Not at the Christmas markets.
Vegetarian: Yes, plenty of options.
Vegan: Yes, some options.
Gluten free: Yes, but very limited.
Accessible: Yes, if you can manage cobblestones.
Pet-friendly: Yes, dogs are allowed on a lead.
Reason to visit: Bratislava is an easy day trip from Vienna or a stop on the way from Prague to Budapest. It's quiet and affordable with a small chance of snow.
Specialties: Potato pancakes, poppy strudel and grog.
Recommended tour: This 2-hour walking tour is a great introduction to the city.
Bratislava weather in winter: Temperatures average 4°C / -2°C (high / low) in December.
Plan your trip: Follow my tips to help plan your Christmas holiday or winter break.
Travel tip: Visit popular Christmas destinations like Vienna and Budapest on the same trip or smaller cities like Esztergom, Hungary or Kosice, Slovakia.
Where to stay: Arcadia Boutique Hotel is a highly-rated hotel, 1 minute walk from the Christmas market.
Hotels near Bratislava Christmas Market
I've visited Bratislava on many occasions as I used to live nearby in Budapest. I recommend staying at Arcadia Boutique Hotel because it is located near the Christmas markets and all the main sights.
I recommend hotels near Bratislava Christmas Market and the Main Square in this guide. If you're arriving by train, you might prefer to stay near the train station but as it's easy to get around the city, either should be fine.
Location of Bratislava Christmas Market
City and Christmas Tours
A city tour of Bratislava is an excellent way to immerse yourself in the city's rich history and culture. With its captivating old town, vibrant facades, and remarkable architecture, Bratislava is a city that offers something for everyone.
I highly recommend this introductory city tour of Bratislava, as it allows you to see all the highlights of the city. Alternatively, you might consider a food tour to explore the local culture through its delicious cuisine.
On a city tour, you'll visit Bratislava's most iconic landmarks and attractions, including the historic Bratislava Castle, the stunning St. Martin's Cathedral, and the charming Old Town Hall.
Travel Insurance
Unfortunately, things can and do go wrong when you travel. World Nomads offers coverage for more than 150 activities as well as emergency medical, lost luggage, trip cancellation and more.
World Nomads provides travel insurance for travellers in over 100 countries. As an affiliate, we receive a fee when you get a quote from World Nomads using this link. We do not represent World Nomads. This is information only and not a recommendation to buy travel insurance.
What to Expect in Bratislava
In this video, you'll get a glimpse of what the magical Bratislava Christmas Market is like. Experience the festive atmosphere, delightful stalls, and twinkling lights as you explore the market through the eyes of the camera.
Bratislava Christmas Market Specialities
The main Bratislava Christmas Market can be found in the heart of the city at Hlavné Námestie, extending into the nearby streets and creating a festive atmosphere throughout the historic centre.
As December arrives, the entire area becomes illuminated with enchanting Christmas lights while the market stalls showcase an array of regional Slovak food and producers, all accompanied by the soothing sounds of traditional Christmas music.
Among the Slovak food specialties that you can savour at the market, you'll find:
Loksa: A hearty, savoury pancake that is perfect for warming you up on a cold winter evening.
Potato pancake: Similar to a rosti, these delightful pancakes are made from grated potatoes and are a popular treat.
Cigánska pečienka: A popular Slovak street food consisting of grilled pork or chicken served in a bun with onions and mustard or mayonnaise.
Trdelník: A traditional Slovak pastry that is grilled on a spit and coated with sugar, cinnamon, and sometimes nuts, giving it a sweet and crunchy exterior.
Klobása: A flavourful Slovak sausage grilled and often served with mustard or sauerkraut.
Halušky: A traditional Slovak dish made of small dumplings, usually served with bryndza (sheep cheese) and topped with bacon bits.
Grog: A warming beverage that combines hot rum with a blend of spices, offering a taste of traditional Slovak winter comfort.
Mead: This hot honey wine is an age-old beverage that brings a touch of sweetness and warmth to the festive season.
Mulled wine: Slovakian hot wine is expertly prepared using local spices, making it a must-try at the Christmas Market.
Strudel: A classic Central European dessert, strudels come in a variety of flavours, often featuring poppy seeds as a key ingredient.
As you stroll through the Christmas markets, these culinary delights are sure to make your experience even more memorable and enjoyable.
What to Buy in Bratislava
At the Christmas markets in Bratislava, you can find a wide variety of unique gifts and products that showcase the local culture and craftsmanship. Some typical items you can purchase include:
At the Bratislava Christmas Market, you can find a wide variety of unique gifts and products that showcase the local culture and craftsmanship. Some typical items you can purchase include:
Handmade ornaments: Beautifully crafted Christmas tree ornaments made from wood, glass, or ceramics, often featuring traditional Slovak designs.
Pottery and ceramics: Locally made pottery and ceramic items, such as decorative plates, bowls, and mugs, showcasing traditional Slovak patterns and motifs.
Wooden toys and crafts: Skillfully crafted wooden toys, puzzles, and decorative items that make for charming keepsakes or gifts for children.
Textiles and clothing: Traditional Slovak textiles, such as tablecloths, scarves, and embroidered garments, make for beautiful, functional gifts.
Handmade jewellery: Unique pieces of jewellery, often made from materials like glass beads, wood, or metal, showcasing local artistry and creativity.
Local food products: Jars of honey, homemade jams, and other preserved goods, as well as traditional sweets and baked goods, are perfect for sharing the flavours of Slovakia with loved ones.
Artisanal candles and soap: Handcrafted candles and soaps made with natural ingredients and featuring unique designs, making for thoughtful, practical gifts.
Leather goods: High-quality leather products, such as wallets, belts, and bags, that showcase the craftsmanship of local artisans.
Things to Do in Bratislava in Winter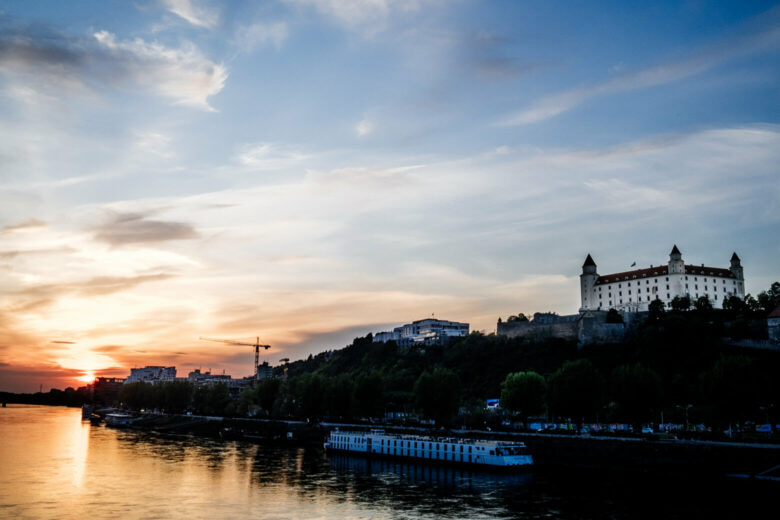 Bratislava, a charming and compact city, boasts most of its main attractions within a short walking distance from the Old Town. This makes it easy to explore and enjoy the city's beauty during the winter season.
If you arrive by train, such as on a day trip from Vienna, your journey begins with a leisurely walk downhill towards the Old Town from the train station.
Along the way, you'll pass by some of Bratislava's noteworthy sites, including the elegant Archbishop's Palace, the serene Presidential Garden, and the stately Presidential Palace.
As you continue your stroll, you'll soon catch sight of the striking white-washed Bratislava Castle perched atop a hill to your right. This historic fortress, with its four towers and commanding views of the city, is a must-visit destination during your trip.
Moving forward, pass through the ancient city gates and find yourself immersed in the enchanting, cobblestone streets of the Old Town.
Marvel at the intricate baroque architecture as you meander through this historic area, soaking in the atmosphere and charm of Bratislava's past.
The narrow streets eventually open up to the bustling main square, which in 2023 will play host to the captivating Bratislava Christmas Market. Admire the festive lights and decorations as you explore the market stalls, sampling local delicacies and searching for unique, handcrafted gifts.
Exploring Bratislava in winter is a delightful experience, with its easily accessible attractions and enchanting Old Town, making it an ideal destination for a day trip or a weekend getaway.
Top winter activities in Bratislava include:
Bratislava Castle: Recently renovated, this impressive fortress houses the Museum of History. From its vantage point, admire stunning views of the Old Town and the city beyond.
Old Town Hall: This historic building, once the seat of the city's government, now serves as the Bratislava City Museum, showcasing the area's fascinating past.
Primate's Palace: A breathtaking classicist palace worth visiting for a nominal fee; admire its stunning architecture and opulent interiors.
Blue Church: This distinctive Art Nouveau church features a striking blue facade and intricate mosaic details, making it a must-see attraction.
UFO Observation Deck: Located atop the bridge over the Danube River, this modern observation platform offers panoramic views of the city.
Bratislava is an affordable destination perfect for a city break or as a part of a regional tour, which could include nearby cities like Vienna and Budapest.
Alternatively, if you'd like to explore more of Slovakia, consider visiting Kosice, a lesser-known gem in eastern Slovakia that offers its own unique charm and attractions.
Visit Bratislava is the official tourism website of Bratislava, where you can find further information on travelling to the city and other destinations in Slovakia.
In particular, you can search for places to eat and drink, winter events, things to do in Bratislava in winter and how to get the Bratislava Card.
Sustainable Travel in Bratislava
When visiting the Christmas markets, it's essential to prioritise sustainability. Making small adjustments to our travel habits can significantly benefit the environment and local communities.
Bratislava is striving to become a more sustainable city, with its Main Christmas Market emphasising quality, ecology, safety, and visual appeal.
Embrace zero waste: The City of Bratislava has implemented a zero waste policy for the Christmas markets, encouraging responsible consumption and waste management.
Shop mindfully: Purchase only what you genuinely need, opting for eco-friendly items like wooden toys and Christmas decorations.
Use sustainable transportation: Bratislava's historic centre is compact, so walking, cycling, or using affordable public transport like trams is both convenient and eco-friendly.
Choose sustainable accommodations: Opt for hotels powered by renewable energy and avoid short-stay apartments that can contribute to local housing shortages.
Minimise plastic use: Bring your own reusable bags and avoid buying items made or packaged with plastic, which contributes to fossil fuel consumption.
Support local, organic food: Choose locally sourced, organic options whenever possible to support the community and promote sustainable agriculture.
Limit meat and dairy consumption: Bratislava offers diverse food options, so explore low-carbon alternatives to traditional Central European fare.
Embrace cultural diversity: Be open to experiencing different cultures and perspectives.
Venture beyond tourist hotspots: Discover hidden gems by exploring beyond the city centre, such as cool bars with live music or crossing the Danube to see another side of Bratislava.
Support local arts and events: Attend performances, exhibitions, and other cultural events to enrich your experience and support local artists.
Opt for longer stays: Instead of hopping between multiple destinations, consider spending at least five days in Bratislava to fully explore its city centre and surrounding attractions.
Following these sustainable travel tips can help preserve Bratislava's charm and beauty while enjoying a more responsible and rewarding visit.
FAQ
Does Bratislava have Christmas markets?
Yes, Bratislava does have a Christmas market. There is a large Christmas market located in Main Square that continues through to Franciscan Square.
What is there to do in Bratislava at Christmas?
During winter in Bratislava, visit the Christmas market, palaces, museums, Bratislava Castle and the UFO.
Is Bratislava worth visiting in December?
Yes, Bratislava is definitely worth visiting in December! Bratislava is a quiet but charming city with a stunning castle, historic streets, interesting history and a wonderful Christmas market.
If you have visited Bratislava in winter or experienced Xmas in Slovakia, leave a comment below to share your story.
—
Recommendations are independently chosen based on personal travel experiences and extensive research. This post contains affiliate links to hotels and tours in Bratislava, Slovakia. This means I get a small commission from any bookings at no extra cost to you.