While Lisbon is a popular winter holiday destination, it's probably not the first city that comes to mind when thinking about Christmas markets. Of course, Christmas is celebrated in Portugal, it's a predominantly Christian country after all, but Christmas markets are typically a traditional event in Germany and Central Europe rather than on the Iberian Peninsula.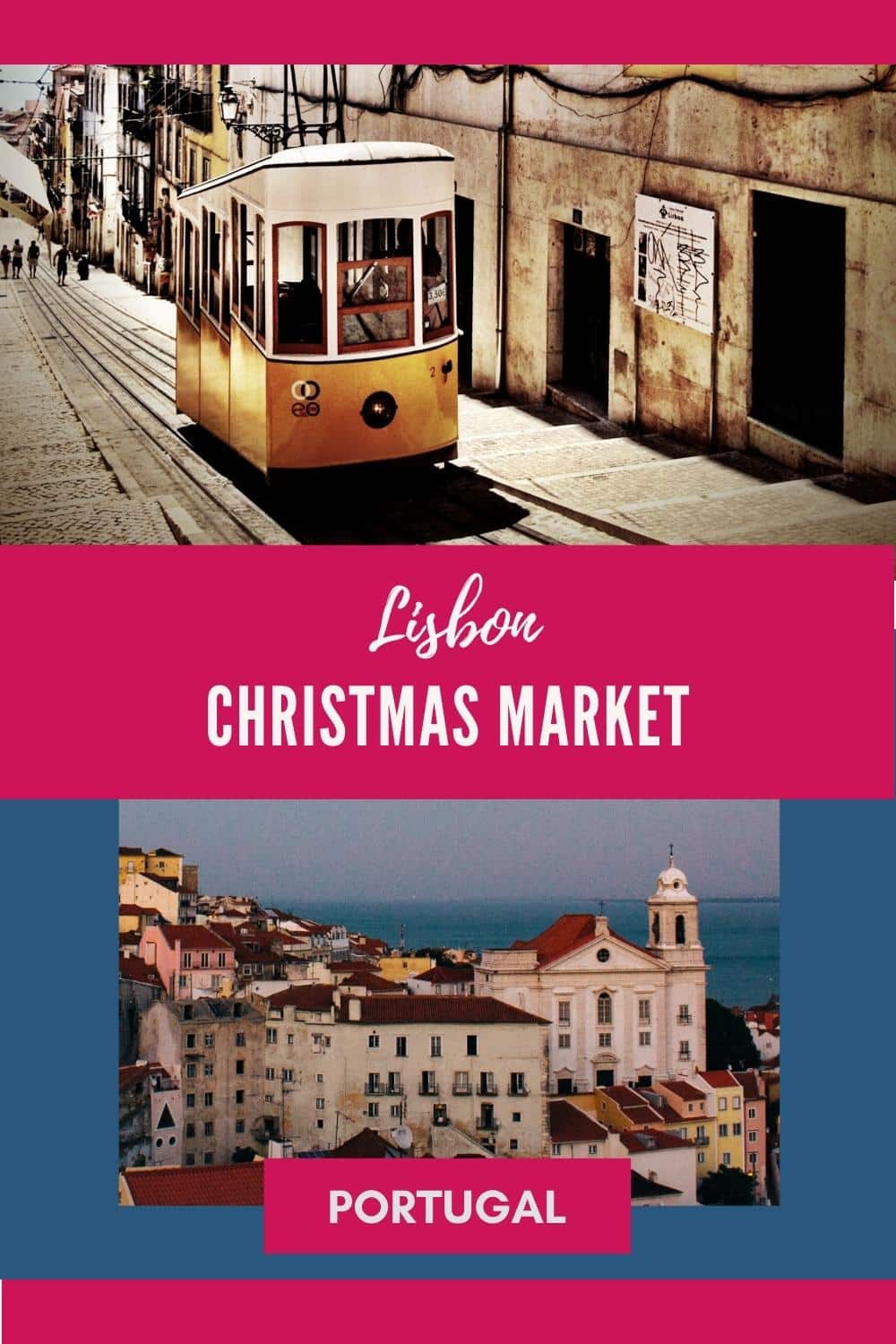 But in recent years, Christmas markets have boomed around Europe and the rest of the world, which is obvious when you look at my list of the best Christmas markets in Europe. They are everywhere now.
The Lisbon Christmas market is the largest and most popular in Portugal with smaller markets taking place in Porto and Obidos.
Lisbon Christmas Market 2022
The Christmas markets in Lisbon are considerably smaller than you'll find elsewhere but it's a nice addition to the event calendar in Lisbon and one of many Christmas celebrations in Lisbon in December.
Dates and Locations
Lisbon Christmas Market dates: 18th November 2022 to 6th January 2023 (for the Christmas tree and lights).
Location: Praça do Comércio to see Lisbon's Christmas tree and Wonderland Lisboa in Parque Eduardo VII (to be confirmed).
Reason to visit: Portuguese nativity scenes and events at Wonderland Lisboa. Lisbon is a great choice for Christmas in the sun.
Specialties: Bacalhau (smoked cod) for Christmas dinner and for dessert, French toast with a wine sauce.
Travel tip: Take a day trip to Obidos to see the Christmas village.
Lisbon weather in winter: Temperatures average 15°C / 9°C (high / low) in December.
Plan your trip: Resources to plan your Christmas holiday or winter break.
Hotels near Lisbon Christmas Market
Lisbon is a vibrant city with many excellent hotels for all budgets. My guide to hotels near Lisbon Christmas Market gives an overview of the different neighbourhoods and lists the best hotels in each area.
Tivoli Avenida Liberdade in an excellent hotel in central Lisbon, located on the grand Avenida da Liberdade. It's a sustainable hotel that uses renewable energy, limits food waste and avoids single-use plastic.
Lisbon Christmas Market Specialities
When it comes to Christmas, Portugal is most famous for its nativity scenes, even more so than in countries like Germany and Austria which have huge Christmas markets.
As far as Christmas food goes, there are plenty of specialties to choose from.
Bacalhau – Portugal's most famous dish is smoked cod, often served with cabbage and boiled potatoes.
Rice pudding – A simple but popular dessert, Portuguese rice pudding is usually topped with cinnamon.
Rabanadas and sonhos – Deep-fried desserts are popular in Lisbon, you can try many different ones at a local cafe or bakery.
Port – Portuguese wine is generally excellent, especially local Vinho Verde (green wine) but don't forget to try some sweet port from neighbouring Porto.
Things to Do in Lisbon
Lisbon is a great city for eating out. It's affordable and there's a strong focus on local and seasonal cuisine.
The city is also popular for shopping, particularly for smaller boutique stores selling products made in Portugal. For major sightseeing and activities, these are the top attractions:
Elevador de Gloria – Take the famous yellow funicular from Baixa to Bairro Alto.
Lisbon's Squares – Visit Lisbon's many beautiful squares including Praça do Comércio.
Elevador de Santa Justa – Take a ride on Lisbon's classic outdoor lift for views of the city.
Sintra and Cascais – Take a day trip to visit the Palace of Sintra and Cascais, the sunny beachside town.
Pasteis de Belem – Be sure to take the short drive to Belem to try their famous pasteis de nata. Make sure you get the original.
Lisbon is a big city with many famous sights and attractions, all of which are open all year round, even in Lisbon in December (except for Christmas Day).
For more information on things to do in Lisbon, visit the official tourism website.
Location of Lisbon Christmas Tree
Sustainable Travel Tips
The choices we make have an environmental and social impact on the places we visit. When visiting the Christmas markets, it's important to keep sustainability in mind.
Implement some or all of these simple measures to create a positive impact.
Shop mindfully. Only purchase what you really need.
Walk, cycle and use public transport to get around.
Stay in a sustainable hotel powered by renewable energy.
Stay in hotels. Short-stay apartment accommodation can lead to a lack of affordable housing for locals.
Avoid using plastic or buying items made or packaged with plastic.
Try to eat locally sourced organic food where possible.
Limit your consumption of meat and dairy.
Be open to diverse cultures and experiences.
Explore more than just the main tourist areas.
Support the arts and attend local events.
Visit fewer places but stay longer at each destination.
FAQ
What is Lisbon like at Christmas?
Lisbon is busy with events, shopping, warm dinners and festive parties. Christmas is a great time to visit Lisbon.
Does Lisbon have a Christmas market?
Yes, Lisbon's Christmas market is called Wonderland Lisboa.
What is open in Lisbon on Christmas Day?
Some restaurants are open on Christmas Day. Be sure to make a reservation before you go. Shops, museums, palaces, cinemas and other attractions are closed. Take the opportunity to explore the city with few people around.
If you visited Lisbon in December or spent Christmas in Portugal and would like to share your experience, leave a comment below.
—
Recommendations are independently chosen based on personal travel experiences and extensive research. This post contains affiliate links to hotels and tours in Lisbon, Portugal. This means I get a small commission from any bookings at no extra cost to you.