While Lisbon is a popular winter holiday destination, it's probably not the first city that comes to mind when thinking about Christmas markets. Of course, Christmas is celebrated in Portugal, but Christmas markets are typically a traditional event in Germany and Central Europe rather than on the Iberian Peninsula.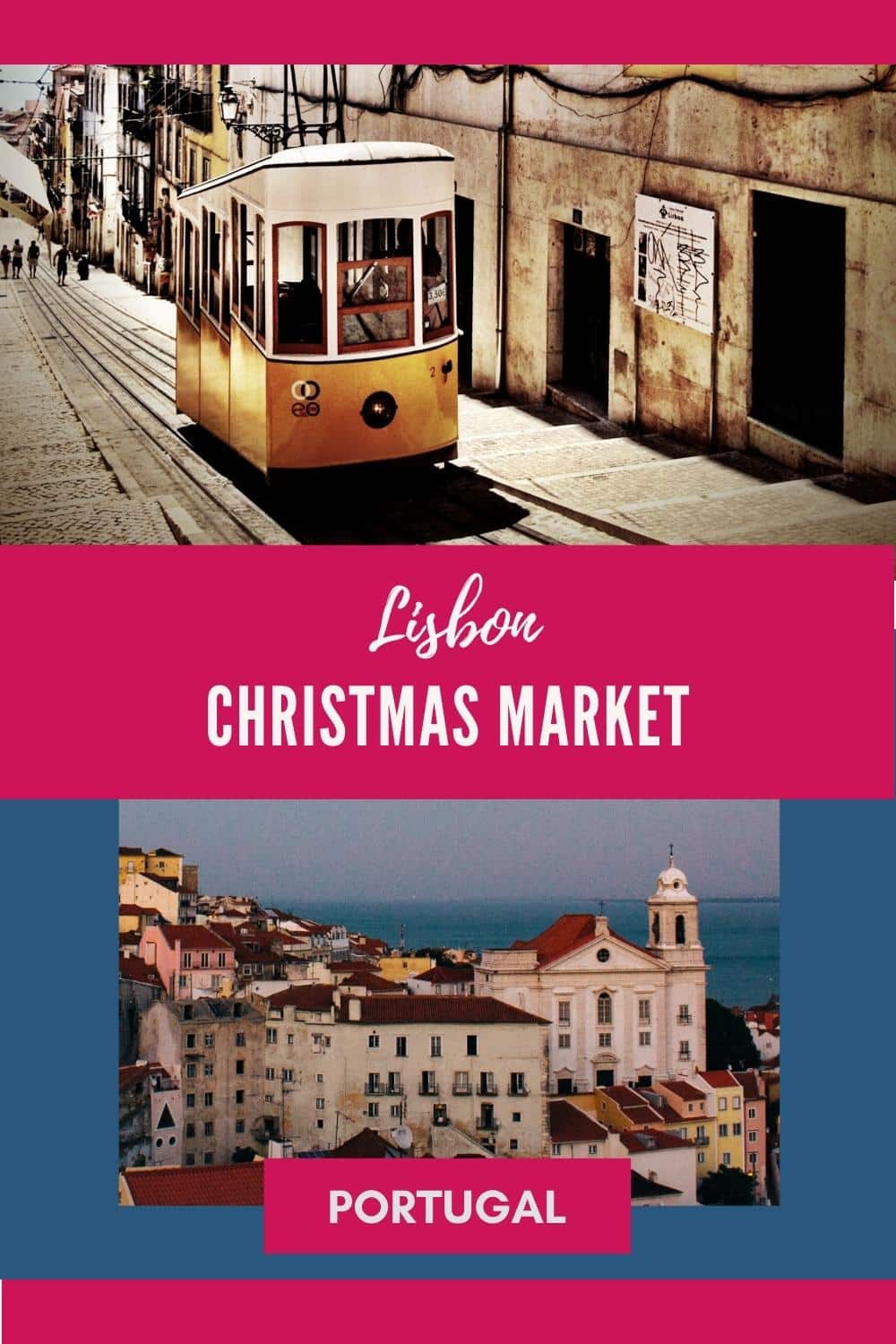 But in recent years, Christmas markets have boomed around Europe and the rest of the world, which is obvious when you look at my list of the best Christmas markets in Europe. They are everywhere now.
Lisbon Christmas Market is the largest and most popular in Portugal, with smaller markets taking place in Porto and Obidos.
Lisbon Christmas Market 2023
The Christmas markets in Lisbon may not be as expansive as those found in other cities, but they still offer a delightful experience for visitors and locals alike.
These markets contribute positively to the event calendar in Lisbon in December, serving as just one of the numerous Christmas festivities throughout the city at this time of the year.
Despite their smaller size, Lisbon's Christmas markets provide a warm, festive atmosphere and an enjoyable opportunity for holiday shopping and merriment.
Dates and Locations
Lisbon Christmas Market dates: Likely dates: 17th November to 24th December 2023, continuing until 5th January 2024 for the Christmas tree and lights.
Location: Praça do Comércio to see Lisbon's Christmas tree and Wonderland Lisboa in Parque Eduardo VII.
Opening times: 11am to 7pm.
Christmas Day: Closed.
Admission: Free, no tickets required.
Christmas lights: No switch on date.
Santa: No.
Ice skating: No.
Vegetarian: Yes, plenty of options.
Vegan: Yes, but limited.
Gluten free: Yes, but very limited.
Accessible: Yes, although Lisbon is quite hilly.
Pet-friendly: Yes, dogs are allowed on a lead.
Reason to visit: Portuguese nativity scenes and events at Wonderland Lisboa. Lisbon is a great choice for Christmas in the sun.
Recommended tour: This highly-rated history walking tour is a great way to experience Lisbon.
Specialties: Bacalhau (smoked cod) for Christmas dinner and for dessert, French toast with a wine sauce.
Travel tip: Take a day trip to Obidos to see the Christmas village.
Plan your trip: Resources to plan your Christmas holiday or winter break.
Lisbon weather in winter: Temperatures average 15°C / 9°C (high / low) in December.
Where to stay: Tivoli Avenida Liberdade is a great choice near the Christmas markets.
Hotels near Lisbon Christmas Market
Tivoli Avenida Liberdade is an excellent central Lisbon hotel located on the grand Avenida da Liberdade. It's a sustainable hotel that uses renewable energy, limits food waste and avoids single-use plastic.
Lisbon is a vibrant city with many excellent hotels for all budgets. My guide to hotels near Lisbon Christmas Market gives an overview of the different neighbourhoods and lists the best hotels in each area.
Location of Lisbon Christmas Tree
City and Christmas Tours in Lisbon
A city tour of Lisbon is an excellent way to immerse yourself in the city's vibrant history and culture. With its picturesque old town, vibrant buildings, and impressive architecture, Lisbon is a city that genuinely has something for everyone.
I recommend this city tour of Lisbon as you get to see all the city's highlights while focusing on interesting historical elements.
Or you might consider this hugely popular food tour where you can learn about the local culture through their delicious cuisine. I took this tour several years ago and the food was incredible.
On a city tour, you'll visit the city's most iconic landmarks and attractions, including the historic Alfama district, the stunning Jerónimos Monastery, and the majestic Belém Tower.
Travel Insurance
Unfortunately, things can and do go wrong when you travel. World Nomads offers coverage for more than 150 activities, emergency medical, lost luggage, trip cancellation, and more.
World Nomads provides travel insurance for travellers in over 100 countries. As an affiliate, we receive a fee when you get a quote from World Nomads using this link. We do not represent World Nomads. This is information only and not a recommendation to buy travel insurance.
What to Expect in Lisbon
Step into the magical atmosphere of the Lisbon Christmas Market with this captivating video.
As you watch, you'll get a true sense of what it's like to experience the festive charm and delightful ambience firsthand. It particularly highlights the Christmas lights that cover much of the city centre in December.
Christmas Specialties in Lisbon
When it comes to Christmas, Portugal is most famous for its nativity scenes, even more so than countries like Germany and Austria which have huge Christmas markets.
However, the festive season is also a time to indulge in a variety of delicious traditional Portuguese foods, with options to suit all tastes.
Bacalhau, or smoked cod, is Portugal's most iconic dish and is typically served with cabbage and boiled potatoes during the Christmas season.
Portuguese rice pudding, a simple yet scrumptious dessert, is often enjoyed at this time of year, garnished with a dusting of cinnamon.
If you have a sweet tooth, Lisbon has a variety of deep-fried desserts, such as rabanadas and sonhos, which can be enjoyed at local cafes and bakeries.
While Portuguese wine, particularly the local Vinho Verde (green wine), is a popular choice for festive celebrations, don't miss the opportunity to taste some sweet port from neighbouring Porto.
For vegetarians, there are options like açorda, a delicious bread soup made with garlic, coriander, and olive oil, or migas, a traditional Portuguese side dish made with leftover bread, garlic, and greens.
These dishes provide delicious alternatives to more meat-centric holiday offerings, ensuring that everyone can enjoy a satisfying and festive meal.
Food at the Christmas Market
At Lisbon Christmas Market, you can expect to find a varied assortment of street foods that showcase the tastes of Portugal and the festive season.
Some typical street foods you might encounter include:
Roasted chestnuts (castanhas assadas) – A seasonal favourite, these chestnuts are roasted over an open fire and served in paper cones to keep your hands warm as you stroll through the market.
Bacalhau – Traditional Portuguese cod dishes such as Bacalhau à Brás (shredded cod with potatoes, onions, and eggs) or Bolinhos de Bacalhau (codfish fritters) may be available in smaller, street food-friendly portions.
Bifanas – A classic Portuguese sandwich made with tender, marinated pork served on a fresh roll, sometimes topped with mustard or hot sauce.
Pasteis de Nata – These iconic Portuguese custard tarts are a must-try with a flaky pastry crust and creamy, slightly caramelised filling. Head to Belem to experience the original version.
Rabanadas – The Portuguese version of French toast, this sweet treat is made with thick slices of bread soaked in a mixture of milk, eggs, sugar, and cinnamon, then fried to perfection and dusted with powdered sugar.
Ginginha – A cherry liqueur served in small cups or chocolate cups, perfect for sipping as you explore the market.
Queijadas – Small, round cheese tarts made with a sweet cheese filling and a delicate pastry crust, often flavoured with cinnamon or lemon. Very interesting flavour!
What to Buy
At the Christmas market in Lisbon, you can find a variety of unique gifts and products that capture the essence of Portugal and the festive spirit. Some typical items you may come across include:
Handmade ceramics and pottery – Portuguese ceramics, such as the famous Azulejos (decorative tiles), make for beautiful and practical gifts or souvenirs.
Cork products – Portugal is the world's largest producer of cork, so you'll find a wide range of sustainable and eco-friendly cork products, including bags, wallets, coasters, and even jewellery.
Local food products – Look for traditional Portuguese delicacies like olive oil, honey, jams, canned fish, and cheese to share the tastes of Portugal with friends and family.
Handcrafted jewellery – From filigree pieces to contemporary designs, Portuguese artisans create unique and beautiful jewellery that can be treasured for years to come.
Traditional Portuguese textiles – You may find items like Alentejo blankets, colourful rugs, or embroidered linens that showcase the country's rich textile heritage.
Hand-painted Christmas ornaments – These festive decorations often feature traditional Portuguese designs and can make for a lovely addition to your tree or a thoughtful gift.
Soaps and fragrances – Portugal has a long history of producing high-quality soaps and fragrances, which can make for luxurious gifts or personal treats.
Local wines and spirits – Portugal is renowned for its wine and spirits, so consider picking up a bottle of Vinho Verde, Port, or even Ginjinha (cherry liqueur) as a gift or souvenir.
These are just a few examples of the delightful gifts and products you can find at the Christmas markets. As you browse the stalls, you'll likely discover many more treasures that reflect Portugal's unique charm and culture.
Things to Do in Lisbon in Winter
Lisbon is a fantastic destination for winter getaways, offering an array of activities and experiences to suit every traveller.
The city is renowned for its quality dining scene, emphasising affordability and strongly focusing on local, seasonal cuisine. This makes it an ideal destination for foodies looking to experience traditional Portuguese dishes.
In addition to its culinary delights, Lisbon is a popular shopping destination, featuring many boutique stores specialising in Portuguese-made products. These shops provide a unique opportunity to discover and purchase locally crafted items.
When it comes to sightseeing and activities during the winter months, Lisbon has no shortage of attractions to explore. Here are some top recommendations:
Elevador de Gloria – Embrace the charm of Lisbon's historic transportation by taking the famous yellow funicular from Baixa to Bairro Alto, offering picturesque views of the city as you ascend.
Lisbon's Squares – Spend time exploring the city's many beautiful squares, such as the iconic Praça do Comércio, which is particularly enchanting when adorned with festive lights and decorations during the holiday season.
Elevador de Santa Justa – Experience Lisbon's classic outdoor lift, providing stunning panoramic views of the city. The crisp winter air adds a refreshing touch to the breathtaking vista.
Sintra and Cascais – Venture on a day trip to visit the magical Palace of Sintra and the charming beachside town of Cascais. The cooler winter weather makes exploring these picturesque locations even more enjoyable.
Pasteis de Belem – Don't miss out on the opportunity to taste the famous pasteis de nata at their original location in Belem. These iconic Portuguese custard tarts are the perfect treat to warm your soul on a chilly winter day.
In addition to these popular attractions, consider visiting museums, art galleries, and cosy cafes to escape the cold and immerse yourself in Lisbon's rich culture and history.
The city truly comes alive during winter, offering visitors an unforgettable experience. Lisbon is a big city with many famous sights and attractions, all of which are open all year round, even in Lisbon in December (except for Christmas Day).
For more information on things to do in Lisbon, visit the official tourism website.
Responsible Travel in Lisbon
As responsible travellers, it's crucial to consider our actions' environmental and social impact when visiting destinations like Lisbon during Christmas and winter.
By implementing the following sustainable practices, you can contribute positively to the local community and help preserve the environment:
Shop mindfully at the Christmas markets, focusing on quality over quantity and selecting meaningful, locally made gifts that support small businesses.
Choose eco-friendly transportation options such as walking, cycling, or using public transport to navigate the city, reducing your carbon footprint.
Opt for sustainable accommodation by staying in hotels that prioritise renewable energy, water conservation, and other green initiatives.
Support the local housing market by staying in hotels rather than short-term apartment rentals, which can contribute to housing shortages for residents.
Minimise plastic waste by carrying reusable bags, bottles, and containers, and avoid purchasing items made of or packaged in plastic.
Seek out restaurants and cafes that serve locally sourced, organic food to support local agriculture and reduce the environmental impact of transportation.
Consider adopting a plant-based diet or limiting your meat and dairy consumption to reduce your carbon footprint and promote a more sustainable lifestyle.
Embrace Lisbon's diverse cultures and experiences, fostering understanding and appreciation for the local community.
Venture beyond the main tourist areas to explore lesser-known districts and attractions, spreading your tourism dollars to a wider range of businesses.
Support local artists and performers by attending concerts, exhibitions, and other cultural events that showcase the city's vibrant arts scene. Lisbon has an incredible live music scene that is well worth supporting.
Rather than rushing through multiple destinations, consider spending more time in fewer places, allowing for a deeper connection with the local culture and minimising the environmental impact of frequent travel.
By incorporating these responsible travel practices during your Lisbon Christmas and winter getaway, you can positively impact the environment and local community while enjoying a memorable and authentic experience.
FAQ
What is Lisbon like at Christmas?
During Christmas, Lisbon is busy with events, shopping, warm dinners and festive parties. Christmas is a great time to visit Lisbon.
Does Lisbon have a Christmas market?
Yes, Lisbon's Christmas market is called Wonderland Lisboa, and there are other Christmas events, lights, and decorations to be found around the city.
What is open in Lisbon on Christmas Day?
Few restaurants are open on Christmas Day in Lisbon. Be sure to make a reservation before you go so you don't miss out and buy necessities before Christmas Day. Shops, museums, palaces, cinemas and other attractions are closed. Take the opportunity to explore the city with few people around.
If you visited Lisbon in December, spent Christmas in Portugal, or have previously visited Lisbon's Xmas market and would like to share your experience, leave a comment below.
—
Recommendations are independently chosen based on personal travel experiences and extensive research. This post contains affiliate links to hotels and tours in Lisbon, Portugal. This means I get a small commission from any bookings at no extra cost to you.