Poznan Christmas market stalls line the cobblestone streets of the Old Market Square where locals order freshly grilled Polish specialties from open fires and drink warming vodka. You can enjoy vegetarian soups and potato stuffed pierogies with classic smoked Polish cheese. All this while sitting in front of the incredible Renaissance Town Hall or listening to live Christmas music.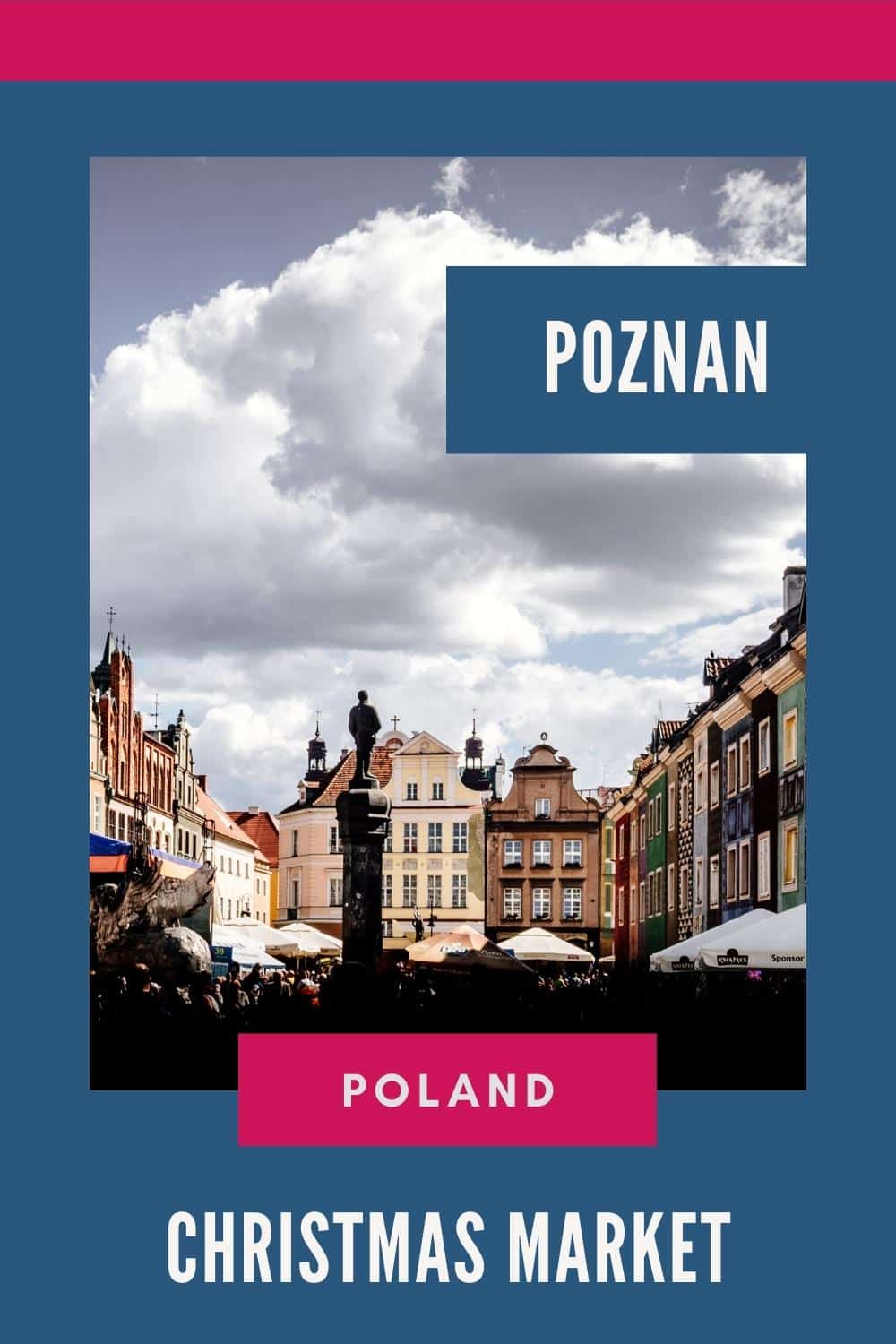 Halfway between Berlin and Warsaw, Poznan is easy to get to by train or car from those cities or from Wroclaw or Gdansk.
You could stop by smaller cities like Torun or Lodz if you wanted to see more of Poland during your trip or simply enjoy your winter holiday by exploring Poznan.
Poznan Christmas Market 2022
Although Poznan may be one of Poland's smaller tourist destinations, it's one of the oldest cities in Poland and the historical capital of Greater Poland.
Poznan has a stunning main square and old town with a mix of colourful historical architecture and modern cafes and boutique shops.
The Christmas market in Poznan is known as Poznań Bethlehem and takes place at several locations including Stary Rynek and Plac Wolności.
Poznan Christmas market dates: 19th November to 26th December 2022.
Location: Old Market Square – Stary Rynek and Plac Wolności.
Reason to visit: Historic location, relatively affordable, less crowded than elsewhere.
Recommended tour: Discover Poznan with a walking tour.
Specialities: Piernik, fried carp, pierogies, St Martin croissant.
Where to stay: Puro Hotel Stare Miasto.
Hotels near Poznan Christmas Market
The historic centre of Poznan is known as Stare Miasto in Polish. It is a wonderful area of the city to stay in if you're visiting on a short break.
I recommend a number of excellent hotels near Poznan Christmas Market that are well-located in Stare Miasto.
In particular, I suggest staying at Puro Hotel Stare Miasto for its cool rooms and Stare Miasto location.
Poznan Christmas Market Specialties
Poznan has a lively Christmas market where you can find all the typical Christmas traditions like illuminated Christmas trees and handmade toys and decorations.
It's a time shared with family and friends who welcome tourists visiting from abroad.
Along with classic dishes like pierogies, smoked cheese, grilled meat and hearty goulash, you'll also find regional produce like fried fish or sweet piernik, a typical Polish gingerbread.
Things to Do in Poznan in Winter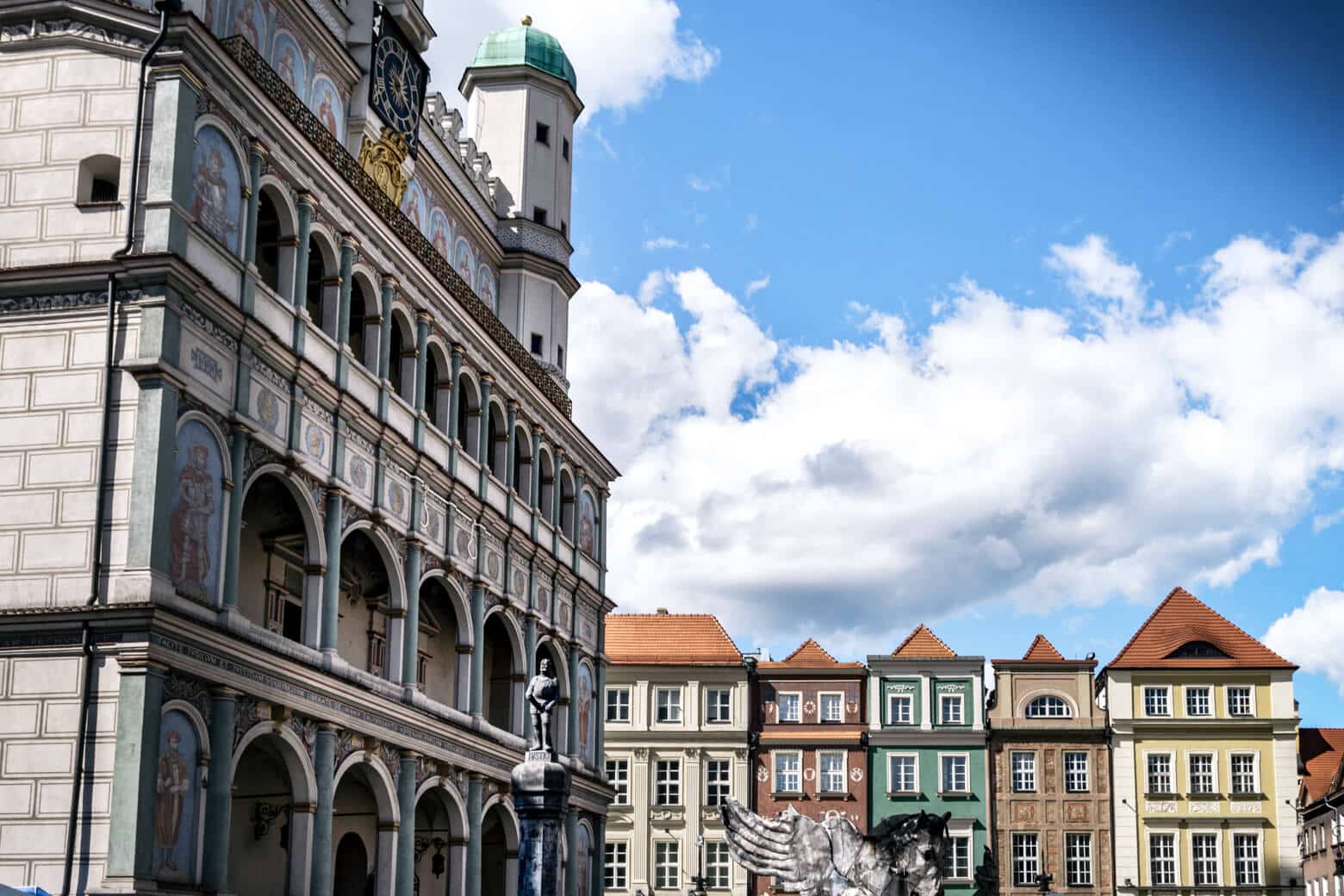 Poznan is a walkable city so shouldn't need to worry about how to get around if you're able. Provided the weather isn't bad, you can walk to all the main sights which aren't far from the Christmas market in Poznan.
Old Market Square – Poznan's main square is lined with colourful 16th-century merchant houses.
Renaissance Town Hall – The stunning, ornate building which dominates the centre of the main square.
Imperial Castle – The former home of Kaiser Wilhelm II is now a theatre.
Citadel Park – Worth visiting if the weather is nice. In this park, you'll find military-related monuments including a Prussian fort and Soviet Obelisk.
Billy Goats – Watch the billy goats butt heads 12 times at noon each day on the tower above the town hall.
St Martin's croissant – Try the regionally protected croissant, one of the most famous pastries in Poland.
Potato Museum of Poznan – Because, why not?
Location of Poznan Christmas Market
Sustainable Travel Tips
The choices we make have an environmental and social impact on the places we visit. When visiting the Christmas markets, it's important to keep sustainability in mind.
Implement some or all of these simple measures to create a positive impact.
Shop mindfully. Only purchase what you really need.
Walk, cycle and use public transport to get around.
Stay in a sustainable hotel powered by renewable energy.
Stay in hotels. Short-stay apartment accommodation can lead to a lack of affordable housing for locals.
Avoid using plastic or buying items made or packaged with plastic.
Try to eat locally sourced organic food where possible.
Limit your consumption of meat and dairy.
Be open to diverse cultures and experiences.
Explore more than just the main tourist areas.
Support the arts and attend local events.
Visit fewer places but stay longer at each destination.
FAQ
Does Poznan have a Christmas market?
Yes, at Stary Rynek and Plac Wolności.
When is Poznan Christmas market?
19th November to 26th December 2022.
Is Poznan worth visiting at Christmas?
Of course, along with the Christmas market, there are many other events, museums, bars, restaurants and galleries that are worth visiting.
We're here to help you experience the best of winter in Poland in 2022. Plan your trip with our Poland Christmas markets guide. Discover where to go, things to do and the best ways to experience Polish food, history and culture.
—
Recommendations are independently chosen based on personal travel experiences and extensive research. This post contains affiliate links to hotels and tours in Poznan, Poland. This means I get a small commission from any bookings at no extra cost to you.