On a cold winter's day in Poland, walking long distances might not be the most sensible way to explore the city, especially if you're going to be spending hours at the Christmas markets.
In this case, you'll likely be looking for hotels near Krakow Christmas market and considering the market's central location, there are many excellent hotels that fit this requirement.
Krakow is home to Poland's largest and most popular Christmas market. You can't miss the festive celebrations which are located on Rynek Glowny, the focal point of the city and one of the most beautiful squares in Central Europe.
Rynek Glowny is a 13th-century square located in the centre of the old town. The towering Christmas tree decorated in a deep red bow is hard to miss as you approach the stalls which sit between the famous Cloth Hall and the imposing St Mary's Basilica.
The Christmas market in Krakow is lined with timber huts where they prepare delicious grilled and smoked specialties and slow-cooked hearty soups and goulash. You can also find handcrafted toys and Christmas decorations to take home or give as gifts.
Hotels Near Krakow Christmas Market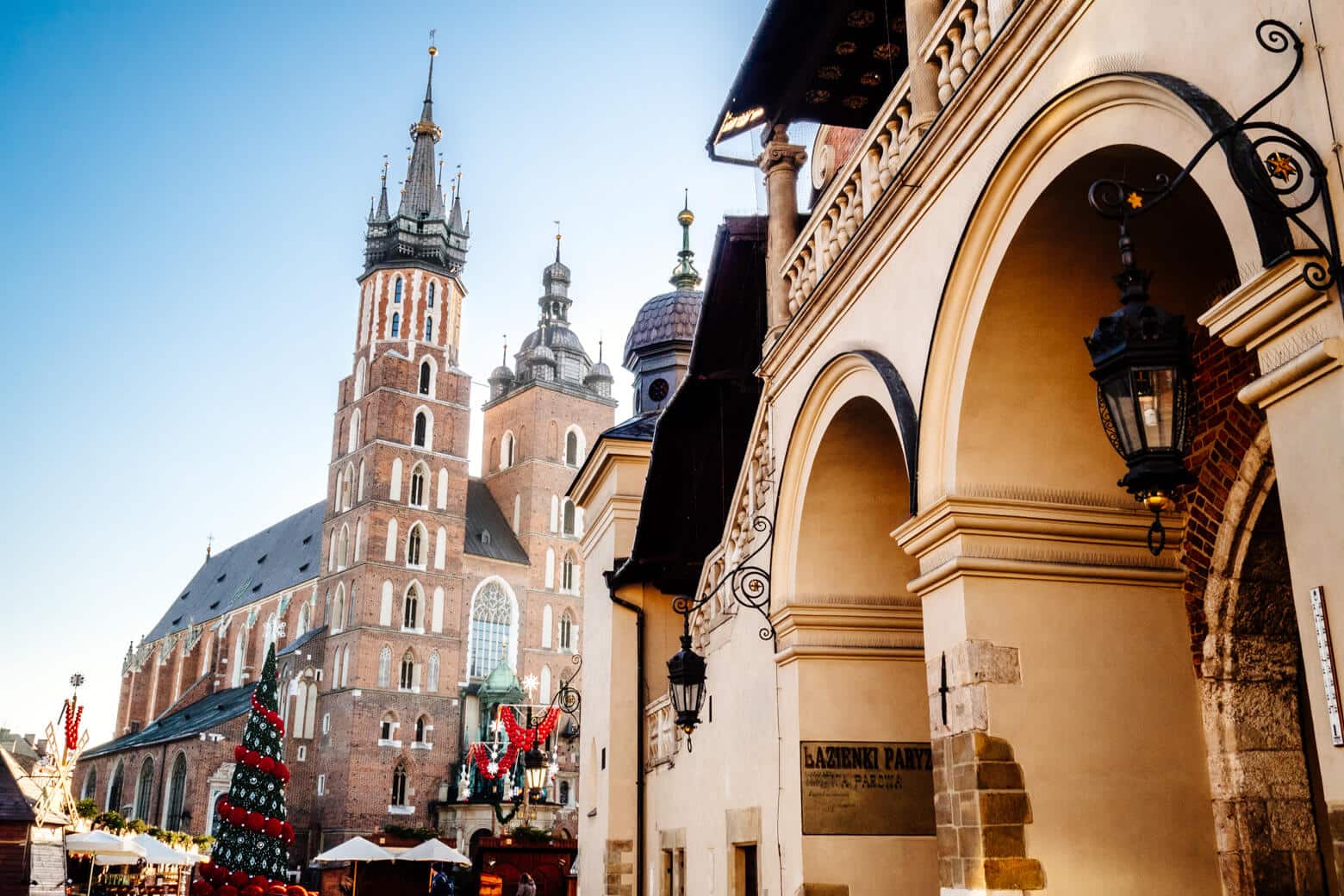 When searching for a hotel near the Christmas market, you'll want to be as close to Rynek Glowny as possible. This is the heart of Krakow's old town and it's easy to find as it's encircled by a 4 km tree-lined garden and pedestrian pathway.
Nowy Świat is just to the south of the old town and square and this is a popular area with many hotels due to the proximity to Wawal Castle and the rest of the old town.
A little further away is Kazimierz, Krakow's historic Jewish Quarter and one of the best places to experience food, culture and nightlife. Kazimierz is around 1.5 km from the Christmas market but it's one of the most interesting places to stay, so worth considering.
Top Pick
Balthazar Design Hotel
ul. Grodzka 63, Krakow
Directly in the main square, Balthazar is literally steps from the Christmas market and everything you could possibly wish to see in historic Krakow. The rooms are unique, lush and luxurious, unlike any hotel you are likely to have seen elsewhere. If you are looking for a luxury hotel near the Krakow Christmas market then this is a great choice.
Check Availability
Location of Balthazar Design Hotel
Travel Insurance
Unfortunately, things can and do go wrong when you travel. World Nomads offers coverage for more than 150 activities as well as emergency medical, lost luggage, trip cancellation and more.
World Nomads provides travel insurance for travellers in over 100 countries. As an affiliate, we receive a fee when you get a quote from World Nomads using this link. We do not represent World Nomads. This is information only and not a recommendation to buy travel insurance.
Read my complete guide to Krakow Christmas Market for more information.
Next Best Accommodation
Relaks Apartamenty
Very near the Christmas market is Relaks Apartamenty, a wonderfully clean and spacious apartment. You can choose between a studio, 1-bed or 2-bed apartment, so this is great if you're travelling with a group or would simply prefer your own private space.
An apartment is also helpful if you're travelling slowly and need to wash clothes or you would like to prepare your own meals. Relaks is very highly rated and only 200 metres from the main square.
Puro Hotel Krakow
I always stay in the Puro Hotels when in Poland and recommend the Puro Hotel Krakow near the Krakow Christmas market.
The hotel is modern, clean and well located close to both the old town and the main train station. The Puro Hotel is highly regarded and excellent value for money. The hotel offers bike rental, a fun, sustainable way to visit the city, even in winter (if you're lucky with the weather).
Meyo Apartments The Main Square
If none of these hotels suits then look at the Meyo Apartments which have absolute frontage on the main square. You cannot get closer to the Christmas market with this apartment and even see the market from some of the room windows.
If you would prefer a luxury hotel, then the Balthazar is a better choice, but if you need the space and privacy of an apartment along with the shortest travel time to the square, then book the Meyo.
Additionally, the Meyo Apartments are zero-waste and water-efficient, the food offered is generally organic and they provide bike rentals.
We're here to help you experience the best of winter in Poland in 2023. Plan your trip with our Poland Christmas markets guide. Discover where to go, things to do and the best ways to experience Polish food, history and culture.
If you're planning a visit to Krakow, you might find the Krakow Travel website to be a helpful resource, as it provides a wealth of information on the city, including recommendations on where to stay, what to see and do, and how to make the most of your trip.
Responsible Travel Tips
Many of us are increasingly concerned about climate change and sustainability. Here are a few ideas on how we can travel more responsibly in Krakow.
If you're looking to travel more responsibly in Krakow, here are some ideas that can help:
Use renewable energy: Look for hotels that use renewable energy sources like solar or wind power.
Minimise food waste: Opt for restaurants that source their ingredients locally and use sustainable practices, such as composting and reducing food waste.
Eat a sustainable diet: Consider trying traditional Polish dishes made from plant-based ingredients, and look for restaurants that use seasonal produce.
Use sustainable transport: Consider walking, cycling, or using public transportation, such as trams or buses, instead of taking a taxi or renting a car.
Avoid flying: If possible, consider taking a train or bus instead of flying, which can significantly reduce your carbon footprint. I've taken the train many times in Poland and the train to Krakow is fast and reliable.
Support the local community: Look for opportunities to shop at local markets, try traditional foods, and visit local attractions that support the local economy. The Christmas market is a perfect opportunity for that.
By making these choices, you can help minimise your environmental impact and support the local community while enjoying your visit to Krakow.
If you have questions or want to leave a hotel review, please do so in the comments.
—
Recommendations are independently chosen based on personal travel experiences and extensive research. This post contains affiliate links to hotels in Krakow, Poland. This means I get a small commission from any bookings at no extra cost to you.