Amsterdam has several hugely popular Christmas including the Funky Xmas Market. This market is a one-day Christmas market that is an extension of the weekly Sunday market held at Westergas. It's looking to be one of the biggest Christmas events in Amsterdam in 2022.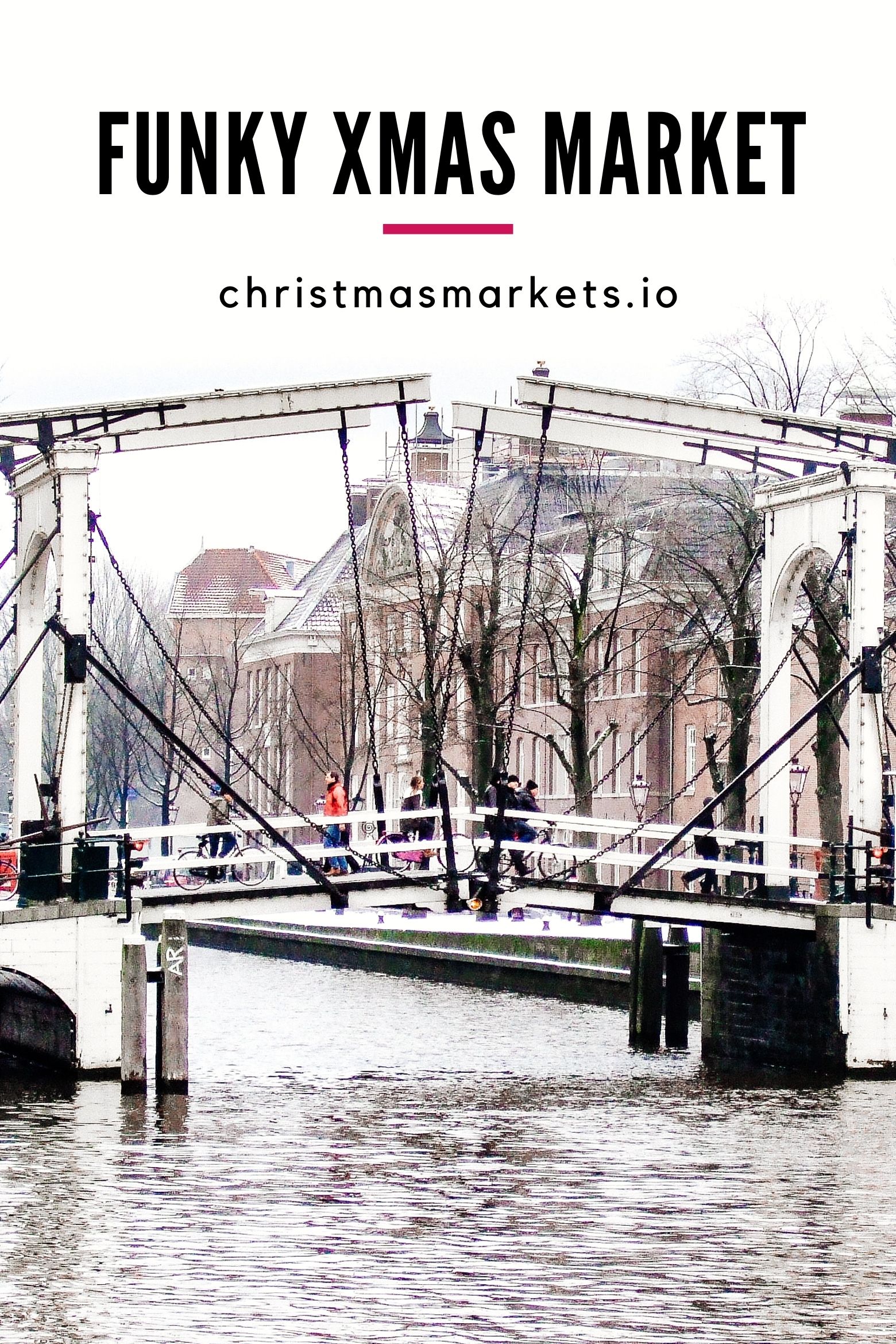 Funky Xmas Market 2022
The Sunday Market is well-loved in Amsterdam by locals and increasingly by visitors. It's a fun and festive market that focuses on cultural connections through music, art and design, all celebrated while enjoying the spoils of international food trucks.
Funky Xmas Market dates: 18th December 2022.
Opening time: 12 noon to 6pm.
Location: Westergas in Westergasfabriek at Westerpark.
How to get there: Westergas is a 30-minute walk from Amsterdam Centraal. Tram #3 stops close by and a number of buses stop at the door.
Reason to visit: A special event popular with locals. There are lots of cultural events, food trucks and handmade Christmas presents.
Where to stay: Mr Jordaan is relatively close to Westergas, but you would most likely need to get public transport to the Xmas market. I wouldn't stay near Westergas as there isn't much to do in that area.
Hotels near Funky Xmas Market
The best area to find hotels near Funky Xmas Market is actually to stay in the historic city centre or near Museumplein which is the Museum Quarter. Read the guide for recommendations for all budgets.
What is a Funky Xmas?
Westergasfabriek is an event space that highlights Dutch food, music and culture. There are many events throughout the year including the Sunday Market.
A special edition of the Sunday Market is reformatted as the Funky Xmas Market, celebrating a cultural Christmas in Amsterdam.
The Funky Christmas stalls at Westergas have some overlap with those at the Sunday market. You'll find food trucks, fashion, vintage items, artwork and much more.
The following list of stalls might be there on the 12th December event although this is subject to change.
Beewise
Coffee on the Roll
Eargasm Music
Jansen Vintage
Loveloempia
Lucignolo Limoncello
Pieman Bakery
Takoyaki Ya
The Churros Company
The Hot Dog Factory
YogicTouch
If you are spending time in the Netherlands, read my guide to Amsterdam Christmas Market to get ideas on things to do this December.
Location of Funky Xmas Market
Sustainable Travel Tips
The choices we make have an environmental and social impact on the places we visit. When visiting the Christmas markets, it's important to keep sustainability in mind.
Implement some or all of these simple measures to create a positive impact.
Shop mindfully. Only purchase what you really need.
Walk, cycle and use public transport to get around.
Stay in a sustainable hotel powered by renewable energy.
Stay in hotels. Short-stay apartment accommodation can lead to a lack of affordable housing for locals.
Avoid using plastic or buying items made or packaged with plastic.
Try to eat locally sourced organic food where possible.
Limit your consumption of meat and dairy.
Be open to diverse cultures and experiences.
Explore more than just the main tourist areas.
Support the arts and attend local events.
Visit fewer places but stay longer at each destination.
—
Recommendations are independently chosen based on personal travel experiences and extensive research. This post contains affiliate links to hotels and tours in Amsterdam, Netherlands. This means I get a small commission from any bookings at no extra cost to you.