Amsterdam has a number of very popular Christmas markets but unfortunately, some of them have been cancelled in 2021. Funky Xmas Market, however, is going ahead and will run on one Sunday in December 2021. Details of dates and locations are below as well as what's on during this special funky Christmas event.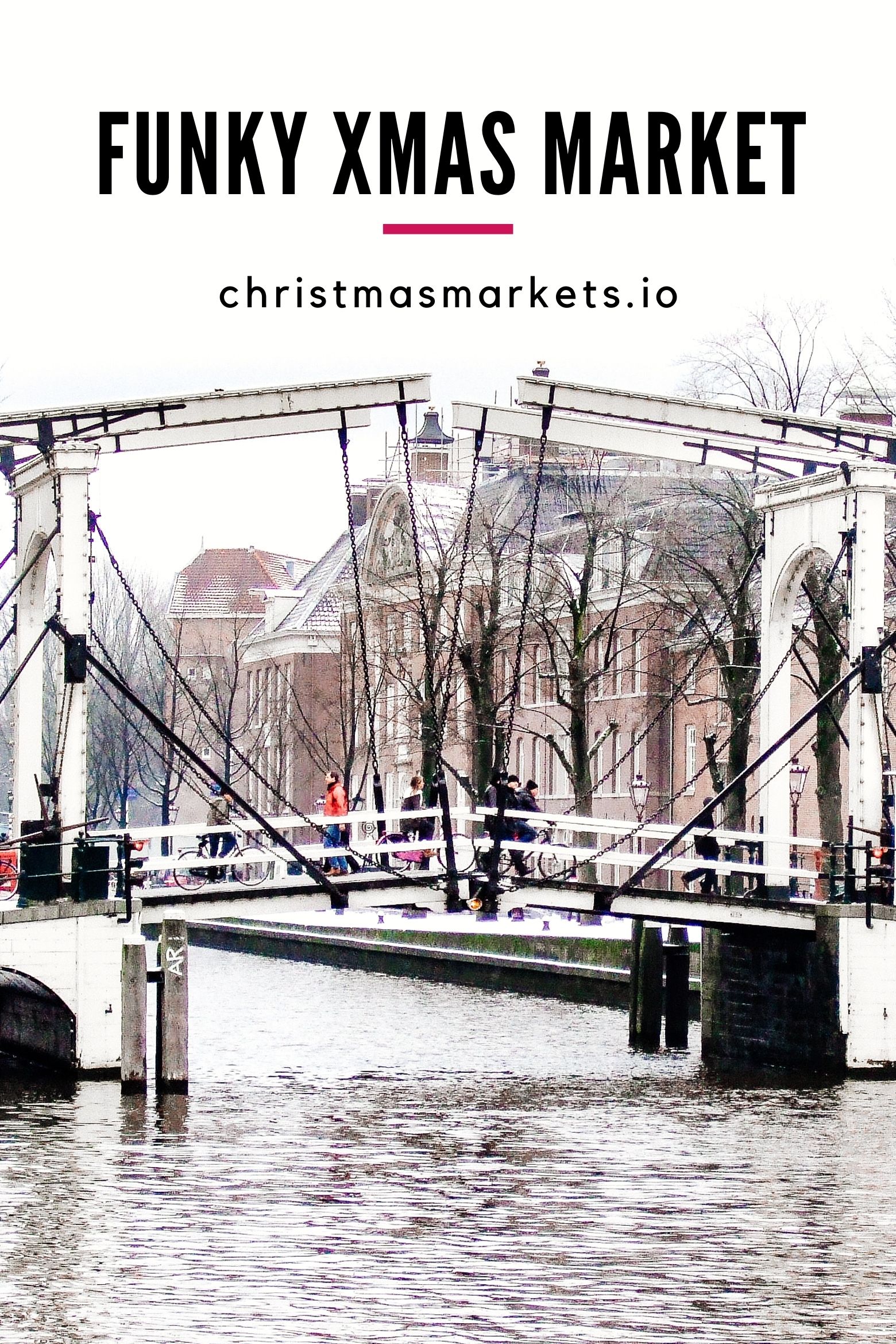 Funky Xmas Market 2021
The Funky Xmas Market is a one day Christmas market that is an extension of the weekly Sunday market held at Westergas. The Sunday Market is well-loved in Amsterdam by locals and increasingly by visitors. It's a fun and festive market that focuses on cultural connections through music, art and design, all celebrated while enjoying the spoils of international food trucks.
Funky Xmas Market dates: 12th December 2021.
Opening time: 12 noon to 6pm.
Location: Westergas in Westergasfabriek at Westerpark.
How to get there: Westergas is a 30-minute walk from Amsterdam Centraal. Tram #3 stops close by and a number of buses stop at the door.
Reason to visit: A special event popular with locals. There are lots of cultural events, food trucks and handmade Christmas presents.
Hotels near Amsterdam Christmas Market: If you want to stay in the historic centre, Hotel V Nesplein is a boutique hotel located close to Dam Square and the Royal Palace. Alternatively, Mr Jordaan is somewhat closer to Westergas, but either way, you would most likely need to get public transport to the Xmas market.
Hotels near Funky Xmas Market
The best option for hotels near Amsterdam Christmas Market or the Funky Xmas Market is actually to stay in the historic city centre or near Museumplein which is the Museum Quarter. In our guide, we list places to stay and you can search for all budgets.
Funky Christmas
Westergasfabriek is an event space that highlights Dutch food, music and culture. There are many events throughout the year including the Sunday Market. A special edition of the Sunday Market is reformatted as the Funky Xmas Market, celebrating a cultural Christmas in Amsterdam.
The Funky Christmas stalls at Westergas has some overlap with those at the Sunday market. You'll find food trucks, fashion, vintage items, artwork and much more. The following list of stalls might be there on the 12th December event although this is subject to change.
Beewise
Coffee on the Roll
Eargasm Music
Jansen Vintage
Loveloempia
Lucignolo Limoncello
Pieman Bakery
Takoyaki Ya
The Churros Company
The Hot Dog Factory
YogicTouch
If you are spending time in the Netherlands, read our guide to Amsterdam Christmas Market to get ideas on things to do this December.
Location Map
If you have any questions or comments about visiting Funky Xmas Market in 2021, please leave a comment below and we'll reply as soon as possible.
If you have experienced a Funky Christmas and would like to leave a review, this would help people who are thinking about visiting or making plans for an upcoming trip.
Please be sure to follow all government travel guidelines and restrictions while in Amsterdam and elsewhere in the Netherlands and be aware these may change at short notice. The latest information for locals and travellers is published by the City of Amsterdam.
This post contains affiliate links for hotels in Amsterdam, Netherlands. This means we get a small commission from any bookings at no extra cost to you.