You might be surprised to learn that Amsterdam is one of the most festive cities in Europe. The Amsterdam Christmas Market isn't just one market but there are actually more than 12 Christmas markets in Amsterdam and the surrounding region. This guide will help you plan your Christmas break in Amsterdam with details on where to go, dates, locations and local specialties to look out for.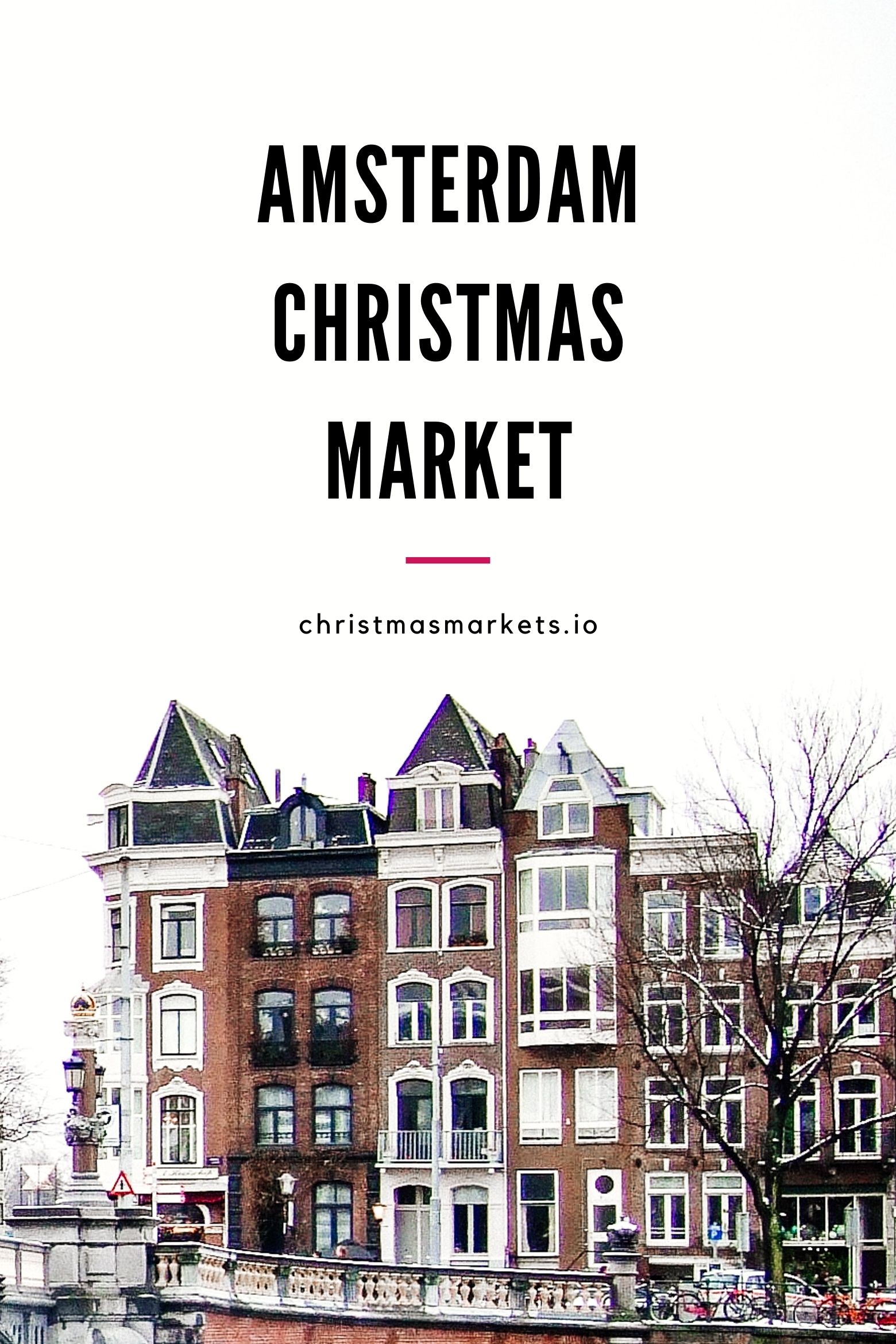 Amsterdam Christmas Market 2021
Amsterdam is one of the greatest city break destinations in Europe. It's a fantastic place to visit all year round but Amsterdam at Christmas and over the holiday period is especially fun, warm and welcoming. There are a number of Christmas markets in Amsterdam with some neighbourhoods putting on their own events and celebrations.
De Amsterdamsche Kerstmarkt: The main market at Westergas.
Amsterdam Christmas Market dates: Cancelled in 2021. It will return from 20th to 23rd December 2022.
Opening times: Cancelled this year.
Location: Westergas
Reason to visit: Ice rink near the historic factory buildings. Live music, food trucks and a film program.
Travel tips: Westergas is an interesting cultural centre with lots of activities. Have a look around even outside of the Christmas period.
Hotels near Amsterdam Christmas Market: If you want to stay in the historic centre, Hotel V Nesplein is a boutique hotel located close to Dam Square and the Royal Palace. A little closer to Westergas is Mr Jordaan, but either way, you would most likely need to get public transport to the Christmas markets.
Hotels near Amsterdam Christmas Market
The best option for hotels near Amsterdam Christmas Market is actually to stay in the historic city centre or near Museumplein which is the Museum Quarter. In our guide, we list places to stay and you can search for all budgets. You could also stay in one of our recommended hotels in the trendy hipster neighbourhood just outside of the tourist areas.
Ice Village Amsterdam
The Ice Village is one of the most traditional Christmas markets in Amsterdam. It is located on the very beautiful Museumplein, near the Rijksmuseum, Van Gogh Museum, Stedelijk Museum and other smaller museums. Christmas chalets surround an outdoor ice skating rink and trees in the park are adorned with beautiful fairy lights. There is great food available and traditional drinks like mulled wine, hot cider and hot chocolate.
Ice Village Amsterdam: The best Christmas market in Amsterdam.
Ice Village Christmas Market dates: 13th to 26th December 2021 (to be confirmed).
Opening times: 11am to 8pm. On the 24th and 25th December the market closes at 5pm.
Location: Museumplein
Reason to visit: The ice skating rink will be open from the 13th November 2021 at Museumplein.
Funky Xmas Market
The Funky Xmas Market is a one day Christmas market held as a special edition of the weekly Sunday Market at Westergas. Our full guide to the Funky Xmas Market has more details and what to expect with a funky Christmas experience.
Funky Xmas Market: A special Christmas event at Westergas Sunday Market.
Funky Xmas Market dates: 12th December 2021.
Opening times: 12 noon to 6pm.
Location: Westergas at Westerpark.
Reason to visit: A special event popular with locals. There are lots of cultural events, food trucks and handmade Christmas presents.
Amsterdam Winter Paradise
Winter Paradise is one of the big Holland Christmas markets. It's a kind of 'winter wonderland' that takes place in December at RAI Amsterdam, the city's big exhibition centre. Winter Paradise dates are still to be confirmed.
Christmas Markets in The Netherlands
If you're interested in other Christmas markets in the Netherlands, there are plenty that are only a day trip from Amsterdam. Or if you have the time, spend a couple of nights exploring these destinations.
The Royal Christmas Fair – The Hague, an hour by train from Amsterdam Central. Location: Lange Voorhout. Dates: 9th to 22nd December 2021.
Winter Village – Amstelveen, just south of Amsterdam. Location: Winkelcentrum Stadshart. Dates: To be confirmed.
Vreeland Christmas Market – Vreeland, 90 minutes by train from Amsterdam towards Utrecht. Dates: Cancelled in 2021.
Castle Christmas Fair – Heemskerk, 90 minutes north-east of Amsterdam. Location: Slot Assumburg, Beeckestijn Estate. Dates: 18th to 21st November 2021. Tickets are available at the door but it's advised to purchase online before you go.
Haarlem Christmas Market – Haarlem, 1 hour from Amsterdam. One of the largest Christmas markets in the Netherlands. Location: Grote Markt, Haarlem.
Country & Christmas Fair – Kasteel de Haar, Utrecht.
Light Night Edam
Alkmaar Christmas Market
Floating Christmas Market – Leiden.
Map of Amsterdam
If you have any questions or comments about visiting Amsterdam in winter or specifically visiting the Amsterdam Xmas market in 2021, please leave a comment below and we'll reply as soon as possible.
If you have visited the Christmas markets in Amsterdam and would like to leave a review, this would help people who are thinking about visiting or making plans for an upcoming trip.
Please be sure to follow all government travel guidelines and restrictions while in Amsterdam and elsewhere in the Netherlands and be aware these may change at short notice. The latest information for locals and travellers is published by the City of Amsterdam.
This post contains affiliate links to tours and hotels in Amsterdam, Netherlands. This means we get a small commission from any bookings at no extra cost to you.