Vilnius is the quietest capital city winter destination in the popular Baltic States region. This is actually what makes it such a great place for a Christmas break; the city is calm, festive and bustling with events attended by friendly locals.
Christmas is the most popular winter event in Lithuania and this guide to hotels near Vilnius Christmas Market will help you find a relaxing place to stay.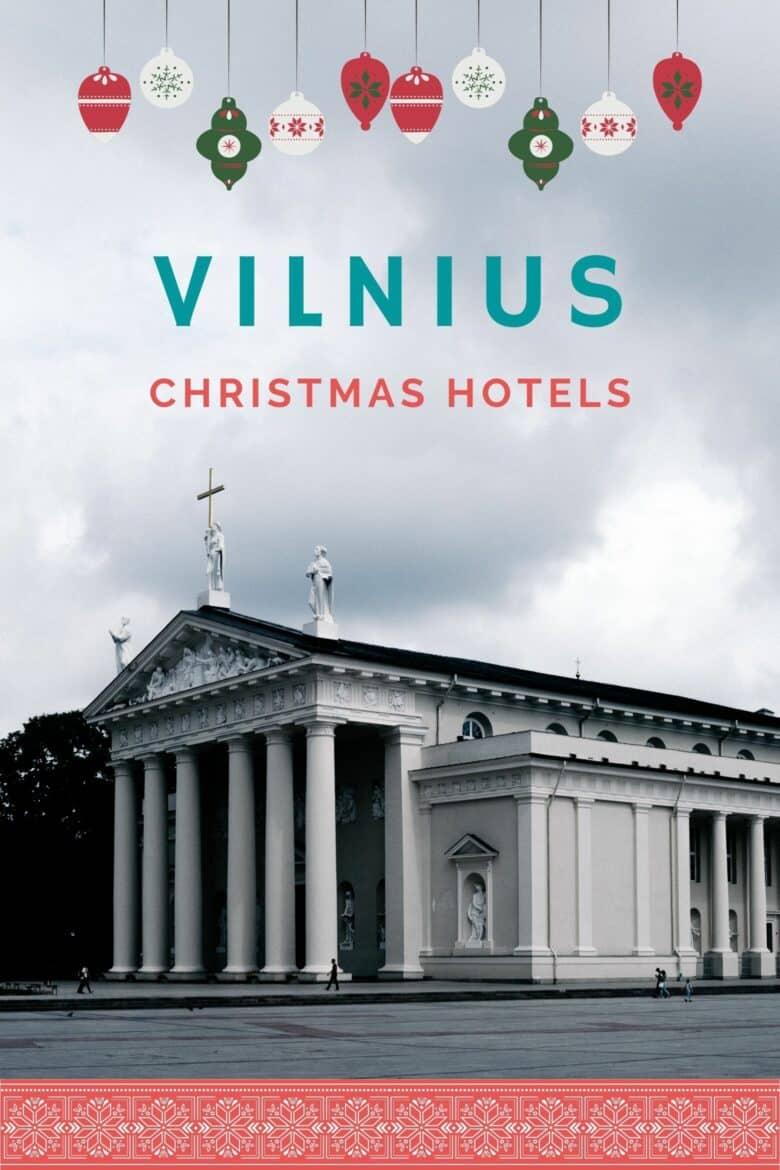 Hotels near Vilnius Christmas Market
Vilnius Christmas Market is held on Cathedral Square in Vilnius Old Town, in front of Vilnius Cathedral. This is also where you'll find the famous Vilnius Christmas tree.
You can't miss the cathedral, a huge, whitewashed, classical-style Catholic cathedral notable for its six large columns protecting the facade. The cathedral sits on an old pagan temple site and has 11 chapels.
Anywhere between Cathedral Square and Town Hall Square is a convenient location for visiting Vilnius and the Christmas markets.
Top Pick
Artagonist Art Hotel
Address: Pilies g. 34, Vilnius Old Town, Lithuania
The Artagonist is an exceptional boutique hotel in Vilnius that is set in a beautiful 15th-century building. The rooms are modern, stylish and decorated with artwork by local Lithuanian artists. The hotel also has a popular modern Lithuanian restaurant that you might like to try. The Artagonist is a 6-minute walk to Vilnius Christmas Market and not far from the Bell Tower of St John's Church and Town Hall Square.
Check Availability
Location of Artagonist Hotel
Next Best Hotel
15th Avenue
Address: Gedimino pr. 15, Naujamiestis, Vilnius
15th Avenue is a small hotel, a 7-minute walk away from Cathedral square and Gediminas Castle. The rooms are simple, modern and extremely clean. The hotel is great value for money and there are some excellent cafes and restaurants in the area.
Grand Hotel Kempinski Vilnius
Address: Universiteto g. 14/2, Vilnius, Lithuania
If you would like to stay in a luxury hotel in Vilnius, Grand Hotel Kempinski is situated in an extravagant historic building directly opposite Cathedral Square. You can not stay closer to the Christmas markets than this hotel and you might even have a view of the Vilnius Christmas tree. As you would expect from a famous 5-star hotel, the Grand Hotel offers exceptional service and facilities, including a spa, gym and swimming pool. The restaurant caters to all dietary needs, including vegan and gluten-free.
Hotel Apia
Address: Šv. Ignoto g. 12, Vilnius
Hotel Apia is one of the best budget hotels in Vilnius. It is located in one of the narrow streets of the old town close to a number of the city's green open spaces. There are many cafes and restaurants in this area and it is steps from the Presidential Palace. The hotel is within 10 minutes of the Christmas markets in Vilnius, making a very convenient and affordable option for your stay.
Heart of Vilnius Apartment
Address: Totorių gatvė 17-1, Vilnius
If you would prefer the space and additional privacy of an apartment in Vilnius, the Heart of Vilnius is aptly named and is only 5 minutes from the Christmas markets. The apartment has excellent reviews and sleeps up to four adults and two children, making it an affordable family option.
Where to Stay in Vilnius
If you're planning a trip to Vilnius and wondering where to stay, some of the best neighbourhoods to consider include:
Old Town: Vilnius's Old Town is a UNESCO World Heritage Site and one of Northern Europe's largest surviving medieval old towns. It is home to numerous historic landmarks, including the Vilnius Cathedral, the Town Hall, and the Gates of Dawn, as well as many cafes, restaurants, and shops. The neighbourhood is particularly lively during the summer months when outdoor terraces and markets are in full swing. In addition to being a great place to stay for sightseeing, Old Town is also a hub for Vilnius's nightlife.
Užupis: Užupis is a small, artsy neighbourhood that was once an independent republic, complete with its own constitution, flag, and currency. Today, it's known for its Bohemian atmosphere, colourful street art, and numerous galleries and cafes. The neighbourhood is particularly lively when street performers and festivals abound during Christmas. It's a great place to stay for those who want to explore a more alternative side of Vilnius.
Žvėrynas: Located just west of Old Town, Žvėrynas is a leafy and upscale neighbourhood that is known for its parks, river views, and trendy cafes and restaurants. It's a quieter and more residential area than Old Town or Užupis and is particularly popular with families and those who prefer a slower pace. The neighbourhood is also home to a popular outdoor market that sells fresh produce and other goods.
Cathedral Square: Cathedral Square is located in the heart of Old Town and is surrounded by some of Vilnius's most iconic landmarks, including the Vilnius Cathedral, the Palace of the Grand Dukes, and the Gediminas Tower. The square is particularly lively during winter when outdoor concerts and festivals occur. It's a great place to stay if you want to be in the heart of the action and don't mind a bit of noise and crowds. This is where you'll find the main Christmas market in Vilnius.
Regardless of your neighbourhood, Vilnius has plenty to offer in terms of history, culture, and entertainment.
Each area has its own unique charm and character, so be sure to choose the one that best suits your interests and preferences.
For more information on visiting Vilnius at Christmas, read our complete guide to Vilnius Christmas Market that includes sightseeing tip, things to do, local specialties and Lithuanian traditions.
Stay Sustainable in Vilnius
Sustainability is an increasingly important consideration when it comes to travel, and this is no different when it comes to Christmas markets and accommodations in Vilnius.
When visiting Christmas markets, look for vendors who use eco-friendly packaging and avoid products that use excessive amounts of single-use plastic.
You can also choose to bring your own reusable shopping bags and containers to minimise waste.
When it comes to accommodations, look for hotels and guesthouses with sustainable practices. This can include things like using renewable energy, minimising water usage, and recycling waste.
You can also look for properties with eco-certifications, such as the Green Key certification, indicating that the property has met certain sustainability standards.
Another option is to stay in a sustainable accommodation alternative, such as an eco-lodge or a homestay with a local family.
These types of accommodations often have a smaller environmental footprint than traditional hotels and can give you a more authentic and immersive travel experience.
Overall, whether you're shopping at Christmas markets or choosing where to stay, there are plenty of ways to make sustainable choices that can help minimise your impact on the environment while still enjoying all that Vilnius has to offer.
—
Recommendations are independently chosen based on personal travel experiences and extensive research. This post contains affiliate links to hotels in Vilnius, Lithuania. This means I get a small commission from any bookings at no extra cost to you.