Milan is a popular weekend destination over the Christmas and New Year period. Piazza Duomo, the main square in front of the stunning cathedral, is the location of the biggest Christmas market in the city.
There are a number of smaller neighbourhood markets too, but we suggest staying in the centre at one of our recommended hotels near Milan Christmas Market and the Duomo.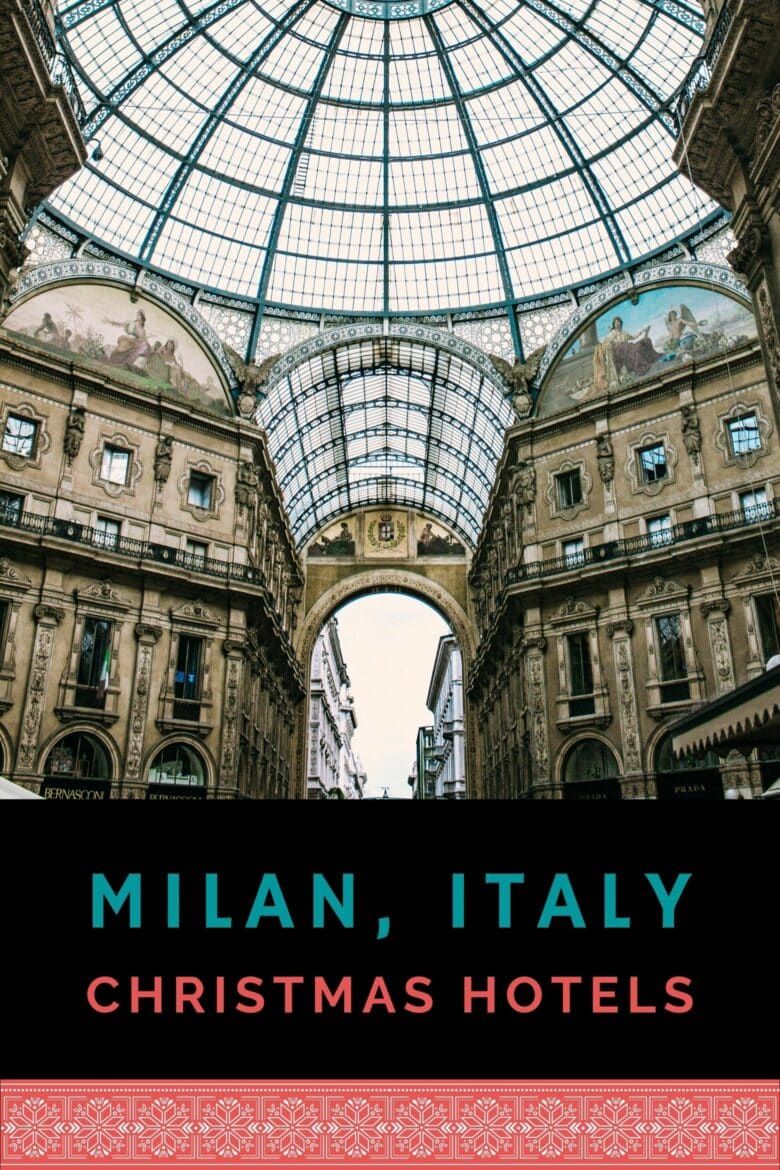 Hotels in Milan Near Duomo
While Milan may be known for its luxury and high-end experiences, the city caters to visitors with a variety of budgets, ensuring that everyone can enjoy its charm and attractions.
So if you're interested in a cost-effective trip or looking to indulge in a lavish vacation, Milan has options to suit your preferences.
For budget-conscious travellers, consider staying in accommodations located slightly outside the city centre, where prices tend to be more affordable. I list a variety of options below.
Top Pick
Room Mate Giulia
Address: Silvio Pellico 4, Milan City Centre, Italy
One of the most stylish and comfortable boutique hotels in Milan is also perfectly located near Milan Christmas Market. Room Mate Giulia is in a stunningly restored 19th-century building and the interior is inspired by mid-century design. The hotel was renovated using locally sourced materials such as terracotta from Lombardy. Thoughtful service complements the incredible location. This is one of the most sustainable hotels in Milan as they use 100% renewable electricity, they don't use single-use plastics or miniature toiletries and they invest in local community projects. I highly recommend staying in this hotel in Milan.
Check Availability
Location of Room Mate Giulia
Hotels near the Christmas Market
The Street
Address: Via Santa Radegonda 14, Milan
Another excellent boutique hotel near Piazza Duomo is The Street, a 5-minute walk away. The unusual interior design is light and bright with minimalist features and wall artwork promoting historic Milan. This hotel is excellent value for money, especially when considering the quality of the service and the ideal central location. The hotel has open green space, which you can take advantage of if you get lucky with the weather. Most food provided by the hotel is locally sourced and organic.
Apartment Hotel near Duomo
Aparthotel Duomo
Address: Via Agnello 2, Milan, Italy
If you would prefer the additional space and privacy of an apartment in Milan, Aparthotel Duomo would be absolutely perfect. Located on a small backstreet just behind the Duomo, you'll have the incredible experience of feeling like you're living in Milan. The apartments are clean and tidy with a simple design and light colour scheme. The apartment with a spa also has a view of the beautiful Duomo.
Best in the City Centre
Hotel Gran Duca Di York
Address: Via Moneta 1/A, Milan City Centre, Italy
If you would prefer a more traditional Italian design, the Hotel Gran Duca Di York offers exactly that. There are lots of tiles, marble and yellow wallpaper. While perhaps not a budget hotel, this is definitely a more affordable option and is excellent value for money, given the location and excellent reviews. The hotel is 400 metres from the Christmas market.
Stay in the Fashion District
Hotel Spadari Al Duomo
Address: Hotel Spadari Al Duomo Via Spadari 11, Milano
Another stylish and highly rated hotel is Hotel Spadari Al Duomo. Rooms are decorated with paintings by young contemporary artists. The hotel is one street from Piazza Duomo, so it is very close to the Christmas market as well as being in the heart of the fashion and shopping district. You can walk to all of the incredible sights of Milan from here. It's the ideal city break location with everything at your doorstep.
Milan is a popular destination all year round. It's not just tourists visiting but conference visitors, business people, and fashion and design workers. It's a big city with a lot going on.
There are many hotels in Milan, but with so many visitors, the best hotels can book out quickly. I suggest booking your hotel as far in advance as possible to ensure a convenient stay in Milan.
Where to Stay in Milan
As you plan your visit to Milan, choosing the right neighbourhood to stay in is essential, especially if you're seeking a hotel experience near the Duomo area and the Christmas markets.
Here is a list of some of the best areas to consider, each known for its unique charm and attractions, including cafe culture, independent stores, galleries, museums, green spaces, cool bars, and vibrant nightlife:
Duomo and Brera District: This central area offers a prime location for those searching for where to stay in Milan near Duomo. With its picturesque streets and artistic atmosphere, the Brera District is home to numerous boutique hotels, trendy cafes, independent shops, and the famous Pinacoteca di Brera art gallery. You'll also be within walking distance of the Christmas markets and the city's iconic cathedral.
Navigli District: This area is famous for its picturesque canals, lined with charming cafes, independent stores, and vibrant nightlife. With its bohemian ambience and lively atmosphere, Navigli is an excellent choice for those who enjoy a bustling environment while still being within easy reach of the Duomo area.
Porta Venezia: This elegant neighbourhood is known for its Liberty-style architecture, museums, and beautiful public gardens, such as the Giardini Indro Montanelli. Porta Venezia also has a diverse culinary scene, offering numerous cafes and restaurants and a vibrant nightlife.
Isola District: For a more laid-back atmosphere, consider staying in the Isola District. This up-and-coming district features trendy bars, independent shops, and a thriving creative scene. The area's converted industrial spaces now house art galleries, design studios, and stylish cafes, making it a popular choice for those seeking a unique and vibrant Milanese experience.
Corso Como and Garibaldi District: This fashionable area is known for its chic boutiques, contemporary art galleries, and stylish bars. The modern skyscrapers and green spaces of Porta Nuova are also within easy reach, offering a blend of cutting-edge architecture and natural beauty.
For more information on visiting Milan at Christmas, read our complete guide to Milan Christmas Market that includes sightseeing tips, things to do and local specialties worth looking out for.

Or you might find our Italy Christmas Markets 2023 guide to be helpful for your trip planning.
By choosing one of these neighbourhoods for your stay, you'll be able to immerse yourself in the distinct charm and culture of Milan while enjoying easy access to the Duomo area and the lovely Christmas markets.
This post contains affiliate links to hotels in Milan, Italy. This means we get a small commission from any bookings at no extra cost to you.