Dublin city centre is buzzing with locals and visitors eating, drinking and shopping in the lead-up to Christmas and New Year's. There is a lot going on and Dublin Christmas Market is one of the most popular events in December. There are actually several Christmas markets in Dublin, including Mistletown and Dublin Castle.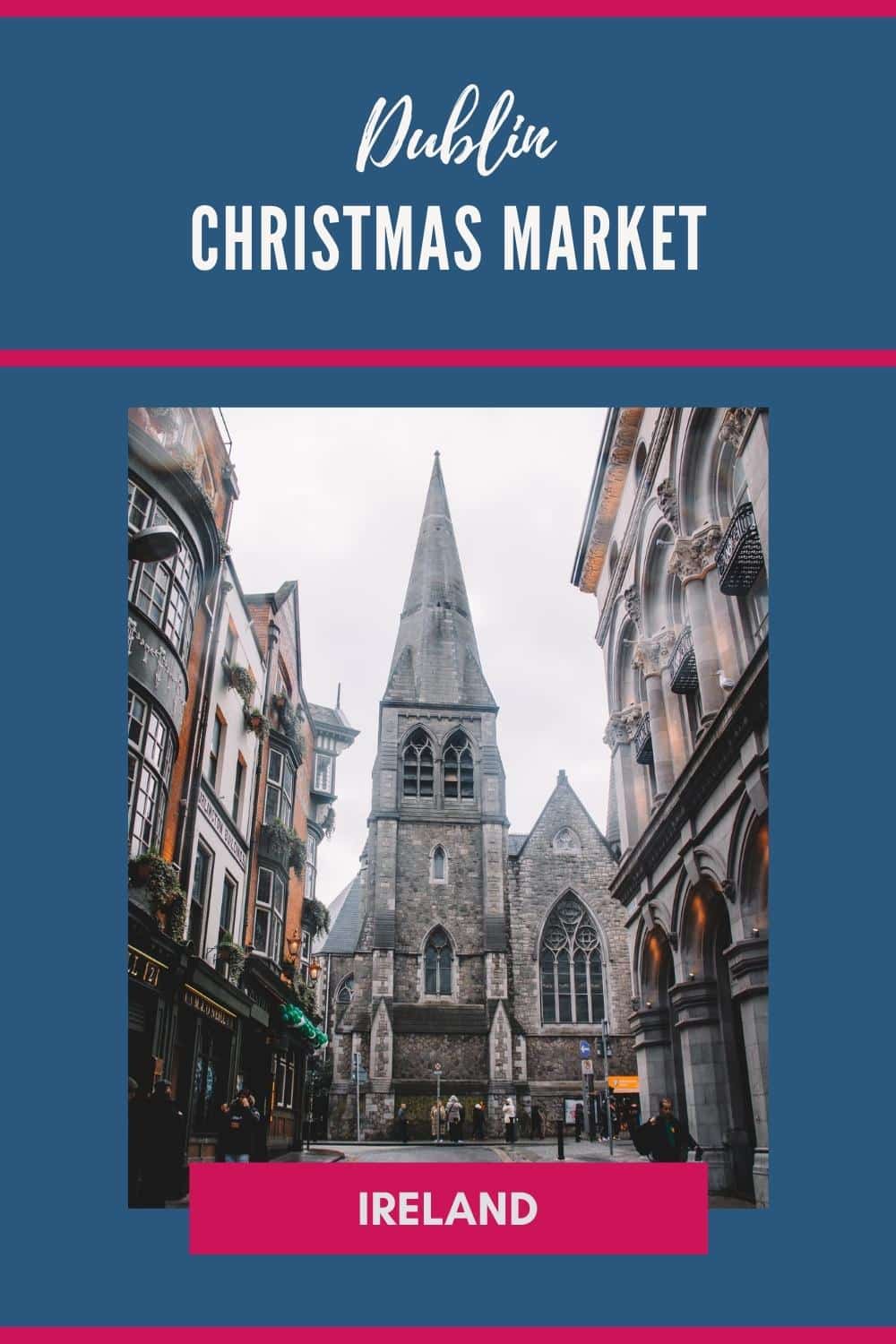 Dublin Christmas Market 2022
Mistletown is the best of Dublin's Christmas markets but it's a shorter event than you might experience elsewhere. It only runs in December but it's busy with family and friends meeting for after-work drinks or weekend shopping.
1. Mistletown
Mistletown dates: 3rd to 23rd December 2022 (to be confirmed).
Opening times: 10am to 10pm on the weekends, opens at 12 noon during the week. Closes at 6pm on the 23rd December.
Location: St Michan's Street, Dublin City – located at the site of the indoor fruit and veg market.
Reason to visit: A very family friendly event with a focus on artisan food, arts and crafts. As in indoor fair, you can visit no matter the weather.
Specialities: Mince pies, themed woolly hats, cheesy Christmas jumpers and a brass band.
Travel tips: Kids will love the carousel and vintage helter skelter, spiral slide. While adults might enjoy some hot buttered rum or a gin and mistletoe tonic.
Where to stay: Zanzibar Locke for its location near O'Connell Street.
You can find local and international Christmas food and drinks at the Dublin Artisan Food Village within the indoor market.
In 2022, more than 20 Christmas food stalls are expected and warming hot drink stations, both alcoholic and chocolate or tea-based.
Along with the Artisan Food Village, the Christmas Market has a Craft Market with more than 80 Christmas stalls.
Wooden toys and gifts are popular and the cheesy Christmas jumpers are excellent for a bit of festive fun. Handmade Christmas baubles and other decorations, chocolates and preserves make great gifts.
Hotels near Dublin Christmas Market
Given that there are several Christmas markets around the city, I suggest staying somewhere central while in Dublin.
I recommend Zanzibar Locke. It's located on the riverfront, not far from O'Connell Street in the heart of Dublin City Centre. In this area, you're near cafes, bars, shopping and sights while also having easy access to the Christmas markets.
If that doesn't suit you, my guide to hotels near Dublin Christmas Market lists several convenient and good-value hotels for a short stay in Dublin.
Location of Mistletown
Mistletown is a 15-minute walk from O'Connell Street and a 25-minute walk from St Stephen's Green. The Red LUAS tram will take you directly to Four Courts and Mistletown. On-street parking is limited so please take public transport, walk or bike if the weather permits.
2. Christmas at the Castle
Dublin Castle holds one of the most popular Christmas events in Ireland that includes more than 30 traditional alpine market stalls.
Dates: Wednesday 7th to Tuesday 20th December 2022 (to be confirmed).
Location: In the courtyard of Dublin Castle.
Cost: This is a free event but you must order a ticket in advance.
3. Sustainable Christmas Market
A great indoor Christmas market that focuses on sustainable gifts, high-quality products, zero waste packaging, recyled, upcycled and secondhand gifts. Stall holders are certified as being sustainable, including their supply chains.
Dates: 9th to 11th December (to be confirmed).
Opening times: Friday 4pm to 8pm. Saturday and Sunday 11am to 8pm.
Address: 46 North Great Clarence Street, Dublin.
4. Terenure Christmas Market
Terenure is a one day festival held on the first Saturday in December. There are 50 stalls showcasing artisan, handcrafted goods, local produce and the popular Food Quarter.
Dates: 3rd December 2022 (to be confirmed).
Opening times: 11am to 6pm.
Location: Terenure Road, Dublin.
5. Dun Laoghaire Christmas Market
Dún Laoghaire is a coastal suburb located 15 km from central Dublin. The area might be worth visiting if you're looking for a new experience and have the time to explore. Last year's Christmas market in Dun Laoghaire was a virtual event but it's set to be back in person in 2022.
Dates: 26th November to 23rd December 2022 (to be confirmed).
Opening times: 11am to 7pm.
6. Wicklow Christmas Market
Wicklow is a small coastal town around a 45 minute drive south of Dublin. If you're travelling around Ireland, you might like to made a stop here to visit the Christmas market.
Dates: 19th November to 18th December 2022.
Opening times: 10am to 7:30pm.
Location: The Murrough & Leitrim Place, Wicklow, Ireland.
Things to Do in Dublin in Winter
If this is your first time in Dublin, I suggest taking this City Highlights Tour. This highly-rated tour will introduce you to the city's sights and main attractions while giving you an overview of Dublin's fascinating history.

If you prefer food-based tours, on this popular Walking Food Tour you'll get to sample wonderful Irish dishes and experience Dublin's growing food scene.
Sustainable Travel Tips
The choices we make have an environmental and social impact on the places we visit. When visiting the Christmas markets, it's important to keep sustainability in mind.
Implement some or all of these simple measures to create a positive impact.
Shop mindfully. Only purchase what you really need.
Walk, cycle and use public transport to get around.
Stay in a sustainable hotel powered by renewable energy.
Stay in hotels. Short-stay apartment accommodation can lead to a lack of affordable housing for locals.
Avoid using plastic or buying items made or packaged with plastic.
Try to eat locally sourced organic food where possible.
Limit your consumption of meat and dairy.
Be open to diverse cultures and experiences.
Explore more than just the main tourist areas.
Support the arts and attend local events.
Visit fewer places but stay longer at each destination.
—
FAQ
Is there a Christmas market in Dublin Ireland?
Yes! There are several Christmas markets in Dublin and they are growing in popularity each year.
When is Dublin Christmas Market?
3rd to 23rd December 2022.
Where are the Christmas markets in Dublin?
Mistletown is located at St Michan's Street, Dublin City – located at the site of the indoor fruit and veg market.
What time does Dublin Christmas Market open?
10am weekends, 12 noon during the week.
What time does Dublin Christmas Market close?
10pm daily. Closes at 6pm on the 23rd December (the last day of the market).
If you have any questions or comments about visiting the Dublin Xmas market in 2022 or visiting Dublin in December more generally, please leave a comment below.
If you have visited Mistletown Christmas Festival and would like to leave a review, this would help people who are thinking about visiting or making plans for an upcoming trip.
The latest information for travellers is published by Visit Dublin, the official office of tourism.
—
Recommendations are independently chosen based on personal travel experiences and extensive research. This post contains affiliate links to hotels and tours in Dublin, Ireland. This means I get a small commission from any bookings at no extra cost to you.