Advent in Munster is one of the most popular events of the year. In 2022 there will be six Christmas markets to celebrate the season. The main Munster Christmas Market takes place at the Town Hall and is the largest and oldest Christmas market in the city. It's one of the most interesting winter destinations in the Westphalia region of Germany.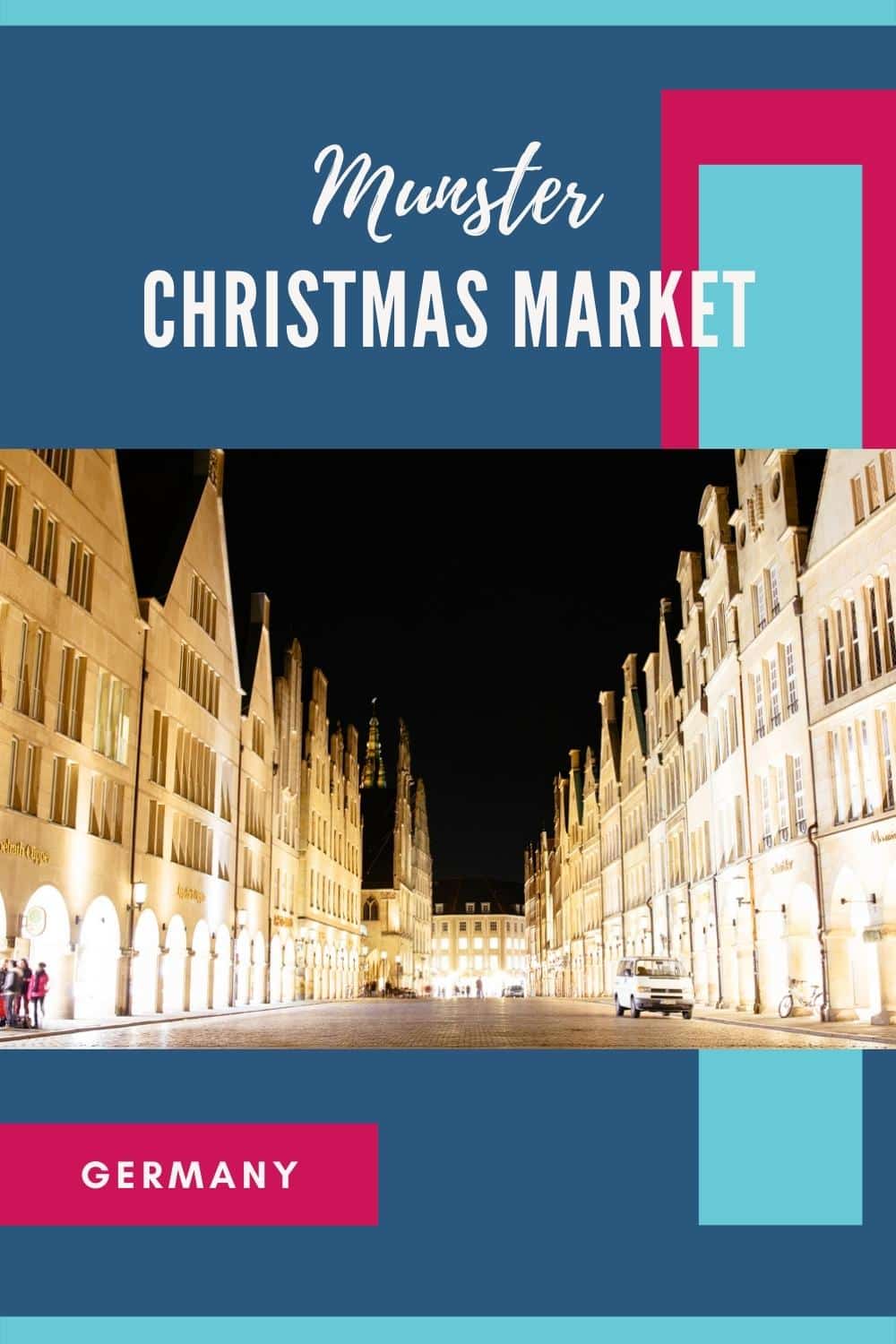 Munster Christmas Market 2022
At Munster's historic heart is the Town Hall and Prinzipalmarkt, an arcade-lined street and marketplace. It's one of the most beautiful areas of the city and it's where you'll find Munster Christmas Market.
Be sure to enter the Town Hall courtyard to experience the best of the market and the excellent variety of Christmas stalls offering local specialities.
Munster Christmas Market dates: 21st November to 23rd December 2022.
Opening times: 11am to 8pm. Closes at 9pm on Fridays and Saturdays.
Location: Historic City Hall (Historisches Rathaus Münster) on beautiful Prinzipalmarkt.
Reason to visit: Munster is a university city with a youthful population. You'll find fun bars, nightlife and regular events that welcome visitors. Be sure to visit the Pablo Picasso Museum for something unexpected in Munster.
Specialities: Hot punch (either alchol free or with a shot), bratwurst served with potato pancakes, Munster ham.
Travel tips: Munster is located close by some of Germany's most famous Christmas destinations. Consider adding Cologne or Essen to you winter trip or you could even cross the border to Amsterdam, an amazing city to visit all year round.
Where to stay: The Central Hotel Münster is a great choice near both the Town Hall Christmas market and Aegidiimarkt.
Hotels near Munster Christmas Market
Munster's historic centre (Münster-Altstadt) revolves around Prinzipalmarkt and then towards the Historic City Hall, Rathausplatz, the Picasso Museum and Domplatz. Anywhere around these points of interest would be a great place to stay.
I suggest staying at Central Hotel Münster as it's a 4-minute walk to the Historic City Hall and a further 2 minutes to Prinzipalmarkt. I stayed here on my most recent visit and found it to be perfectly located.
If you would prefer to stay elsewhere, my guide to hotels near Munster Christmas Market list several other excellent hotels for all budgets.
Location of Munster Christmas Market
Christmas Markets in Munster
This year, there are six Christmas markets in Munster. The largest and most well-known is held at the Historic Town Hall but you'll find five other markets around the city with different themes, specialities and atmospheres.
Munster Christmas Market: The main Christmas market in Münster-Altstadt.
The Light Market at St Lamberti Church: A lovely Christmas market that literally lights up the entire church square at Lambertikirchplatz.
Aegidiimarkt Advent Market: A family-friendly Advent market with a nativity scene and half-hourly Christmas chimes.
Giebelhüüskesmarkt: Located in front of the medieval Überwasserkirche. A traditional Christmas market with crafts, food and drinks.
Kiepenkerl Christmas Village: A cosy market specialising in Westphalian artisanal produce and handmade gifts.
X-MS Christmas Market: A sustainable Christmas market on Harsewinkelplatz that supports local and regional arts, crafts and handmade products.
Munster is great but this list of Christmas markets in Germany has many other places you could also visit this year.
Sustainable Travel Tips
The choices we make have an environmental and social impact on the places we visit. When visiting the Christmas markets, keeping sustainability in mind is important.
Implement some or all of these simple measures to create a positive impact.
Shop mindfully. Only purchase what you really need.
Walk, cycle and use public transport to get around.
Stay in a sustainable hotel powered by renewable energy.
Stay in hotels. Short-stay apartment accommodation can lead to a lack of affordable housing for locals.
Avoid using plastic or buying items made or packaged with plastic.
Try to eat locally sourced organic food where possible.
Limit your consumption of meat and dairy.
Be open to diverse cultures and experiences.
Explore more than just the main tourist areas.
Support the arts and attend local events.
Visit fewer places but stay longer at each destination.
FAQ
When is Munster Christmas Market?
21st November to 23rd December 2022.
What time does Munster Christmas Market open?
The Christmas market opens at 11am daily.
What time does Munster Christmas Market close?
The Christmas market closes at 8pm on Sunday to Thursday and closes at 9pm on Friday and Saturday.
Is Munster worth visiting at Christmas?
Munster is a bustling city that is particularly vibrant during the Christmas period. Munster is worth visiting its history, cultural events, the local beer scene and Christmas markets.
If you have any questions or comments about visiting the Munster Xmas market in 2022 or visiting elsewhere in the Westphalia region this winter, please leave a comment below.
You can get more travel information and updates from the City of Munster (spelt as Münster in German which is translated as Muenster in English).
—
Recommendations are independently chosen based on personal travel experiences and extensive research. This post contains affiliate links to hotels and tours in Muenster, Germany. This means I get a small commission from any bookings at no extra cost to you.