Located on Neckar River, under the vigilant gaze of the iconic Heidelberg Castle, lies one of Germany's most idyllic cities – Heidelberg. This picturesque university city bustles with vibrant energy throughout the year, its historic heart a hub of ceaseless activity.
However, as the calendar turns to November, the Heidelberg Christmas Market ascends to be the star of the show, casting a festive glow that's hard to resist.
In this guide, I share all the essential details needed for your visit, including the confirmed 2023 dates, opening hours, locations, not-to-be-missed stalls and Heidelberg's Christmas specialties.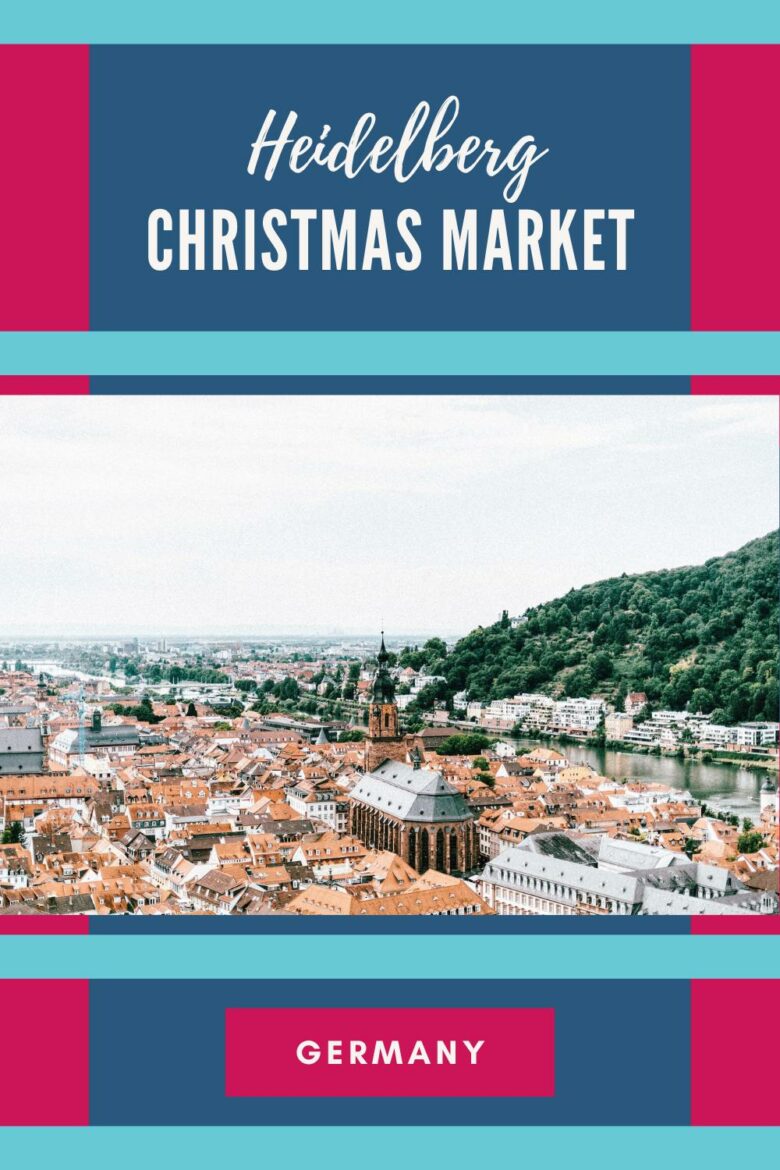 Heidelberg Christmas Market 2023
At the heart of Heidelberg's Altstadt is the cobblestoned square of Marktplatz. Here you'll find Christmas chalets huddled together, their warm lights illuminating the frosty air. This is the location of the main Christmas market in Heidelberg.
Venture over to Universitätsplatz, and you'll be greeted by the whimsical sight of an antique carousel. Its vintage charm adds a nostalgic flair to the festivities.
Not far away, at Karlsplatz, a frosty spectacle unfolds on an ice rink, where visitors can move across the icy canvas under the winter sky.
As you walk through the city, your eyes will inevitably be drawn to the decorated Christmas trees at Kornplatz, where their decorations provide bursts of colour against the winter backdrop.
Dates and Location
Heidelberg Christmas Market dates: 27th November to 22nd December 2023.
Location: Marktplatz.
Opening times: Sunday to Friday: 11am to 9pm. Saturday: 11am to 10pm.
Christmas Day: Closed.
Admission: Free, no tickets required.
Christmas lights: Yes, switch on date: 27th November 2023 at 6pm.
Santa: No.
Ice skating: Yes, at Karlsplatz.
Vegetarian: Yes, plenty of options.
Vegan: Yes, plenty of options.
Gluten free: Yes, but limited.
Accessible: Yes.
Pet-friendly: Yes, but not recommended during busy periods.
Reason to visit: The stunning location at the foot of Heidelberg Castle.
Recommended tour: Take the Heidelberg walking tour for a great overview of the city and its history.
Specialities: Traditional mulled wine and bratwurst rolls. The vintage carousel at Universitätsplatz.
Where to stay: Hotel Goldener Falke is a popular hotel located directly on Marktplatz.
Hotels near Heidelberg Christmas Market
Heidelberg's Altstadt (Old Town) is a small district located between the Neckar River and Heidelberg Castle. This is where you'll find the Christmas markets in Heidelberg and many of the city's sights.
I suggest staying at Hotel Goldener Falke as it's located directly on Marktplatz, the location of the main Christmas market in the centre of the Altstadt.
There are some places of interest on the opposite side of the river, namely the Philosophers' Way, but this is a place in nature, not an area where you can stay. This is why staying in the Alstadt is the best option for most visitors.
Location of Heidelberg Christmas Market
Additional Locations
Winterwäldchen: 27th November 2023 to 1st January 2024.
Christmas Day: Cosed.
Location: Kornmarkt
Bismarckplatz: The entrance to the Old Town.
Anatomiegarten: Several unique Christmas huts.
Universitätsplatz: Location of the vintage carousel. A great spot for families.
Kornmarkt: Decorated Christmas trees and pointed Christmas tents.
Karlsplatz: The square for ice skating.
Christmas in Heidelberg
Plan your Christmas holiday with my German Christmas Markets 2023 guide. Discover where to go, things to do and the best ways to experience local food, history and culture.
Christmas Specialties in Heidelberg
Studentenkuss – A charming tradition in Heidelberg, the Studentenkuss is a delicious praline, a velvety blend of nougat and chocolate wrapped in a glossy dark chocolate shell. With origins dating back to the 19th century, these sweet treats were a means for students to express their affection in a reserved academic society.
Lebkuchen – Indulge in these gingerbread-like treats that are a staple during the holiday season in Germany. These spiced biscuits are characterised by their soft, cakey texture and complex blend of warming spices, such as cloves, cinnamon and nutmeg. Topped with icing or coated in chocolate, they make for a delectable Christmas treat.
Kartoffelpuffer – Those who prefer savoury over sweet should look out for Kartoffelpuffer, a type of potato pancake. These golden, crispy treats are made from grated potatoes mixed with flour and egg, then pan-fried until they reach crunchy perfection. They're often served with apple sauce, offering a nice balance of sweet and savoury.
Pflaumenmus – This plum jam is a regional speciality of Heidelberg. Prepared using ripe plums, it's simmered for hours until it becomes a rich, sweet and slightly tart preserve. Spread it on a piece of warm bread or a crisp cracker, and let your taste buds revel in the sweetness of this traditional Heidelberg treat.
Vegetarian Sausage – Embrace the festive spirit with a veggie spin on a German classic, the vegetarian sausage. These hearty and flavourful sausages offer a plant-based alternative for those looking to enjoy the iconic flavours of German cuisine without the meat. Typically made with a blend of vegetables, grains, and spices, they are a delicious and sustainable food option at the Christmas market.
Food at the Christmas Market
Glühwein – There's nothing quite like the warmth of a traditional German mulled wine, glühwein, seeping into your fingers as you cradle a festive mug. A blend of red wine and spices, typically cinnamon, star anise and cloves, it's heated and served piping hot, providing a comforting shield against the winter chill.
Bratwurst – As you wander through the market stalls, you'll encounter a familiar aroma wafting from the sizzling grills, the scent of bratwurst, Germany's iconic sausage. These succulent, meaty sausages, grilled to a perfect golden brown, are usually served in a bread roll with a dash of mustard.
Flammkuchen – For an enticing change, delve into flammkuchen, an Alsatian specialty that's often likened to thin-crust pizza. Topped with crème fraîche, thinly sliced onions, and smoky lardons, it's baked in a high-heat oven until the edges are crispy and the toppings are beautifully caramelised.
Heisse Maroni – Roasted chestnuts, or Heisse Maroni, are a must-try at the Christmas markets in Heidelberg. These chestnuts are roasted on an open fire, creating a deliciously sweet and slightly smoky treat.
Pretzels – I couldn't possibly leave out the much-loved pretzel. These freshly baked, twisted knots of dough, adorned with a sprinkling of coarse salt, have a unique chewy texture and a slightly malty flavour. Pair it with a mug of hot glühwein for the quintessential Christmas market experience.
Crepes – Treat yourself to a delicate buttery crepe to complete your market visit. Whether you choose a simple sprinkle of sugar, a squeeze of lemon, or a generous smear of Nutella, these thin pancakes are a great international addition to your Christmas market food tour.
What to Buy
Heidelberg Souvenirs – The city's emblematic castle, lovely old bridge and historic centre have inspired many a craftsperson, resulting in a range of Heidelberg-themed souvenirs. Think miniature replicas, artwork and postcards that encapsulate the spirit of Heidelberg.
Christmas Ornaments – As you wander through the market, you'll come across stalls laden with traditional German Christmas ornaments. Handcrafted angels, nutcrackers, wooden nativity scenes, intricate glass baubles, and even delicately carved candle arches known as Schwibbogen. Each piece embodies the charm of the festive season.
Handmade Jewellery – Amongst the vast array of stalls, you'll find a selection of handmade jewellery. Designed and crafted by local artisans, these unique pieces incorporate a variety of materials, from semi-precious stones to leather, providing an opportunity to purchase something truly one-of-a-kind.
Regional Produce – Heidelberg Christmas Market is a great place to pick up local delicacies. You could buy beautifully packaged local honey, homemade jams, or German Christmas cookies like Lebkuchen and Stollen.
Handmade Toys – Reminiscent of times past, traditional wooden toys are a common sight at Heidelberg's market. These well-crafted playthings, from intricate puzzles to adorable dolls, provide a nostalgic contrast to today's mass-produced plastic toys.
Winter Clothing – With Heidelberg's winter being quite cold, finding a range of warm clothing at the market is not surprising. Soft woollen hats, scarves, gloves and even slippers – all perfect for keeping you cosy during your market visit and beyond.
Candles and Aromatics – Finally, a variety of handcrafted candles, soaps and aromatics can be found among the market stalls. Made with natural ingredients, these fragrant goodies smell divine and add a touch of cosiness to your home during the festive season.
The City of Heidelberg is a useful place to start regarding things to do, events and ways to experience Heidelberg at Christmas. This is the city's official website, so it's a reliable starting point for trip planning.
Sustainable Travel Tips
The choices we make have an environmental and social impact on the places we visit. Try to implement these responsible travel measures when visiting Heidelberg at Christmas.
Renewable Energy Initiatives – I appreciate how Heidelberg is making strides towards renewable energy. For instance, the Christmas markets and the ice rink are powered by renewable energy sources. So, as you glide across the ice rink or browse through the festive stalls, you're partaking in a city initiative that aims to reduce carbon emissions.
Reducing Food Waste – Heidelberg encourages its visitors to be mindful of food waste. You can do your bit by ensuring you only order or buy food that you can finish. Also, consider visiting some of the local bakeries and eateries that sell food items that would otherwise be thrown out at the end of the day.
Ethical Consumption – Ethical consumer habits can be easily practised in a city like Heidelberg. Many of the items sold at the Christmas market are handcrafted by local artisans. Purchasing their products supports their livelihoods and contributes to the local economy.
Sustainable Diets – Enjoying a sustainable diet in Heidelberg is simple with the abundance of local produce available. Opt for dishes made with regional ingredients at the Christmas market and embrace the 'farm to table' concept.
Sustainable Transport – When it comes to getting around, Heidelberg offers eco-friendly options. The city's public transport system is well-connected and efficient, making it an easy choice over driving. Consider renting a bike or walking to soak in the festive atmosphere for shorter distances while reducing your carbon footprint.
Energy-Efficient Decorations – The city's Christmas lights and decorations use energy-efficient LED lights. As you wander through the twinkling streets, you're not just enjoying a magical experience but also supporting the city's efforts to conserve energy.
By embracing these sustainable practices, you can ensure that your Christmas visit to Heidelberg is magical and festive and respectful of the environment and the local community.
FAQ
When do the Christmas markets open in Heidelberg?
Heidelberg Christmas Market starts on 27th November and ends on 22nd December 2023.
Where is Heidelberg Christmas Market?
The Christmas markets in Heidelberg are held at Marktplatz and several smaller squares in the old town.
What time does Heidelberg Christmas Market open?
The Christmas markets are open Sunday to Friday: 11am to 9pm. Saturday: 11am to 10pm.
What time does Heidelberg Christmas Market close?
The Christmas markets close at 9pm, except on Saturdays when it closes at 10pm.
Please comment below if you want to leave a review of Heidelberg Xmas Market.
—
Recommendations are independently chosen based on personal travel experiences and extensive research. This post contains affiliate links to hotels and tours in Heidelberg, Germany. This means I get a small commission from any bookings at no extra cost to you.