Dusseldorf is the capital of the North Rhine-Westphalia region of Germany. It's a busy commercial centre known for its fashion industry and cultural scene. It has a lovely Christmas market that is popular with both locals and visitors. Dusseldorf Christmas Market is held in Altstadt, the historic Old Town, where you'll find Christmas huts decorated in various historic themes.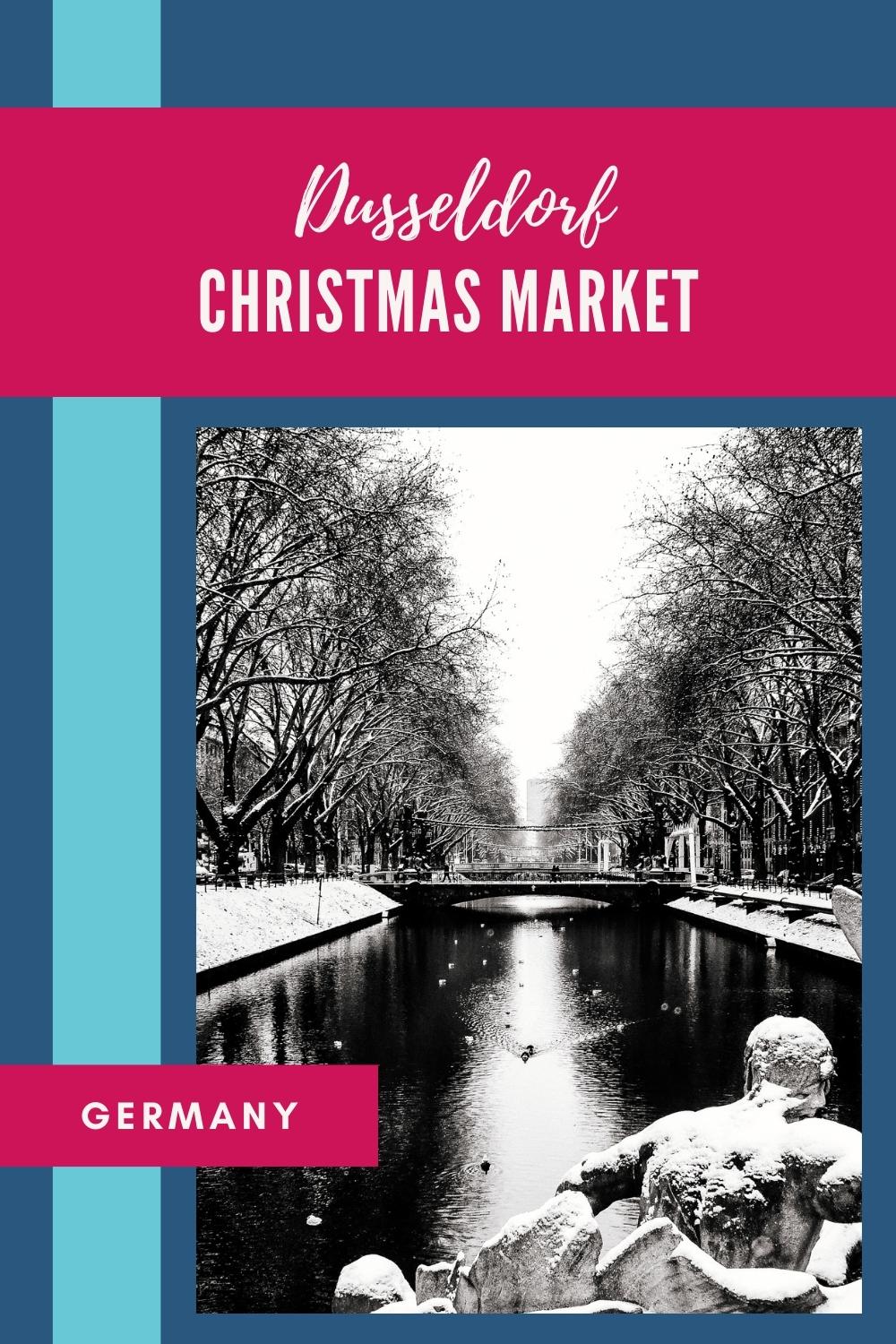 There are 3 main Christmas markets in Dusseldorf that are held in various central locations throughout the city.
Dusseldorf Christmas Market 2022
The main market in Dusseldorf is known as Altstadt Markt. It's a lengthy market that lines two main thoroughfares in the Old Town, Flinger Straße and Marktstraße.
In this market, the Christmas huts resemble Düsseldorf's old burgher houses.
Dusseldorf Christmas Market dates: 17th November to 30th December 2022.
Opening times: 11am to 8pm, closes at 9pm on Fridays and Saturdays. The markets are closed on Sunday of the Dead and Christmas Day.
Location: Altstadt Markt is located on Flinger Straße and Marktstraße.
Reason to visit: The cosy Old Town with great shopping for all budgets including handmade Christmas gifts. The Dusseldorf ice rink is one of the most popular attractions during winter. The longest bar in the world is something different. The largest Japanese community in Germany is at home in the Little Tokyo district.
Specialities: Mulled wine, locally brewed beer, roasted nuts, Japanese cuisine, themed Christmas chalets.
Travel tips: Note that Dusseldorf is a popular destination for conferences and at certain times of the year hotel rooms can be on short supply. Be sure to book as early as possible.
Where to stay: The Ruby Luna Hotel is centrally located in the Altstadt near the Christmas markets. It's a modern, boutique hotel that is excellent value for money.
Hotels near Dusseldorf Christmas Market
To be close to the main Christmas market, you'll want to stay in the Old Town, somewhere between the Rhine River and the canal.
I suggest staying at Ruby Luna Hotel. If you're able to walk, it's a 5-minute walk to the market on Flinger Straße, it's a 7-minute walk to Marktplatz and it's only 4 minutes to the shops at Königsallee on the canal.
Dusseldorf is a busy cultural and commercial centre. Hotels can book out early at certain times of the year and Christmas is one of those times. Read my list of recommended hotels near Dusseldorf Christmas market to find a hotel you're happy with before it's booked out.
Location of Dusseldorf Christmas Market
Handwerker-Markt
Handwerker-Markt is a smaller market that takes place in front of the City Hall on Marktplatz (Weihnachtsmarkt am alten Rathaus). The Christmas stalls in this location are modelled on those of the brick Renaissance-style Rathaus (city hall).
Location of Handwerker-Markt
Schadow-Markt
The third main Christmas market in Dusseldorf is named Schadow-Markt. It takes place on Schadowstraße, the city's main shopping street that crosses the city canal past the famous Tritonenbrunnen, a fountain and statue depicting the Greek god Triton.
Location of Schadow-Markt
Things to do in Dusseldorf in Winter
Things to do in Dusseldorf in winter include taking a tour of the Old Town, shopping on the world-famous Königsallee shopping street and paying a visit to the Kunstakademie (Art Academy), the city's most prominent museum.
The local cuisine is rich in tradition but is more often influenced by international flavours. You can find a huge variety of cuisines and specialty restaurants in all areas of the city. Not to be forgotten is the afternoon tradition of coffee and cake and the after-work beer scene.
Outside of the Old Town, MedienHafen is one of the most vibrant districts in the city. This harbour and warehouse district is a great area for exploring. Here you can see the State Parliament, Rhine Tower, and the Gehry Buildings.
One of the most popular tours in Dusseldorf is of the MedienHafen district. Click here to book the MedienHafen Tour.

If you're interested in sweet treats and the German tradition of coffee and cake, this popular walking tour is a great place to start.

Finally, for beer connoisseurs, a Brewery Tour might be to your liking.
If you're still not sure where to go, I wrote a guide to the best Christmas markets in Germany that might give you some ideas for places to visit.
Sustainable Travel Tips
The choices we make have an environmental and social impact on the places we visit. When visiting the Christmas markets, it's important to keep sustainability in mind.
Implement some or all of these simple measures to create a positive impact.
Shop mindfully. Only purchase what you really need.
Walk, cycle and use public transport to get around.
Stay in a sustainable hotel powered by renewable energy.
Stay in hotels. Short-stay apartment accommodation can lead to a lack of affordable housing for locals.
Avoid using plastic or buying items made or packaged with plastic.
Try to eat locally sourced organic food where possible.
Limit your consumption of meat and dairy.
Be open to diverse cultures and experiences.
Explore more than just the main tourist areas.
Support the arts and attend local events.
Visit fewer places but stay longer at each destination.
FAQ
Is there a Christmas market in Dusseldorf?
Yes, there are 3 main Christmas markets in Dusseldorf and several smaller neighbourhood markets.
When is Dusseldorf Christmas Market?
17th November to 30th December 2022.
What time does Dusseldorf Christmas Market open?
11am.
What time does Dusseldorf Christmas Market close?
8pm, but closes at 9pm on Fridays and Saturdays.
Is Dusseldorf Christmas Market open on Christmas Day?
No, it's closed on Christmas Day to allow people to spend the day with their family and friends.
Is Dusseldorf Christmas Market open on Totensonntag?
No, the Christmas market is closed on Totensonntag (Sunday of the Dead) which takes place on 20th November 2022.
If you have any questions or comments about visiting the Dusseldorf Xmas market in 2022 or visiting elsewhere in the North Rhine-Westphalia region this winter, please leave a comment below.
Visit Dusseldorf has further information on things to do in the city plus the latest events, Christmas experiences and travel advice.
—
Recommendations are independently chosen based on personal travel experiences and extensive research. This post contains affiliate links to hotels and tours in Dusseldorf, Germany. This means I get a small commission from any bookings at no extra cost to you.