One of the truly magical winter destinations in Europe, Colmar Christmas Market takes over this historic old town from late November until late December. Fairy lights cover many of the street trees, the famous half-timbered buildings are festively decorated and almost every square is lined with Christmas stalls and wooden chalets.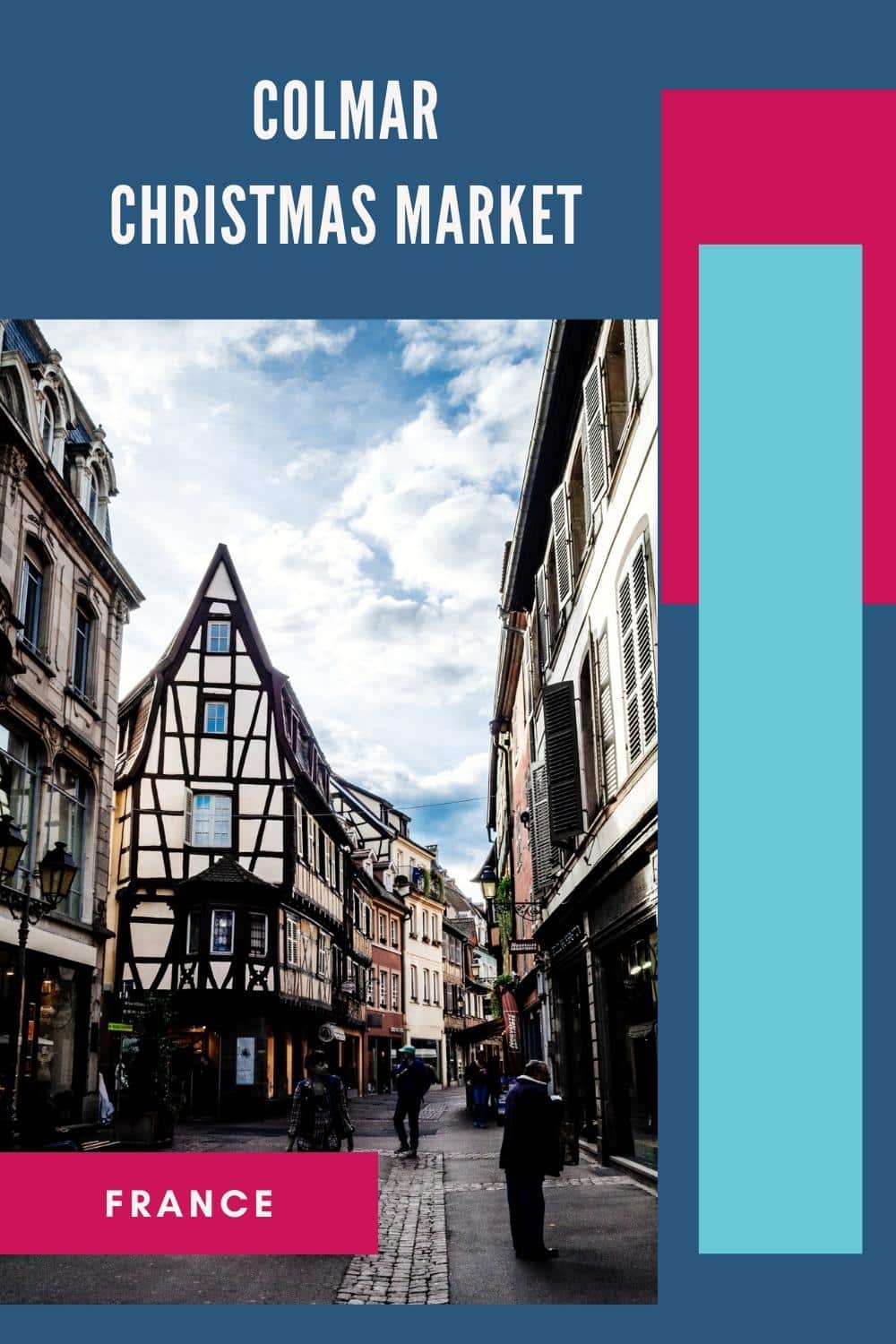 Colmar Christmas Market 2022
For a small city, you might be surprised to hear there are 6 Christmas markets in Colmar, each with a different theme and atmosphere.
The historic centre is very walkable so you can easily visit all the markets in one day or visit more slowly over your Christmas break.
Colmar Christmas Market dates: 24th November to 29th December 2022.

Locations: There are 6 Christmas markets in Colmar.
Dominican Church Christmas Market: Place des Dominicains – 60 Christmas huts offering decorations, Christmas trees and festive meals.
Gourmet Christmas Market: Place de la Cathédrale – Here the focus is on Alsatian culinary artisans.
Traditional Christmas Market: Place Jeanne d'Arc – An Alsatian village Christmas market with specialties that include charcuterie, wine, brandy, Christmas cakes and gingerbread.
Schwendi Fountain Christmas Market: Place de l'Ancienne Douane – 50 huts surround the fountain of Schwendi and extend along the river.
Children's Christmas Market: La Petite Venise – handmade toys, santa claus and rides for children.
Craft Market: The Koïfhus – Ceramists, potters, glassmakers, cabinetmakers, woodcarvers, hatters, jewelers and other artisans.
Travel tip: Hop on the train and visit nearby Alsatian destinations such as Strasbourg and Riquewihr or extend your trip with a visit to Basel's Christmas market which is only 45 minutes away in Switzerland.
Hotels near Colmar Christmas Market
While there are many hotels in the historic old town, there are only a handful that I recommend. If you're not careful you could end up staying in an old room with dated furniture and poor service.
Read my guide to hotels near Colmar Christmas Market where I list the best and most convenient hotels and apartments suitable for a range of budgets.
I've been fortunate to have visited Colmar on two occasions and think the James Boutique Hotel is one of the best places to stay.
Alsatian Food in Colmar
Food is part of Alsace's rich cultural heritage. There are a few Christmas specialties but most local dishes you'll likely want to experience on any visit.
Tarte flambée – One of the most iconic dishes in the Alsace region of France. It is a thin flat rolled out pastry that is typically topped with cream, cheese, bacon and onions and then woodfired. There are vegetarian versions too of course.
Pretzels – The gourmet symbol of Alsace, traditionally served with coarse salt but contemporary varieties include melted cheese or chocolate.
Wine and cider – Choose Muscat for an aperitif, Riesling with fish and shellfish, Pinot Gris with white meat and Gewurtztraminer with cheese and dessert. Alsatian cider is also popular and you can sometimes find it served hot at the Christmas markets.
Dine at a winstub – These are traditional restaurants in Colmar that serve old-fashioned dishes including choucroute, rösti, liver dumplings, Baeckeoffe and tartes flambées.
Things to do in Colmar in Winter
Winter is a wonderful time to experience Colmar and elsewhere in the Alsace region.
The city is compact and cosy with an incredibly festive atmosphere thanks to street decorations and the six Christmas markets.
The canals are decorated and when the weather is less favourable you can stop in a cafe for warming hot chocolate, strudel or many of the countless other Alsatian specialties.
Little Venice – This is the classic area of Colmar that you have likely heard about or seen in photos. Little Venice is the popular canal area where the waterway is lined with colourful half-timbered houses.
The Fishmonger's District – Located between Little Venice and the Tanneurs district, it's not surprising that the Fishmonger's district was historically the home of professional fishermen. A huge fire in 1706 destroyed many of the original buildings but the area was restored in the 1980s.
Market Hall – You'll find many incredible small artisan shops around Colmar that sell local specialties. If you would like to visit a number of producers at once, head to Colmar's famous covered market hall to shop for supplies to eat there or take away with you. Specialties include charcuterie, cheese, baked goods, Alsatian wine and cider.
Museums – Of course, museums are interesting to visit all year round but if the weather isn't great you mind end up visiting more museums than you planned. In Colmar, the Unterlinden Museum, Maison des Têtes, Maison Pfister and the Chocolate Museum are popular.
Location Map
Sustainable Travel Tips
When visiting the Christmas markets, it's important to keep sustainability in mind. A few simple actions can make all the difference to the environment and the local community in Colmar.
Shop mindfully. Only purchase what you really need.
Walk, cycle and use public transport to get around.
Stay in a sustainable hotel powered by renewable energy.
Avoid using plastic or buying items made or packaged with plastic.
Try to eat locally sourced organic food where possible.
Limit your consumption of meat and dairy.
Be open to diverse cultures and experiences.
Explore more than just the main tourist areas.
Support the arts and attend local events.
Visit fewer places but stay longer at each destination.
FAQ
Where is the Christmas market in Colmar?
The two main Christmas markets in Colmar are located in Place des Dominicains and Place de l'Ancienne Douane.
How long to spend at Colmar Christmas Market?
You could see all 6 of Colmar's Christmas markets in one day as they are located within a short distance of each other. However, 3 days would give you time to explore the city and try the incredible cuisine.
Is Colmar worth visiting?
Colmar is one of the most picturesque towns in France and is most definitely worth visiting.
If you have any questions or comments about visiting the Colmar Xmas market in 2022 or visiting Colmar in winter more generally, please leave a comment below. We are experienced travellers who are happy to help where we can or you can get more information from the Alsace Christmas website.
If you have visited Colmar Christmas Market and would like to leave a review, this would help people who are thinking about visiting or making plans for an upcoming trip. The more specific your review the more helpful it is, thanks!
Please be sure to follow all government travel guidelines and restrictions while in Colmar and elsewhere in France. Be aware these may change at short notice so please continue to monitor the situation. The latest information for travellers to France is published by the Department of Foreign Affairs.
—
This post contains affiliate links to tours and hotels in Colmar, France. This means we get a small commission from any bookings at no extra cost to you.