Vancouver Christmas Market is the largest winter event in Canada, with visitors attending from across the country and further abroad.
This German-style market has all the traditional experiences you would expect, like Christmas stalls selling handmade gifts and decorations, delicious bratwurst and mulled wine and a festive atmosphere, rides and bars.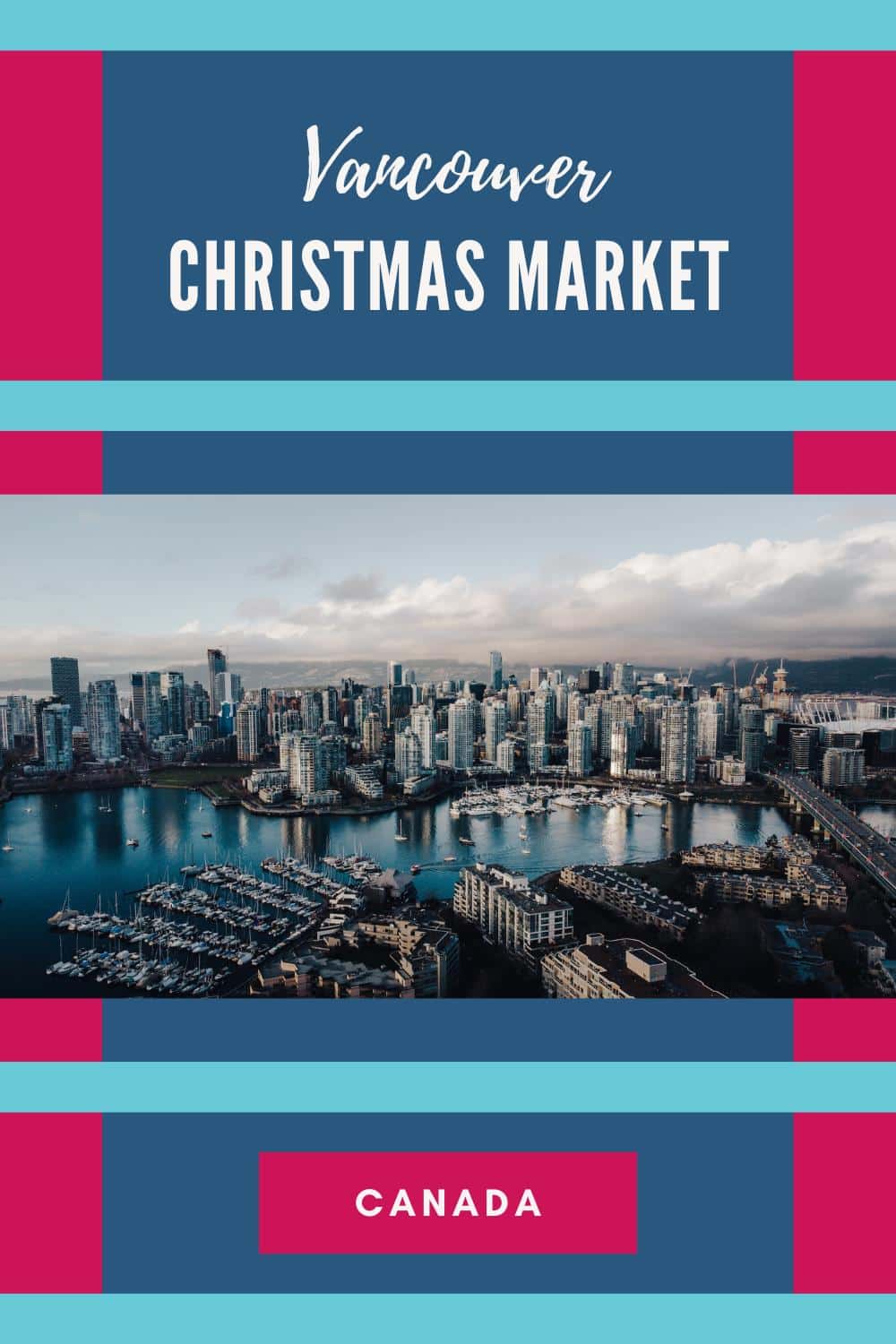 Although based on a traditional German Christmas market, Vancouver brings the event into the modern era with fun experiences you'll find nowhere else.
Here are some of the Christmas market events you can expect to find in 2022.
Alpen House – A winter wonderland where you can sit, drink and keep warm.
Gourmetstrasse – The place to go for Christmas food and drinks.
Christmas Carousel – FREE rides for everyone.
Christmas Tree – A walk-in Christmas tree decorated with 36,000 lights.
Scavenger Hunt – A fun event to keep the kids entertained.
Sky Curtain – A festive celebration of 22,000 lights above Tannenbaum Terrace.
Love Locks – Purchase a lovelock for $3, or bring your own.
Schwibbogen – A place to take a photo with a Christmas candle decoration. 🤷‍♀️
Augmented Reality – These are Instagram filters where you can take photos to share.
Vancouver Christmas Market 2022
At the Christmas markets in Vancouver, enter through the gates with your pre-purchased ticket, or you can buy at the gate (unless sold out).
Once you're in, you're free to walk around the festive Christmas chalets and you can take part in various events and activities.
This year there are more than 80 Christmas stalls with local, handmade products and several European vendors.
As far as food goes, there are all kinds of traditional central European food like bratwurst, pierogies, schnitzel, chimney cake, raclette, gulasch, kartoffelpuffs, spiced baked apples, pork shank and, of course, mulled wine.
There are also plenty of options for vegetarians and vegans, with some nut-free and gluten-free options.
Dates and Tickets
Vancouver Christmas Market tickets are available online; if not sold out, you can also purchase them at the gate.
It's recommended to buy in advance to avoid missing out.
Promo codes and special discounts are occasionally available (see below). Groupon has had discount codes in past years, but it seems they have all expired.
Vancouver Christmas Market dates: 12th November to 24th December 2022.
Opening times: 11:30am to 9:30pm (closes at 10pm on Fridays and Saturdays).
Christmas Day: Closed.
Location: Jack Poole Plaza, Canada Place.

Tickets: You can purchase a single entry ticket or season pass for multiple visits. Book online.
Promo code: Check back for the latest promo codes.
STUDENT50 – 50% off for students on 24th November and 24th December. ID required.
HERO50 – 50% off for front line workers on 1st December. ID required.
BLACKFRIDAY – discount on Black Friday only.

Reason to visit: The beautiful waterfront location with more events than you'll find elsewhere.
Recommended tour: Continue the Christmas experience with a Gardens Christmas Tour of beautiful Victoria on Vancouver Island to see the Christmas lights, wreaths and listen to Christmas carols.
Specialities: Gourmetstrasse is the place to go for Christmas food. Specialties include locally made gingerbread, sweet knedla dumplings, candied nuts, sweet and savoury macarons, Transylvanian chimney cake, gulasch, schnitzel, pierogies and Swiss raclette.
Where to stay: Paradox Hotel Vancouver is a highly-rated hotel in Coal Harbour, 10 minutes from the Christmas market.
Hotels near Vancouver Christmas Market
Although the Christmas market is located at Jack Poole Plaza at Canada Place, I suggest staying in a neighbourhood where there are more things to do and a wider variety of places to eat out.
Gastown is Vancouver's cool historic district that is a great area to stay, or alternatively, you could stay in the busy Downtown district.
However, if staying near the Christmas market is most important, I suggest staying at the Paradox Hotel. It's located in the Coal Harbour district, less than 10 minute walk to the Christmas market.
Location of Vancouver Christmas Market
Find more places to visit with my the the best Christmas markets in Canada. Discover where to go, things to do and the best ways to experience Canadian food, history and culture. Perfect for visitors and locals alike.
Destination Vancouver is the official tourism website for the city. It has information regarding events and the best ways to experience Vancouver at Christmas, especially if you're looking for specific themed events or activities.
Sustainable Travel Tips
Many of us are increasingly concerned about climate change and sustainability. I've listed some small actions we can take to help lower our impact at this event.
Shop mindfully. Only purchase what you really need.
Walk, cycle and use public transport to get around.
Stay in a sustainable hotel powered by renewable energy.
Avoid using plastic or buying items made or packaged with plastic.
Try to eat locally sourced organic food where possible.
Limit your consumption of meat and dairy.
Explore more than just the main tourist areas.
Support the arts and attend local events.
If possible, avoid flying to your destination.
FAQ
When is Vancouver Christmas Market?
Vancouver Christmas Market starts on 12th November and ends on 24th December 2022.
Where is Vancouver Christmas Market?
The Christmas markets in Vancouver are held on the waterfront at Jack Poole Plaza, Canada Place.
What time does Vancouver Christmas Market open?
The Christmas markets open at 11:30am.
What time does Vancouver Christmas Market close?
The Christmas markets close at 9:30pm (closes at 10pm on Fridays and Saturdays).
Where to park for Vancouver Christmas market?
Due to the number of people attending, the city recommends taking public transport to the Christmas market. If you must park, there are several nearby parking garages in Downtown, Gastown and Coal Harbour.
If you would like to leave a review of Vancouver Xmas Market, feel free to comment below.
—
Recommendations are independently chosen based on personal travel experiences and extensive research. This post contains affiliate links to hotels and tours in Vancouver, Canada. This means I get a small commission from any bookings at no extra cost to you.