Toronto's Christmas market season is headlined by the Distillery District Winter Village, a beloved highlight of the city's winter festivities.
This guide gives you the confirmed 2023 market dates, opening times, and information on how to book a ticket.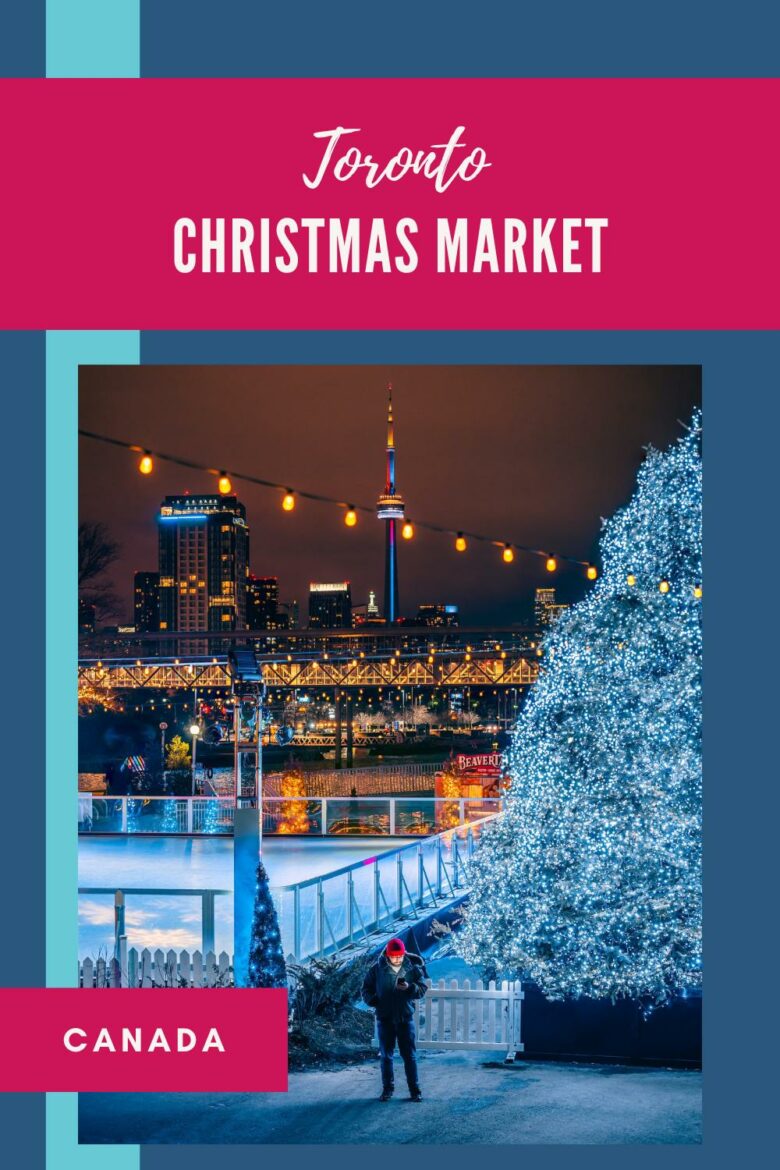 Toronto Christmas Market 2023
Toronto transforms with festive lights and holiday charm—none more so than at the Distillery District.
Wander through the Winter Village beneath the glow of a 51-foot Christmas tree in Trinity Square that is decorated with 70,000 lights and 3,000 ornaments.
Shop for artisan gifts, enjoy amusement rides and savour the seasonal specialties from the food cabins.
Dates and Information
Toronto Christmas Market dates: 16th November to 31st December 2023.
Location: The Distillery Historic District at 55 Mill Street, Toronto.
Opening times: Sunday to Thursday: 10am to 9pm. Friday and Saturday: 10am to 10pm.
Christmas Eve: 10am to 5pm. No tickets required.
Christmas Day: Closed.
New Year's Eve: 10am to midnight.

Tickets: Generally required after 4pm. Check dates and book here.
Ticket prices: From $15.

Christmas tree lighting: 16th November at 6pm. Advance tickets required. Proceeds to charity.
Santa Claus Parade: Sunday, 26th November 2023.

Accessible: Yes.
Pet-friendly: No.
Parking: Please take public transport to help limit congestion.
Recommended tour: Take a Distillery District walking tour to discover more of this historic area.
International specialties: Swiss raclette, Mexican churros, Venezuelan pies, Ukrainian perogies, Italian polpette and Portuguese pastéis de nata.
Drinks: Festive cocktails, mulled wine, Ontario-spiced apple cider, blood orange gin and tonic, hibiscus syrup and citrus.
Where to stay: One King West Hotel is a 20-minute walk away or 10-minutes on public transit.
Convenient Hotels
If you're travelling to Toronto, I recommend staying in the central Old Toronto area rather than near the Distillery District, which is less convenient for reaching other attractions.
I suggest staying at One King West Hotel as it's centrally located and well-rated.
Location
Interesting Tours
If this is your first time in Toronto, I recommend this city tour with a visit to the CN Tower and a river cruise. You'll get to see many of the city's highlights with a local guide for a reasonable price.
On the other hand, you might prefer taking this food tour to get an idea of the local Canadian culture through their cuisine.
Food tours are gaining in popularity, and having experienced a few in my time as a travel blogger, I highly recommend this style of tour. They're a lot of fun and surprisingly informative.
Find more places to visit with my guide to the best Christmas markets in Canada.
Distillery District
While visiting the Christmas market, take the opportunity to explore the area. Look out for these sights and activities:
Historic Architecture: The Distillery District is known for its Victorian Industrial architecture. The red-brick buildings, cobblestone streets and iconic green street signs contrast the glass and steel of modern Toronto. You can take a stroll through the district to appreciate its historic charm.
Art Galleries: Home to contemporary art galleries, the area is a hub for art lovers. Galleries such as the Thompson Landry Gallery exhibit works from Canadian and international artists.
Performing Arts: The district has several performing arts centres like the Soulpepper Theatre Company and the Young Centre for the Performing Arts.
Unique Shops: From locally made crafts to designer clothes, the shopping scene caters to various tastes. The district is a great place to find unique gifts and souvenirs.
Food and Drink: The district has a thriving food scene with many restaurants, cafes, and bars. Whether you fancy a craft beer from the Mill Street Brew Pub, want to sample the chocolate at SOMA chocolate maker, or fancy a fine dining experience at Cluny Bistro, there's plenty of interest.
Distillery Tours: As the name suggests, the district has a distilling history. The Spirit of York Distillery provides tours where you can learn about the distillation process and the history of the site and taste some of their premium spirits.
Seasonal Events: The Distillery District is known for its events and festivals, the most notable being the Toronto Christmas Market. But it also hosts events throughout the year, like art festivals and music concerts, adding to the district's lively atmosphere.
Outdoor Sculptures: You can admire the district's outdoor art installations while walking around, like the Love Locks installation.
Destination Toronto has more information regarding events and the best ways to experience Toronto.
Market Specialties
Roasted Coffee: Local roasters offer freshly brewed coffee with beans often sourced from sustainable farms. The aroma of roasted coffee blends with the crisp winter air, providing a warming, energising drink perfect for market browsing.
Artisan Breads: Brick Street Bakery sells a variety of baked goods, with breads that range from traditional sourdough to festive seasonal loaves. The bakery is known for using quality ingredients and traditional baking methods.
French Cuisine: Cluny Bistro presents classic French dishes with a holiday twist. Visitors can enjoy a gourmet experience that combines the rustic charm of the bistro with the sophistication of French culinary techniques.
Seafood Specialties: Pure Spirits Oyster House offers fresh oysters and seafood dishes. Known for its quality and freshness, it provides a luxurious dining experience amid the bustling market.
Craft Cocktails: Spirithouse Toronto is the place for innovative Christmas cocktails crafted by skilled mixologists. These festive drinks are made with premium spirits and seasonal ingredients.
Sweet Treats: The Sweet Escape Patisserie provides a selection of pastries and sweets. From traditional Christmas cookies to elaborate cakes, each treat celebrates the season's flavours.
Cabins and Vendors
Gallery Art: The district's art galleries showcase pieces from local and international artists, offering paintings, sculptures, and limited edition prints. These works capture the essence of Toronto's art scene and are ideal for those seeking meaningful cultural gifts.
Natural Bee Products: Bee & Co. specialises in products made from beeswax and honey, ranging from candles to beauty products. Their items are not only practical but also support sustainable beekeeping practices.
Vintage Collectibles: Blackbird Vintage Finds is a trove for those who love the charm of the past. You can find rare antiques, vintage decor, and retro accessories that evoke a sense of nostalgia.
Cultural Crafts: The Deaf Culture Centre features crafts and artworks created by members of the Deaf community. Purchases here support the artists and raise awareness of Deaf culture.
Herbal Remedies: Fika Herbal Goods sells herbal teas and natural remedies. Their products are made with care, focusing on wellness and the healing properties of herbs.
Bridal and Lace: Grace Loves Lace presents exquisite lace garments known especially for their bridal wear. These clothes are crafted with precision and care, perfect for a special occasion gift.
Craft Sake: Izumi Sake Brewery, Toronto's own sake maker, provides a taste of Japan. They sell bottles of their craft sake, perfect for enthusiasts of unique and finely brewed spirits.
Flavourful Spices: Pepper Palace is the spot for hot sauce and spice blend enthusiasts. Their products range from mild to wild, catering to every palate and making for spicy stocking fillers.
Gluten-Free Treats: Tartistry specialises in gluten-free tarts that don't compromise on flavour. These sweet treats cater to those with dietary restrictions and are a thoughtful, inclusive gift option.
Writing Elegance: Toronto Pen Shoppe caters to those who appreciate the art of writing. With a selection of fine pens, stationery, and inks, it's a haven for anyone looking to give the gift of a timeless writing instrument.
Responsible Travel Ideas
Many of us are increasingly concerned about climate change and sustainability. Here are a few tips on how we can travel more responsibly in Toronto.
Renewable Energy Use: Toronto has some green hotel options committed to environmental sustainability, including renewable energy sources. By booking these types of places, you can help reduce your carbon footprint.
Reduce Food Waste: Many restaurants in Toronto, like Richmond Station or Hawthorne Food and Drink, participate in food rescue programmes such as Second Harvest. These places ensure leftover food is donated to those in need rather than going to waste. Also, take care of how much you order at local events.
Ethical Shopping: Conscious consumption can also be practised while shopping for gifts and souvenirs. Toronto has some specialty stores selling ethically sourced and sustainable products. Ten Thousand Villages, for instance, sells fair-trade home decor, jewellery and more.
Sustainable Diets: Toronto has many restaurants and cafes focusing on locally sourced, organic, and plant-based dishes. Places like Fresh, Planta, or Hogtown Vegan offer delicious vegan and vegetarian options. Choosing these restaurants supports local farmers and promotes a more sustainable diet.
Public Transport and Cycling: Toronto has an extensive public transportation system, the TTC, that includes buses, trams, and subways, reducing the need for car travel. Additionally, Bike Share Toronto has thousands of bikes available to rent across the city, providing a more sustainable and enjoyable way to explore the city.
Water Bottle Refill Stations: Toronto has numerous water refill stations across the city. By carrying your refillable water bottle, you can stay hydrated and cut down on single-use plastic.
If you want to leave a review of Toronto Xmas Market, please comment below.
—
Recommendations are independently chosen based on personal travel experiences and extensive research. This post contains affiliate links to hotels and tours in Toronto, Canada. This means I get a small commission from any bookings at no extra cost to you.