Niagara Falls Christmas Market is now one of the city's most popular winter events. It's hugely popular with locals, but you'll also find many visitors from across the border. The market is held on Queen Street in the Downtown district.
In this guide, you can find dates, opening times and what's new in 2023.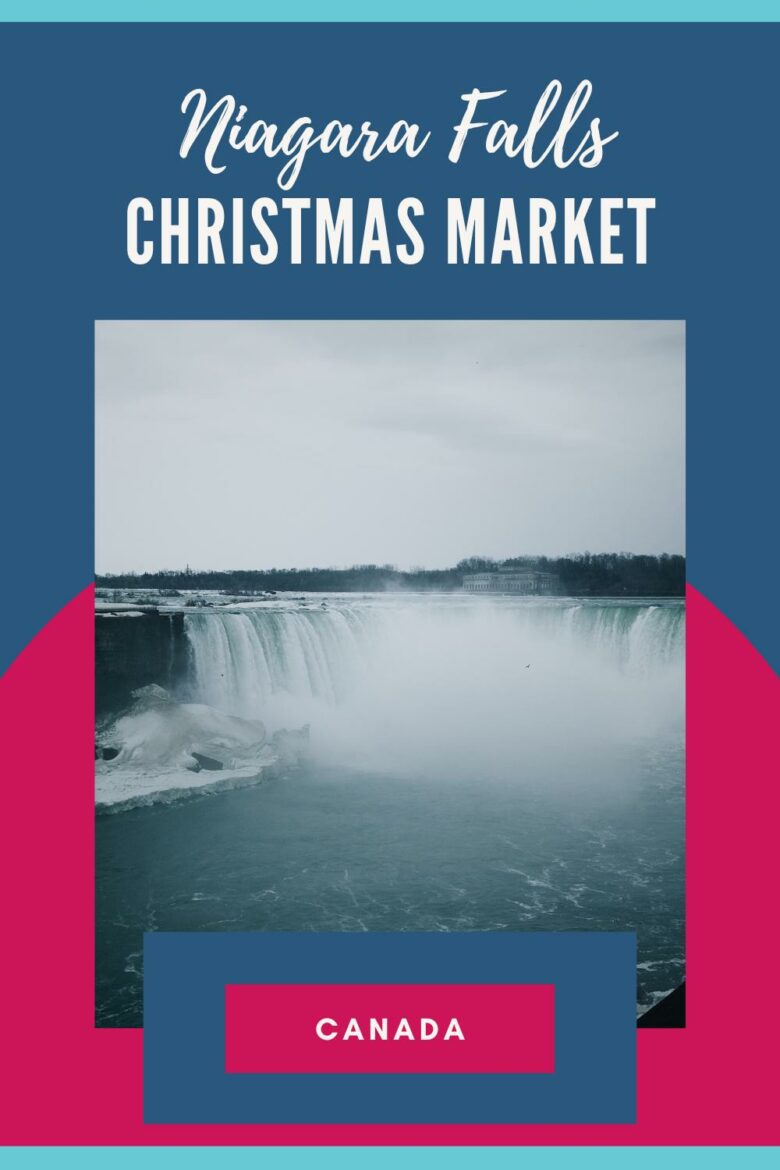 Many years ago, I was lucky enough to visit Niagara Falls in winter, an absolutely breathtaking destination. I can't compare it to the summer months, but visiting with snow on the ground and seeing the half-frozen falls felt special.
I highly recommend visiting at this time of the year if you get the chance.
Niagara Falls Christmas Market 2023
The Christmas market in Niagara Falls takes place in the Downtown area each weekend, Friday to Sunday, leading up to Christmas.
This year, the event is going to be much larger, so you can expect to find more local artisans selling their handmade products.
Food-wise, you will find all the typical traditional German-style Christmas specialties, including bratwurst, mulled wine and Canadian street food providers.
You can expect the weather to be cold, but some areas have outdoor heating and a few fire pits to keep you warm.
While you're in Niagara Falls, you might like to attend the Winter Festival of Lights. This involves a series of light trails through the Downtown area and around the tourist districts. You can find all the trails here.
Dates and Location
Niagara Falls Christmas Market dates: Likely dates: 11th November to 17th December 2023.
Location: Queen Street, Downtown Niagara Falls. Starting at Buckley Avenue and ending at Ontario Avenue.
Opening times: Friday: 5pm to 10pm. Saturday: 1pm to 10pm. Sunday: 12pm to 4pm.
Christmas Day: Closed.
Admission: Free entry, no tickets required.
Santa: Yes.
Ice skating: Yes.
Vegetarian: Yes, plenty of options.
Vegan: Yes, but limited.
Gluten free: Yes, but limited.
Accessible: Yes.
Pet-friendly: No.
Parking: Please take public transport or walk to help limit congestion.
Reason to visit: Great atmosphere in one of Canada's most beautiful locations. You can meet lovely people and listen to live music.
Recommended tour: Take this popular tour of Niagara Falls that includes a boat cruise under the falls and several other stops.
Specialties: Nanaimo bars, Christmas tourtiere, roast turkey, roasted brussels sprouts, bouche de noel and butter tarts.
Where to stay: Oasis Suite is perfectly located around the corner from the Christmas market.
Hotels near Niagara Falls Christmas Market
The Christmas market is located in the Downtown district. Oasis Suite is the best option if you want to stay downtown, as it's right around the corner from the markets.
But if you're in Niagara Falls to visit the falls, then you'll most likely want to stay more central, close to the actual falls.
In that case, I recommend DoubleTree by Hilton. It isn't too far from the falls and a 5-minute drive to the Christmas market. Not only that, but it's one of the most eco-friendly hotels in Niagara Falls.
Plan your Christmas holidays with my guide to the best Christmas markets in Canada. Discover where to go, things to do, and the best ways to experience local food, history and culture.
Location of Niagara Falls Christmas Market
Christmas in Niagara Falls
While walking around the Downtown Christmas Market, you'll encounter a range of experiences unique to this scenic location. Here's a collection of activities and features that stand out:
The Festival of Lights: Niagara Falls is known for its annual Winter Festival of Lights, which typically coincides with the Christmas Market. Market-goers can enjoy a dazzling light display that extends over 8 kilometres and includes over 3 million lights. It's a magical backdrop for your festive shopping.
Ice wine tastings: Niagara region is internationally renowned for its ice wine. At the Christmas market, you can sample this sweet, rich wine made from grapes that have naturally frozen on the vine.
Local craft vendors: Many Niagara Falls Christmas Market vendors are local artisans, offering everything from handmade jewellery to woodcrafts. It's the perfect place to find unique, handcrafted gifts.
Entertainment: Live performances are a staple at this Christmas Market. Local musicians and performers showcase their talent, providing a lively and entertaining atmosphere.
Nearby attractions: Situated in the heart of downtown Niagara Falls, the Christmas market is just a stone's throw away from other attractions. The iconic Falls, Clifton Hill and the Butterfly Conservatory are all within a short distance.
Niagara wines and local produce: The region is known for its fertile soils and exceptional wine. Many vendors at the Christmas market sell local produce and gourmet food items, providing a taste of Niagara's agricultural bounty.
Canadian-made goods: Many stalls focus on local products made in Canada. You can find high-quality items and support Canadian businesses, from clothing to homewares.
Outdoor fire pits: To combat the winter chill, outdoor fire pits are dotted around the market. They provide a cosy spot to warm up, enjoy your food, or simply take a break and watch the world go by.
Food at the Christmas Market
Among the bustling stalls at the Niagara Falls Christmas Market, you'll find a wonderful assortment of spectacular food options as spectacular as the falls.
Local specialities mix with familiar Christmas market favourites to create a culinary experience as diverse and inviting as Canada itself.
Peameal bacon sandwiches: Often referred to as 'Canadian bacon', peameal bacon is a true Canadian classic. Encased in a fresh roll, the juicy, savoury slices make for a hearty and satisfying snack as you explore the market.
Butter tarts: The sweetness of these classic Canadian pastries is hard to resist. Filled with a gooey mix of butter, sugar and eggs, butter tarts are a deliciously indulgent treat.
Beavertails: A trip to a Canadian Christmas market wouldn't be complete without sampling a Beavertail. These flat, fried pastries are traditionally topped with cinnamon and sugar, but other sweet toppings are also available.
Niagara wine: The Niagara region is well known for its vineyards, and local winemakers often have stalls at the Christmas market. A glass of their finest red, white, or even ice wine makes a lovely festive treat.
Canadian cheese and charcuterie: With an array of Canadian cheeses and cured meats available, you can easily assemble a delicious snack to keep you fuelled as you browse the stalls.
In addition to these Canadian specialties, you'll also find a selection of beloved international Christmas market foods:
Pretzels: Originating in Europe, these twisted bread treats, sprinkled with coarse salt, have become a staple at Christmas markets worldwide.
Bratwurst: A favourite imported from German Christmas markets, these classic sausages are usually served in a bun with a choice of condiments.
Churros: These Spanish deep-fried dough treats, often served with a side of chocolate sauce, provide a sweet, indulgent snack.
Mulled wine: With its warm spices and comforting heat, mulled wine is a Christmas market classic that's loved all over the world.
Roasted almonds: The scent of these sweetly glazed nuts wafting through the air is a sure sign of a Christmas market. They make for a tasty and warming snack on a cold winter's day.
Niagara Falls Tourism is the city's local tourist office and the organiser of the Christmas market. They have information regarding events and the best ways to experience Niagara Falls at Christmas.
Sustainable Travel Tips
Many of us are increasingly concerned about climate change and sustainability. I've listed some small actions we can take to help lower our impact at this event.
Shop mindfully. Only purchase what you really need.
Walk, cycle, and use public transport to get around.
Stay in a sustainable hotel powered by renewable energy.
Avoid using plastic or buying items made or packaged with plastic.
Try to eat locally sourced organic food where possible.
Limit your consumption of meat and dairy.
Explore more than just the main tourist areas.
Support the arts and attend local events.
If possible, avoid flying to your destination.
FAQ
When is Niagara Falls Christmas Market?
Niagara Falls Christmas Market likely starts on the 11th November and ends on the 17th December 2023.
Where is the Christmas Market?
The Christmas markets in Niagara Falls are held at Queen Street, Downtown Niagara Falls. Starting at Buckley Avenue and ending at Ontario Avenue.
What time does Niagara Falls Christmas Market open?
The Christmas markets open at 5pm on Friday, 1pm on Saturday and 12pm on Sunday.
What time does Niagara Falls Christmas Market close?
The Christmas markets close at 10pm on Friday and Saturday and 4pm on Sunday.
Please comment below if you want to leave a review of Niagara Falls Xmas Market.
—
Recommendations are independently chosen based on personal travel experiences and extensive research. This post contains affiliate links to hotels and tours in Niagara Falls, Canada. This means I get a small commission from any bookings at no extra cost to you.