Edmonton has a lot to offer in winter, from outdoor activities like skiing, snowshoeing, and cross-country skiing to indoor activities like ice skating, curling and ice fishing. But the big event is the Edmonton Christmas Market, which takes place from the end of November each year, now in its 4th year.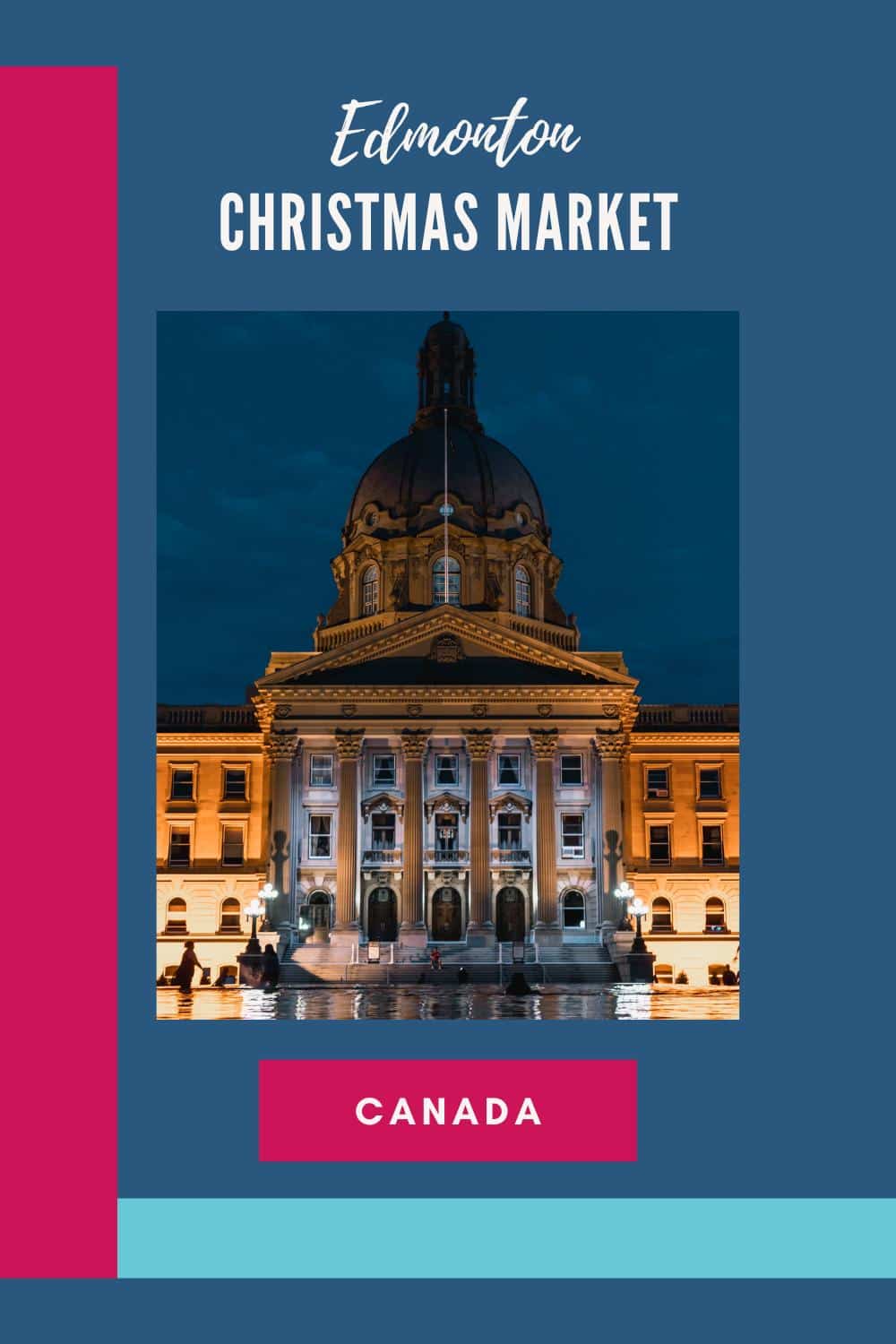 Christmas in Edmonton is a magical time of year. The city is filled with festive cheer as families gather to light up the downtown area with spectacular holiday decorations.
There is plenty of holiday shopping to be done, from the bustling West Edmonton Mall to the quaint boutiques of Old Strathcona.
While the traditional Ukrainian Christmas Eve supper of kutia and carp is a popular tradition for many Edmontonians.
Edmonton Christmas Market 2022
The Christmas Market in Edmonton is a festive winter wonderland that features a variety of holiday-themed events and activities for the entire family.
Highlights of the market include a Christmas carousel, an array of carnival rides, and an artisan market showcasing local vendors and delicious food from traditional to modern street food.
Kids can enjoy a variety of activities such as cookie decorating, carousel rides, horse and wagon rides, Frosty Funhouse and events at the Capital Theatre.
For adults, there is also cookie decorating, wine and cheese pairing, holiday vegan tasting, ornament workshop, sourdough workshop and more.
With all the holiday cheer, the Edmonton Christmas Market is the perfect place to start your Christmas celebrations.
The event takes place Wednesday to Sunday with a mix of more than 100 indoor and outdoor Christmas chalets.
Dates and Location
Edmonton Christmas Market dates: 30th November to 18th December 2022.
Opening times: Wednesday to Friday 3pm to 9pm. Saturday and Sunday 12pm to 9pm.
Christmas Day: Closed.
Location: Fort Edmonton Park.
Admission: Adults $15, children $10, family pass $45, book online.
Santa: Yes.
Vegetarian: Yes. Many options.
Vegan: Yes. Vegetable chili, spiced nuts, fries, drinks.
Gluten free: Yes. Vegetable chili, spiced nuts, poutine, fries and more.
Accessible: Yes.
Parking: Limited free parking is available. Please take public transport if possible.
Public transport: ETS Bus Line 4 to Fort Edmonton Park and Fox Drive.
Reason to visit: Beautiful light displays, wagon rides and many activities for young and old.
Recommended tour: Take a unique Segway trek through the snow as you explore the city.
Specialties: Hot dogs, warm soft pretzels, chili, warm spiced nuts.
Where to stay: Metterra Hotel on Whyte in Strathcona, a 15-minute drive from the Christmas market.
Hotels near Edmonton Christmas Market
Fort Edmonton Park is a historic exhibition centre located 12 km from downtown Edmonton.
There are many hotels downtown, but there is a lot more going on for visitors in Strathcona. It's a great area for eating out and entertainment, including theatre, pubs, the farmers' market and independent stores.
I suggest staying at Metterra Hotel on Whyte as it's located in the heart of Strathcona.
Location of Edmonton Christmas Market
Find more festive destinations with my guide to the best Christmas markets in Canada.
Explore Edmonton is the local tourist office. This is a useful resource if you're planning a trip to the city, especially if this is your first time visiting. It's also the best place to find out about events taking place around the city. Here are a few examples during the Christmas holidays:
Glow – A family event that takes you through an enchanted light trail and gardens with fairytale characters along the way. 1st December to 1st January 2023.
Nutcracker – A Burlesque version of the Nutcracker. 9th December 2022.
Luminaria – Candles light the pathways of the Kurimoto Japanese Garden in Alberta Botanic Gardens. 23rd November to 31st December 2022.
Sustainable Travel Tips
Many of us are increasingly concerned about climate change and sustainability. I've listed some small actions we can take to help lower our impact at this event.
Shop mindfully. Only purchase what you really need.
Walk, cycle and use public transport to get around.
Stay in a sustainable hotel powered by renewable energy.
Avoid using plastic or buying items made or packaged with plastic.
Try to eat locally sourced organic food where possible.
Limit your consumption of meat and dairy.
Explore more than just the main tourist areas.
Support the arts and attend local events.
If possible, avoid flying to your destination.
FAQ
When is Edmonton Christmas Market?
Edmonton Christmas Market starts on 30th November and ends on 18th December, from Wednesdays to Sundays.
Where is Edmonton Christmas Market?
The Christmas markets in Edmonton are held at Fort Edmonton Park.
What time does the Edmonton Christmas Market open?
Wednesday to Friday, 3pm to 9pm. Saturday and Sunday, 12pm to 9pm
If you would like to leave a review of Edmonton Xmas Market, feel free to comment below.
—
Recommendations are independently chosen based on personal travel experiences and extensive research. This post contains affiliate links to hotels and tours in Edmonton, Canada. This means I get a small commission from any bookings at no extra cost to you.