Any visit to Bruges will see you spending most of your time in the historic city centre surrounded by canals lined by stunning Hanseatic buildings.
The pedestrianised area where you'll find many of the city's sights, attractions and restaurants is based around Market Square. This is the location for many events, including the Christmas markets, where I recommend staying while in Bruges.
The following guide to hotels in Bruges near the Christmas market lists the best hotels for a winter city break.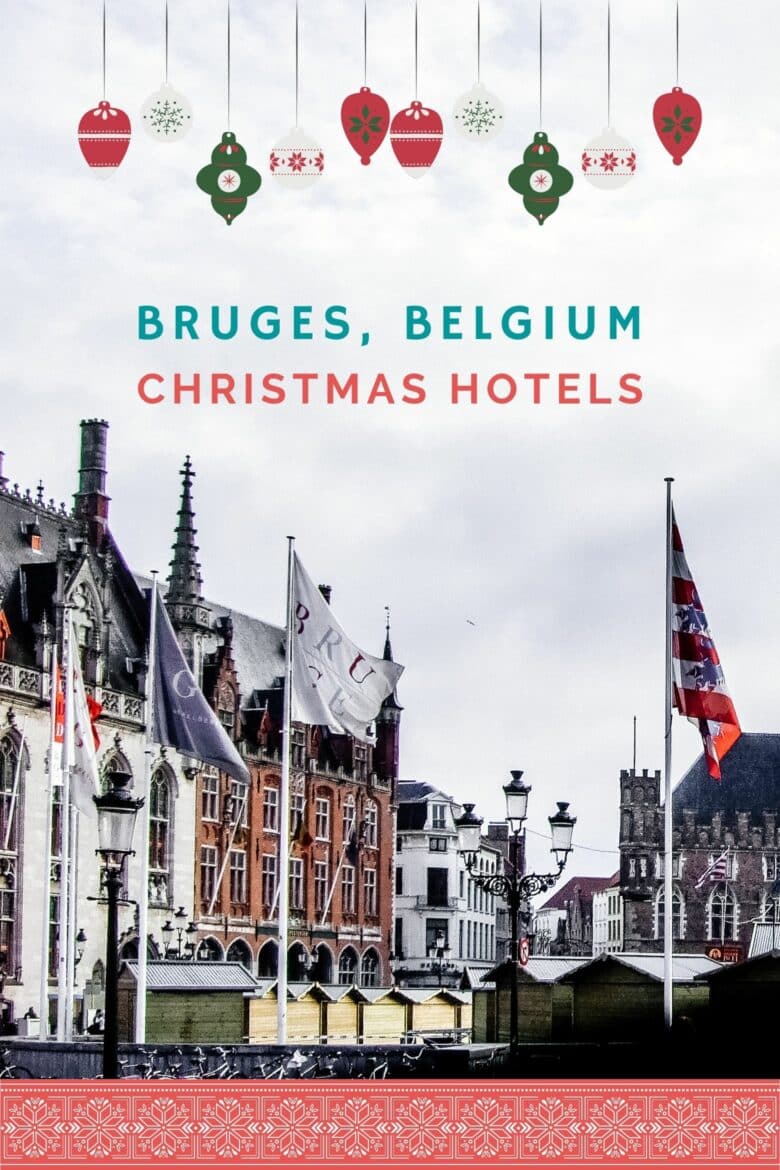 Hotels in Bruges near Christmas Market
The main Christmas market in Bruges is held in Market Square, known in Flemish as Grote Markt. This bustling main square is lined with Christmas market stalls from late November until early January.
There are many hotels near Market Square, but the city centre is very walkable, meaning you can easily get around, even if you are staying in one of the neighbouring quarters.
But if you want to be very close to the Christmas markets, stay at my top pick; otherwise, scroll down for other options suitable for various budgets.
Top Pick
Boutique Hotel Sablon
Address: Kopstraat 10, Bruges, Belgium
The Boutique Hotel Sablon is located halfway between Market Place and the Zand district. It's around a 5-minute walk to the Christmas markets and the light installations that brighten the city during the Winter Glow festival. Hotel Sablon is highly rated for its location, the friendliness of the staff and excellent breakfast. This hotel is directly in the centre of historic Bruges, close to many of the famous sights, bars, restaurants and the shopping area.
Check Availability
Location of Boutique Hotel Sablon
Hotel near Market Square
Hotel Alegria
Address: Sint-Jakobsstraat 34, Bruges, Belgium
If you would prefer a romantic-style hotel, Hotel Alegria is stylish and calm even with its central location, 5 minutes from Grote Markt. The Basilica of the Holy and St Salvator's Cathedral are also within a 5-minute walk. Alegria serves a buffet breakfast, including fresh fruit salads, freshly-baked pastries, homemade jam, organic yoghurt, milk, and cereals.
Budget Hotel
Hotel Bla Bla
Address: Dweersstraat 24, Brugge, Belgium
Not necessarily a budget hotel but a more affordable option, Hotel Bla Bla is known for its cosy and clean rooms. It is very close to Sint-Salvatorskathedraal, a gothic cathedral with Flemish artwork, and it's only a 7-minute walk to Bruges Christmas Market.
Apartment Stay
House Loppem 9-11
Address: Loppemstraat 9-11, Historic Centre of Brugge
If you would like to stay in an apartment in Bruges, House Loppem 9-11 is near the Christmas markets, very close to Bruges's famous canals and a short walk to the Basilica of the Holy Blood, a must-visit attraction while in Bruges.
To continue planning your trip, read my guide to Bruges Christmas Market and the Winter Glow festival.

Alternatively, read this list of the best Christmas markets in Belgium for a list of where to go nearby.
Where to Stay in Bruges
Historic Centre: A UNESCO World Heritage Site, the historic centre of Bruges is a delight to explore. It's an enchanting maze of cobblestone streets, charming buildings, and canals. Staying here puts you within walking distance of most major attractions, including the famous Market Square. Enjoy numerous cafes, restaurants, and shops in the heart of the city.
Sint-Anna: For a quieter experience, consider Sint-Anna. Located east of the historic centre, it's ideal for those seeking tranquillity yet wanting to remain close to the city's highlights. In this area, you'll discover local shops, quiet parks, and a slower pace of life. It also hosts the unique Folklore Museum, offering insights into Bruges' past.
Sint-Gillis: Further south from the centre, you'll find Sint-Gillis, a vibrant neighbourhood that's home to the city's concert hall and many bars and nightspots. Stay here for a slice of local life mixed with a dash of entertainment and culture.
Zeebrugge: If you fancy staying near the beach, Zeebrugge is the area for you. It's located north of Bruges and features a sandy beach, the Seafront Maritime theme park, and several seafood restaurants. It's well connected to the city centre, so you can enjoy the best of both worlds.
Assebroek: Bordering the south of Bruges' historic centre, Assebroek is a residential neighbourhood with a local feel. It's home to some beautiful parks, including the Assebroekse Meersen and the Tudor estate, providing green space for relaxation.
In the end, where to stay in Bruges largely depends on what you want from your visit. Each neighbourhood has its own character and charm, offering unique perspectives on this beautiful city.
Map of Bruges
If you're travelling elsewhere in the Flanders region of Belgium, head over to Visit Flanders to get some ideas on things to do and where to go. They also have some useful information on the different Bruges neighbourhoods, which might be of interest when planning your trip.
Responsible Travel Tips
Walk or Cycle Around: Bruges' compact nature makes it perfect for walking or cycling. You can easily rent a bike and explore the city at your own pace. It's an eco-friendly alternative to using taxis or other forms of motorised transport.
Eat Locally Sourced Foods: Bruges has a strong local food culture. Opt for local restaurants and cafes that source their ingredients from Belgium to minimise your carbon footprint. You're not just supporting the local economy but also promoting sustainable agriculture.
Support Local Artisans: While shopping, try to support local craftsmen by buying handmade products instead of mass-produced souvenirs. It helps to support local jobs and the cultural heritage of Bruges.
Reduce, Reuse, Recycle: Always remember to follow the three R's. Aim to reduce your waste, reuse whatever you can, and recycle whenever possible. Look out for recycling bins around the city.
Avoid Flying if Possible: If you can, consider taking the train to Bruges instead of flying. It's a more eco-friendly way to travel and offers the chance to enjoy the scenery along the way.
Consider Plant-Based Meals: While Belgian cuisine is often heavy on meat and dairy, many restaurants in Bruges offer plant-based options. Opting for a vegetarian or vegan meal, even just once or twice during your stay, can significantly reduce your carbon footprint.
Stay in Eco-Friendly Accommodation: Many hotels in Bruges are making efforts to be more environmentally friendly. When booking your accommodation, look for hotels that use renewable energy, have a robust recycling programme and use energy-efficient appliances.
Each of these steps helps you contribute to sustainable tourism in Bruges, making sure this beautiful city can be enjoyed by many generations to come.
If you have questions or want to leave a hotel review, please do so in the comments.
—
Recommendations are independently chosen based on personal travel experiences and extensive research. This post contains affiliate links to hotels in Bruges, Belgium. This means I get a small commission from any bookings at no extra cost to you.