While visiting Klagenfurt on a day trip from Ljubljana, I was particularly struck by Lake Wörthersee's beauty and the mountains surrounding it. Within the city's historic centre is Neuer Platz, the location of Klagenfurt Christmas Market and the most festive experience in the Carinthia region.
In this guide, I share the dates, opening times and best Christmas stalls at Christkindlmarkt 2023.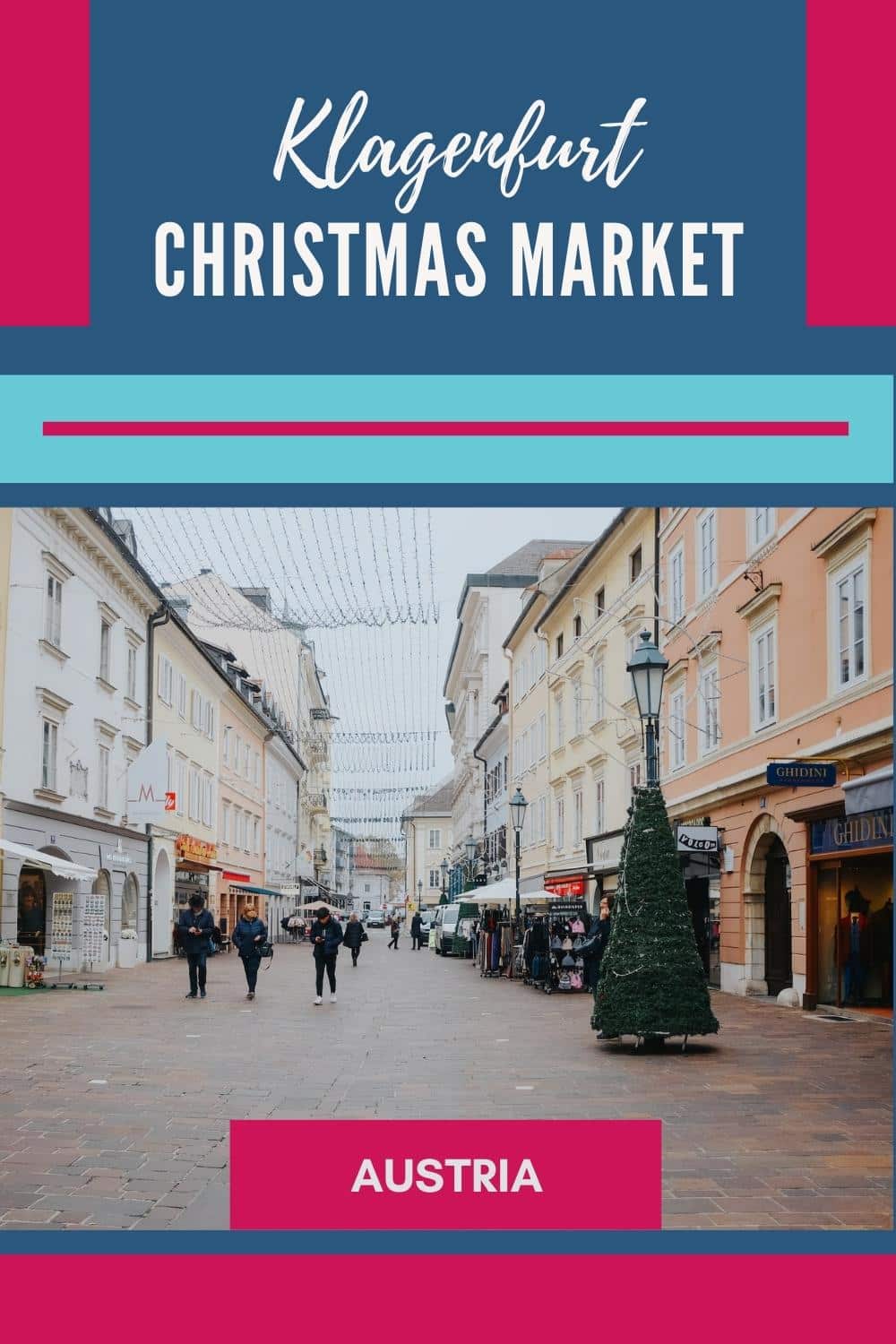 Klagenfurt Christmas Market 2023
Klagenfurt is decorated with lights from the historic centre to the lake during the entire Advent period. There are two main Christmas markets in Klagenfurt, the main market on Neuer Platz and a smaller market on Domplatz. There's also the musical Peaceful Advent, a one-day event in December.
Dates and Location
Klagenfurt Christmas Market dates: Likely dates: 18th November to 24th December 2023.
Location: Neuer Platz, Klagenfurt.
Opening times: 10am to 8pm, closes at 2pm on the 24th December.
Christmas Day: Closed.
Admission: Free, no tickets required.
Christmas lights: Yes, around the historic city centre and the Wörthersee waterfront.
Santa: No.
Ice skating: No.
Vegetarian: Yes, plenty of options.
Vegan: Yes, but limited.
Gluten free: Yes, but limited.
Accessible: Yes.
Pet-friendly: Yes, dogs are allowed on a lead.
Reason to visit: The Christmas lights that decorated the Renaissance old town buildings all the way to the lake shore.
Where to stay: Hotel Sandwirth is located on the same street as the Christmas market.
Hotels near Klagenfurt Christmas Market
The historic centre of Klagenfurt is located inland from Lake Wörthersee and is known as Innere Stadt. This is where you'll most likely want to stay as there are many sights and places to eat out, and it's within walking distance of the Christmas market.
I suggest staying at Hotel Sandwirth as it's a 2-minute walk to Neuer Platz and the main Christmas market, while Domplatz is a further 3 minutes.
Alternatively, my guide to hotels near Klagenfurt Christmas Market lists several well-located hotels covering all budgets.
Plan your Christmas holiday with my Austrian Christmas markets guide. Discover where to go, things to do and the best ways to experience Austrian food, history and culture.
Location of Klagenfurt Christmas Market
Domplatz Christmas Market
Domplatz Christmas Market dates: Likely dates: 18th November to 24th December 2023.
Opening times: Thursday to Sunday, 11am to 6:30pm.
Location: Domplatz, Klagenfurt.
Location of Domplatz Christmas Market
Peaceful Advent
This is a one-day musical event in December.
Peaceful Advent date: Likely date: 2nd December 2023.
Start time: 4pm.
Christkindlmarkt Klagenfurt
Christmas Specialties in Klagenfurt
Kletzenbrot holds pride of place among Austrian Christmas fare. Named after the dried pears known as 'Kletzen', this dense fruit bread often contains other dried fruits, nuts and spices. Its preparation starts weeks before Christmas, as the fruits need to be soaked in rum or schnapps. If you're fond of robust, fruity flavours, Kletzenbrot will certainly appeal to your palate. And not to worry, the alcohol content is negligible, as most of it evaporates during the baking process.
Vanillekipferl, crescent-shaped biscuits flavoured with vanilla and dusted with icing sugar, are synonymous with Austrian Christmases. The biscuits' delicate, melt-in-the-mouth texture is a result of the ground almonds or hazelnuts mixed into the dough. Their crescent shape is a nod to Austria's history, symbolising the Turkish crescent moon during the time of the Ottoman Empire. A vegetarian-friendly treat, vanillekipferl could be your go-to snack while relaxing by the fireplace.
In the realm of hearty dishes, Carp 'Wiener Art' stands out. A tradition in Klagenfurt and parts of Austria, this crumbed and fried fish is a staple at Christmas Eve dinners. The 'Wiener Art' or Viennese style of preparation resembles that of the famous Wiener schnitzel, but with a significant difference: carp is used instead of veal. While fish might seem an unusual choice for landlocked Austria, it's actually a Christian tradition to eat fish on this holy night.
For vegetarians, krautfleckerl, or cabbage with pasta, is a beloved dish. Don't let its simplicity fool you! The combination of sautéed cabbage with caramelised onions and hearty pasta creates a surprisingly comforting dish. While it may not be exclusive to the Christmas season, its warmth and heartiness make it a popular choice during the cold winter months.
Of course, the magic of Austrian Christmas wouldn't be complete without gluhwein. A popular warming drink, it's made from red wine heated with a special blend of spices including cinnamon, cloves, star anise and citrus. Its comforting warmth and rich flavours can be enjoyed by everyone, and there are also non-alcoholic versions available.
As for desserts, bratapfel, or baked apples, are a classic choice. Hollowed-out apples are filled with a mixture of nuts, spices and sometimes marzipan, then baked until tender. Often, they're served with warm vanilla sauce. This dish is not only vegetarian-friendly but could also be made vegan by choosing the appropriate filling.
Finally, the Christstollen. Originating from Germany, this spiced fruit loaf has been embraced by Austrians with open arms. It contains dried fruit, nuts and marzipan, and is usually dusted with icing sugar. The loaf's humped shape is said to represent the swaddled baby Jesus. Laden with seasonal flavours, it's a perfect end to a Christmas meal.
Weihnachtsmarkt Klagenfurt
Food at the Christmas Market
The delicious food and drinks at the Weihnachtsmarkt Klagenfurt, locally called Christkindlmarkt, where stalls are brimming with a mouthwatering array of Christmas market specialties.
Lebkuchen, traditional German gingerbread, is an inevitable sight at Christmas markets. It is not only the taste, a harmonious blend of sweet and spice, that makes Lebkuchen special. Often heart-shaped and inscribed with affectionate messages, these gingerbread treats double as edible Christmas decorations.
Bauernkrapfen, similar to doughnuts, are another local treat that crowd the Austrian markets. These ring-shaped pastries, deep-fried to golden perfection, have a characteristically crispy exterior with a soft, fluffy interior. Often dusted with powdered sugar, the slightly sweet bauernkrapfen could be your ideal companion as you stroll through the vibrant market.
Casting a delicious aroma throughout the market, bratwurst stand as one of the main draws. These finely ground sausages, made from pork, beef, or veal, are typically served in a sliced open roll with a dollop of mustard or ketchup. Every bite of a warm, juicy bratwurst is a testament to Austria's culinary expertise.
Reibekuchen, or potato pancakes, have migrated from German Christmas markets to become an integral part of Austrian festivities. Grated potatoes are mixed with onions, egga and flour, then fried until crispy. Usually served with apple sauce, these golden pancakes cater to the palate that craves something savoury.
On the sweeter side of things, schneeballen, meaning 'snowballs', have established their place in Christmas markets far beyond their German origin. These whimsical treats are made of shortcrust pastry, rolled out, cut into strips, shaped into a ball, and then deep-fried. They often come dusted with powdered sugar or covered in chocolate.
You can hardly ignore the enchanting scent of roasted chestnuts wafting through the cold winter air. These delicacies are not only a treat for the taste buds but also warm the hands when held in their paper cone. Eating these while exploring the market will certainly make your visit a warm and cosy one.
For those of you seeking vegetarian or vegan options, flammkuchen, a thin-crust pizza-like dish from the Alsace region, is worth trying. Traditionally topped with crème fraîche, onions, and lardons, you can find many stalls serving vegetarian versions with various vegetable toppings.
A Christmas market isn't complete without churros. Originally from Spain, these deep-fried dough pastries, usually dusted with sugar and served with a rich chocolate dip, have found a home in Christmas markets worldwide. A bite of warm, sweet Churros on a cold winter's night is an experience you wouldn't want to miss.
Finally, the warming cup of feuerzangenbowle, a fiery take on the traditional mulled wine. A rum-soaked sugarloaf is set alight and placed above the wine, creating a spectacular sight. As the sugar caramelises and drips into the wine, it enriches the drink with a complex sweetness and a touch of theatre.
Each stall at the Klagenfurt Christkindlmarkt is a tribute to the region's diverse culinary heritage and the wider world's festive flavours.
What to Buy
Now, let's take a closer look at the unique and typical gifts you can find at the Christkindlmarkt in Klagenfurt. From beautifully handcrafted decorations to special regional products, the stalls teem with gifts that cater to a myriad of tastes and interests.
Carinthian Honey certainly deserves a mention. Harvested by local beekeepers, this natural product ranges from wildflower to forest honey, each with a distinctive taste profile. Whether for cooking, baking, or simply sweetening a cup of tea, Carinthian honey can be a great gift for food enthusiasts.
Hand-blown Glass Ornaments are an integral part of Austrian Christmas markets. Crafted by skilled artisans, these delicate ornaments come in various shapes, sizes and colours. Purchasing a unique, handmade ornament is not only a way to decorate your Christmas tree but also a means to support local craft.
Traditional Austrian Clothing items, such as scarves, gloves, and hats made of local wool, often feature in the market stalls. These warm and practical accessories, often adorned with traditional designs and patterns, can make for a thoughtful gift that carries a touch of Austrian culture.
Carinthian Lavender Products, made from lavender grown in the region, often include essential oils, soaps and scented candles. The calming scent of lavender can bring a sense of tranquillity and well-being, making these products a lovely gift for someone in need of relaxation.
For the foodies in your life, Carinthian Pumpkin Seed Oil could be an interesting choice. Known for its nutty flavour, this dark green oil is a staple in Austrian cuisine. Packaged in stylish bottles, it can serve as a gourmet gift for someone who appreciates fine cooking ingredients.
Handcrafted Wooden Toys are a time-honoured tradition in many Austrian markets. From intricate puzzle boxes to beautifully carved animals, these toys are not only a great gift for children but also for adults who appreciate artisanal craftsmanship.
Mozartkugeln, round chocolate bonbons filled with marzipan and nougat, make for a sweet token of Austrian heritage. Named after the famous composer Wolfgang Amadeus Mozart, they're a reminder of the rich cultural history of Austria.
Austrian Wines also have a special place in the market. The region is known for its fine wines, including white, red and sweet varieties. A bottle of high-quality Austrian wine can be an elegant gift for any wine connoisseur.
Among the artisanal handicrafts, Hand-painted Christmas Ceramics stand out. Ranging from mugs and plates to festive figurines, these items combine functionality with artistic creativity.
Lastly, for a little sparkle, consider Swarovski Christmas Decorations. Swarovski, renowned for its precision-cut crystal glass, often produces festive ornaments that add a touch of luxury to any Christmas setting.
Through each of these gifts, you'll find a blend of tradition and artistry that reflects the spirit of Klagenfurt and Austria. Choosing a gift from the Christkindlmarkt means bringing home a piece of this special place and its festive traditions.
Visit Klagenfurt has information regarding events, day trips, outdoor activities and the best ways to experience Klagenfurt at Christmas.
Sustainable Travel Tips
Our choices have an environmental and social impact on the places we visit. When visiting the Christmas markets in Klagenfurt, keeping sustainability in mind is important.
Implement some or all of these responsible travel measures during your visit.
Shop mindfully. Only purchase what you really need.
Walk, cycle and use public transport to get around.
Stay in a sustainable hotel powered by renewable energy.
Stay in hotels. Short-stay apartment accommodation can lead to a lack of affordable housing for locals.
Avoid using plastic or buying items made or packaged with plastic.
Try to eat locally sourced organic food where possible.
Limit your consumption of meat and dairy.
Be open to diverse cultures and experiences.
Explore more than just the main tourist areas.
Support the arts and attend local events.
Visit fewer places but stay longer at each destination.
FAQ
Does Klagenfurt have a Christmas market?
There are two Christmas markets in Klagenfurt, known as Christkindlmarkt Klagenfurt or Weihnachtsmarkt Klagenfurt, as well as the Peaceful Advent event.
When is Klagenfurt Christmas Market?
Klagenfurt Christmas Market takes place from the 18th November to 24th December 2023.
What time does Klagenfurt Christmas Market open?
Christkindlmarkt Klagenfurt opens at 10am daily.
What time does Klagenfurt Christmas Market close?
Christkindlmarkt Klagenfurt closes at 8pm daily except on 24th December when it closes at 2pm.
If you have visited Klagenfurt in winter or want to leave a review of the Xmas market, feel free to comment below. This helps others interested in visiting and trying to plan their holiday.
—
Recommendations are independently chosen based on personal travel experiences and extensive research. This post contains affiliate links to hotels and tours in Klagenfurt, Austria. This means I get a small commission from any bookings at no extra cost to you.