Within Klagenfurt's historic centre is Neuer Platz, the pretty square and the location of this year's Christmas market. This area of Klagenfurt is nice to stay in during your visit. Alternatively, anywhere within walking distance of Domplatz would also be convenient.
In this guide, I list the best hotels near Klagenfurt Christmas Market based on value for money and distance to the main Christmas market.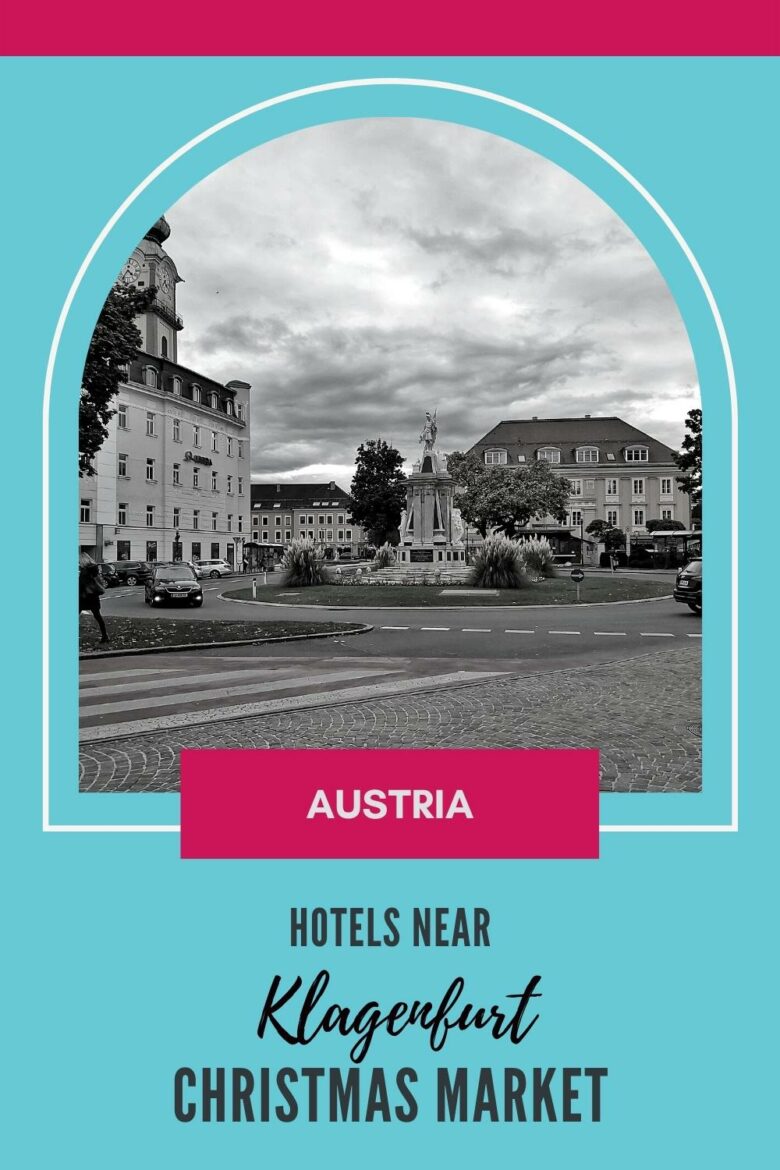 Hotels Near Klagenfurt Christmas Market
The historic centre of Klagenfurt is located inland from Lake Wörthersee and is known as Innere Stadt.
Innere Stadt is where you'll find the city's two main Christmas markets, and it's the area where you'll most likely want to stay. This is where you'll find many sights, entertainment venues and places to eat out.
Top Pick
Hotel Sandwirth
Address: Pernhartgasse 9, Klagenfurt, Austria
Distance to the Christmas market: 200 metres or a 2-minute walk to Neuer Platz. Domplatz is a further 3 minutes.
You can't miss the Sandwirth as you approach it as it's located in a beautiful neoclassical building just off the pedestrianised city centre. The room is a good size, exceptionally comfortable and clean and the service is everything you'd expect in a small Austrian hotel. Along with the regular rooms, there are suites and apartments available.
Features:
Ideal location.
Exceptional breakfast.
Good-sized gym and sauna.
Attentive and welcoming staff.
Sustainability:
The hotel is working to reduce food waste.
Most food is sourced from the region around Klagenfurt.
Single-use plastic is avoided.
The hotel uses energy-efficient lighting.
Pros: You really can't beat this hotel for its location near the Christmas markets and everything else a visitor to Klagenfurt would be interested in. If the weather is good, you can rent a bike from the hotel and actively get around the city.
Cons: The hotel doesn't use renewable energy as its source of electricity.
Check Availability
Location of Hotel Sandwirth
Next Best Hotel
Hotel Palais Porcia
Address: Neuer Platz 13, Klagenfurt, Austria
Distance to the Christmas market: Located directly on Neuer Platz, at the Christmas market.
If a location near the Christmas market is of utmost importance, then this is the hotel for you. You can literally step out onto the main square from the hotel, taking in the festive atmosphere each time you come and go. The rooms are unusually furnished in Baroque or Biedermeier style, making this one of the unique places to stay in Klagenfurt. They have some good sustainability measures in place, like using organically grown, local food and reducing food waste where possible.
Boutique Hotel in Klagenfurt
Select Hotel Moser Verdino Klagenfurt
Address: 2 Domgasse, Klagenfurt, Austria
Distance to the Christmas market: 120 metres (1 minute) to Neuer Platz and 250 metres (3 minutes) to Domplatz.
This boutique hotel stands as a symbol of style and cleanliness. Its modern rooms provide a harmonious blend of comfort and luxury, featuring amenities like Nespresso machines that add that extra touch of thoughtfulness. The hotel's exterior is equally praiseworthy, where vibrant flowers lend a welcoming note.
The location of the hotel couldn't be more ideal. Set in the heart of Klagenfurt, guests can easily access the city's attractions. Additionally, convenient street parking eliminates any worry about vehicle storage.
A notable feature of the hotel is the rooftop terrace, a spot that invites guests to unwind while enjoying the city views. As for dining, the vast and varied breakfast selection is sure to please any palate, setting a positive tone for the day ahead.
Apartment Stay in Klagenfurt
Limehome Klagenfurt
Address: 26 Karfreitstraße, Klagenfurt, Austria
Distance to the Christmas market: 300 metres (4 minutes) to Neuer Platz and 200 metres (2 minutes) to Domplatz.
Located just a stone's throw away from the entrance to Domplatz, Limehome situates you right in the heart of Klagenfurt's Innere Stadt, ensuring all the key attractions are within easy reach. As opposed to traditional hotel rooms, Limehome offers a more residential feel, featuring fully furnished apartments that marry comfort with affordability.
Each apartment exudes a sense of home, with ample living space that allows you to unwind just as you would in your living room. Additionally, each apartment is equipped with a small kitchen, providing you with the independence to cook your meals, whether it be a quick breakfast before heading out or a relaxed dinner after a day of exploring the Christmas market.
Read my guide to Klagenfurt Christmas Market for the latest dates, opening times, locations and local Christmas specialties.

This Austria Christmas markets 2023 guide has more ideas on where to go over the holidays.
If you have questions or want to leave a hotel review, please do so in the comments.
—
Recommendations are independently chosen based on personal travel experiences and extensive research. This post contains affiliate links to hotels in Klagenfurt, Austria. This means I get a small commission from any bookings at no extra cost to you.