Even though the village of Hallstatt holds a one-day Christmas market, it's well worth visiting for more than the day. Vast mountains and a deep blue lake set the scene while the picturesque village is lit up with colourful lights and decorations.
In this guide, I list the best place to stay near Hallstatt Christmas Market that will add to your festive experience.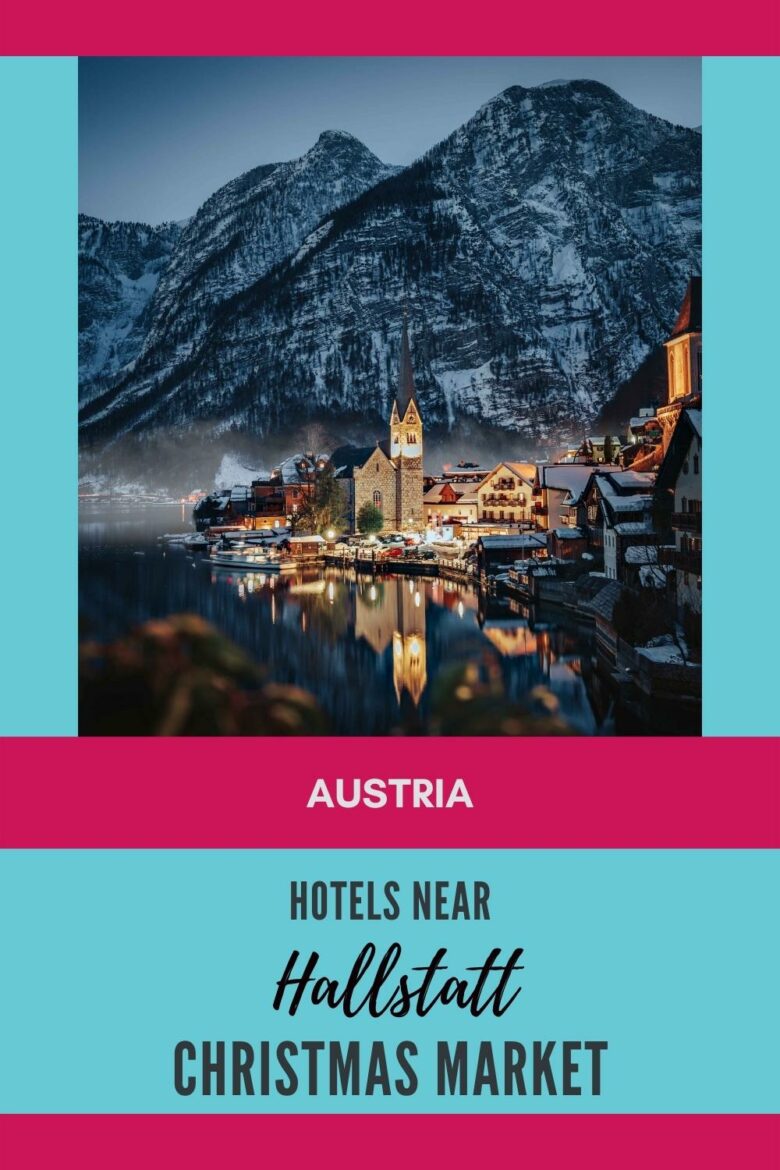 Hotels Near Hallstatt Christmas Market
Given that Hallstatt is a small destination, almost everywhere is near the Christmas market. However, some lakeside hotels can be up to 10 minutes away, which could be an issue if the weather isn't great.
Instead, I suggest staying near Marktplatz, the Christmas market location. It's a beautiful square, metres from the lake, with incredible views of nature. Here is my top hotel pick for Hallstatt.
Top Pick
Seewirt Zauner
Address: Marktplatz, Hallstatt
Distance to the Christmas market: Directly on the market square.
Located directly on Marktplatz, there is no hotel closer to the Christmas market. The rooms have a traditional, cosy feel while still being modern and relatively recently renovated.
Features:
Some rooms have views of the lake, mountains and churches.
A high standard of comfort and cleanliness.
Family-run business with exceptional service.
Close to the pier that connects the railway station that is across the lake.
Sustainability:
100% renewable electricity is used in the hotel.
Food waste reduction policies are in place.
Contribute to local community projects.
Most food served in the restaurant is locally sourced.
Pros: The location is perfect not only for the Christmas markets but for access to everything you'll want to see in Hallstatt.
Cons: Given the location, rooms at the front of the hotel risk being noisy on the evening of the Christmas market.
Check Availability
Location of Seewirt Zauner
Next Best
Polreich
Address: Seestraße 89, Hallstatt, Austria
Distance to the Christmas market: 6 minutes, 500 metres.
Located directly on the lake, the views from Polreich are incredible. The rooms are exceptionally clean, comfortable, light and bright while still having a cosy feel due to the timber finishes. Imagine eating breakfast on the water with the historic town in the distance. An added bonus is being right next door to the best bakery and cake shop in Hallstatt. Don't miss trying their coffee and cake.
Budget Hotel
Gasthof Simony Hallstatt B&B
Address: Wolfengasse 105, Hallstatt, Austria
Distance to the Christmas market: Located directly on Marktplatz!
I stayed here on my visit to Hallstatt, and the location and view were incredible. I'd highly recommend this B&B if you're on a budget. It's a great value place to stay in Hallstatt this winter.
Read my guide to Hallstatt Christmas Market for the latest dates, opening times, locations and local Christmas specialties.

This list of the best Christmas markets in Austria has more ideas on where to go over the holidays.
The local tourist office is a great place to start for more information on visiting Hallstatt, including where to stay.
If you have questions or want to leave a hotel review, please do so in the comments.
—
Recommendations are independently chosen based on personal travel experiences and extensive research. This post contains affiliate links to hotels in Hallstatt, Austria. This means I get a small commission from any bookings at no extra cost to you.