Graz has several excellent Christmas markets with over 200 stalls selling traditional products from Austria and around Europe.
The main Christmas market is located in the centre square, Hauptplatz, while the Traditional Christmas Market in Franziskanerviertel and the hilltop Schlossberg Christmas Market are also fun to visit in the Old Town.
This guide lists where to stay and the best hotels near Graz Christmas Market in Hauptplatz, covering all budgets.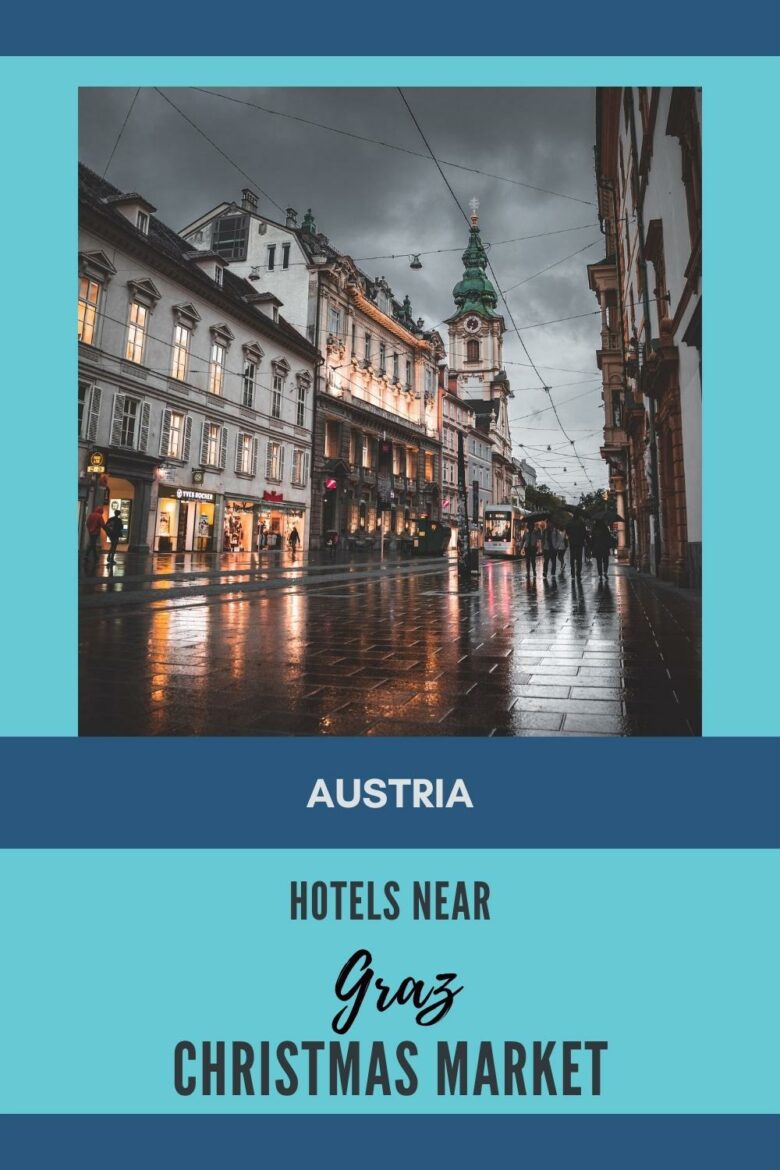 Hotels Near Graz Christmas Market
The biggest Christmas market in Graz is located in Hauptplatz, the city's historic main square. It's in a highly central location so this area is great for sightseeing and exploring the city. I suggest finding a hotel in this part of Graz, with my top pick being a great starting point for your hotel search.
Top Pick
Aiola Living Graz
Address: Landhausgasse 5, City centre, Graz, Austria
Distance to the Christmas market: 100 metres, approximately a 2-minute walk.
Stylish rooms in a well-designed, friendly hotel will make for a comfortable stay in Graz. Good-sized rooms have comfortable mattresses, unique decor and atmospheric lighting.
Features:
The most well-located hotel in Graz.
Exceptionally unique and stylish decor.
A relaxing atmosphere and high-quality gym.
Coffee machine in the room.
Sustainability:
Single-use plastic is reduced.
Food served is sourced from the Styria region where possible.
Pets are allowed for an additional fee.
Pros: A beautiful, relaxing and welcoming hotel that could not be better located for the Christmas market. Great food, fitness facilities and an inclusive menu are provided. Apartment rooms and single rooms are available.
Cons: Sustainability measures that reduce food waste, pollution and greenhouse gas emissions are limited.
Check Availability
Location of Aiola Living Graz
Next Best
Kai 36 Hotel
Address: Kaiser-Franz-Josef-Kai 36, Graz, Austria
Distance to the Christmas market: 400 metres, 5 minutes.
Light and bright hotel with minimalist decor. Great location next to Schlossberg. Popular breakfast menu and lovely terraces for when the weather is good. Sustainability measures include reducing food waste and single-use plastic, the use of energy-efficient lighting and making bike rental available for sustainably getting around Graz.
Budget Hotel
Hotel Weitzer
Address: Grieskai 12-14, Gries, Graz
Distance to the Christmas market: 5 minutes to Hauptplatz and 2 minutes to Grieskindlmarket on Nikolaiplatz.
This traditional Austrian hotel is next to Tegetthoffbrücke, the bridge that crosses the River Mur, making it great for accessing all the sights and markets on both sides of the city. Some rooms have direct views of Schlossberg, and there's a sauna on the rooftop of the historic building.
Read my guide to Graz Christmas Market for the latest dates, opening times, locations and local Christmas specialties.

This list of the best Christmas markets in Austria has more ideas on where to go over the holidays.
Graz Tourism is a great place to start for further information on trip planning and visiting Graz.
If you have questions or want to leave a hotel review, please do so in the comments.
—
Recommendations are independently chosen based on personal travel experiences and extensive research. This post contains affiliate links to hotels in Graz, Austria. This means I get a small commission from any bookings at no extra cost to you.