Pogradec is located on the shores of Albania's incredibly beautiful and pristine Lake Ohrid. The picturesque mountain backdrop makes this city well worth visiting, especially during winter after a snowfall. Pogradec Christmas Market is a small event that is increasingly popular with locals.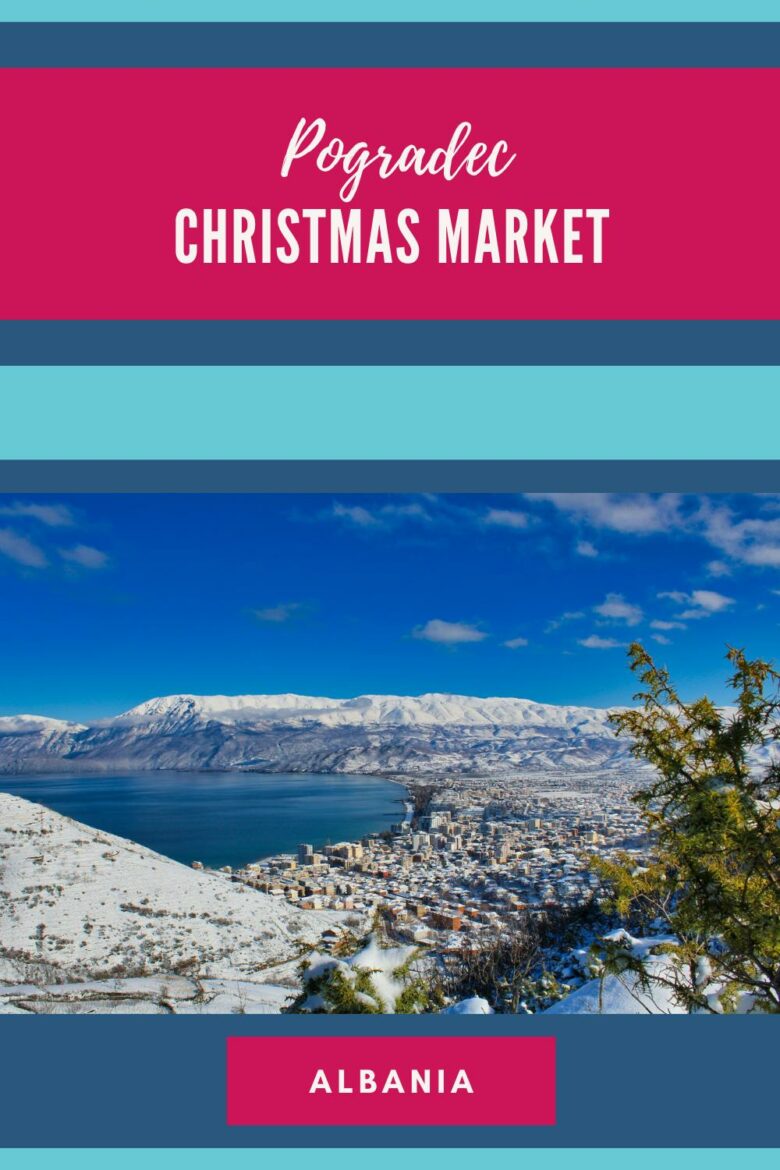 During summer, most of the attractions in Pogradec revolve around outdoor activities and Lake Ohrid. But during the winter months, the nearby mountains offer great skiing and snowboarding opportunities. You can still take a trip on the lake in December, but you might need to organise a private boat tour.
While you're in the area, I recommend crossing the border into North Macedonia. Here you can visit the town of Ohrid, a bustling town with great bars and restaurants and plenty of historic sights worth visiting.
Pogradec Christmas Market 2023
The Christmas markets in Pogradec are small but cosy. It's mostly locals visiting, but you'll see a few tourists around, particularly from elsewhere in the region, including from across the border at Ohrid in North Macedonia.
In Pogradec, you can walk along the main boulevard to see the Christmas lights and the decorated tree and enjoy some of the local food, snacks and warm drinks.
Dates and Location
Pogradec Christmas Market dates: Waiting for 2023 dates.
Location: Bulevardi Europa near the lake.
Opening times: 10am to 7pm.
Christmas Day: Closed.
Admission: Free, no tickets required.
Santa: No.
Ice skating: No.
Vegetarian: Some options.
Vegan: Limited.
Gluten free: Limited.
Accessible: Generally, yes.
Pet-friendly: Yes, dogs are allowed on a lead.
Reason to visit: The beautiful location on the shores of Lake Ohrid. A great chance for a white Christmas.
Specialties: Local wine of Buti, perla and moskat raki (strong alchohol), tavë korani (a baked fish dish from Ohrid).
Where to stay: Boutique Hotel Kooperativa is one of the most highly-rated hotels in Podgradec, located 8-minutes from the Christmas market.
Hotels near Pogradec Christmas Market
Pogradec is a safe, walkable city on the Albanian side of Lake Ohrid. I'd recommend staying close to the lake near Sheshi Odeoni, the main waterfront square, or at least within 10 minutes of here. This area has some nice cafes, restaurants, and incredible water views.
I suggest staying at Boutique Hotel Kooperativa as it's one of the most highly-rated hotels in Podgradec, located only 8 minutes from the Christmas market and only a little bit further to the lake. You might find hotels closer, but it's worth staying an extra hundred metres away for a considerably nicer place to stay than elsewhere.
Location of Pogradec Christmas Market
City and Christmas Tours
A city tour of Pogradec is a fantastic way to experience the city's rich history and culture. With its charming old town, stunning Lake Ohrid, and scenic beauty, Pogradec is a city that truly has something for everyone.
On a city tour, you'll visit the city's most iconic landmarks and attractions, including the historic Castle of Pogradec, the picturesque Church of Saint Nicholas, and the serene Lin Peninsula.
There aren't many tours of Pogradec that you can book online, so I suggest asking at your hotel when you get there. They will likely arrange a private tour for you.
However, there are tours of nearby Ohrid which is well worth taking. Ohrid is one of the prettiest historic cities in the Balkans and it's only a short distance from Pogradec.
This tour is a great introduction to the town of Ohrid and the lake.
Christmas Specialties in Pogradec
During the Christmas season in Pogradec, there are several traditional dishes and specialties that you can enjoy, some of which are vegetarian. Here are some of the most popular ones:
Tavë Korani: A flavourful and hearty dish with trout, onions, herbs and spices. This dish is a specialty of Pogradec, as the city is located on the shores of Lake Ohrid, which is known for its fresh fish.
Perla and Moskat Raki: Raki is a traditional Albanian alcoholic drink made from distilled grapes. Perla and Moskat Raki are two raki varieties popular in Pogradec and the surrounding areas during the holiday season. Perla Raki has a fruity flavour, while Moskat Raki is sweet and aromatic.
Local Wine of Buti: Buti is a village located near Pogradec, known for its vineyards and wine production. The local wine of Buti is a delicious and full-bodied red wine made from the local grape varieties.
Tave Kosi: A delicious baked dish made with lamb, rice, and yogurt. However, a vegetarian version is also made with spinach, rice, and yogurt.
Fërgesë: A vegetarian dish made with peppers, tomatoes, and cheese. This hearty dish is usually served as a side dish during the Christmas season.
Bakllasë: A traditional Albanian dessert made with walnuts, sugar, and flour. This sweet treat is usually served during the holiday season and is often paired with a hot cup of tea or coffee.
Byrek: A savoury pie made with phyllo dough and filled with vegetables or meat. This dish has many variations and is a staple of Albanian cuisine.
Qofte is a popular dish made with ground meat, onions, herbs, and spices. There is also a vegetarian version made with lentils or beans.
Kabuni: A sweet rice pudding made with rice, sugar, and cinnamon. This traditional Albanian dessert is often served during the Christmas season.
Research where else you might like to go with my Albania Christmas markets guide. Discover beautiful destinations, things to do and the best ways to experience Albanian food, history, and culture.
Albania tourism has some information on things to do in Pogradec and how to get there. They also have some limited details on ways to experience Pogradec at Christmas.
Sustainable Travel Tips
When you visit Pogradec and Lake Ohrid during the Christmas season, remember that the choices you make can have a significant environmental and social impact on these beautiful places.
To be a responsible traveller and minimise your impact, try to implement these sustainable travel measures when visiting the Christmas markets.
Shop mindfully and only purchase items that you genuinely need. This approach can reduce the amount of waste you generate and the resources you consume during your trip.
Consider walking, cycling, or using public transportation to get around. This method can reduce your carbon footprint and help you explore the area at a more relaxed pace. In Albania, buses and furgons will take you wherever you need to go.
Stay in a sustainable hotel that is powered by renewable energy, such as solar or wind power. This type of accommodation can help reduce your carbon footprint and support the local community. There aren't sustainable options in Pogradec right now, but it's something to be aware of when travelling.
Avoid using plastic or buying items made or packaged with plastic. Instead, opt for reusable products to minimise your impact on the environment.
Try to eat locally sourced, organic food where possible. This approach can help support the region's local economy and food security.
Limit your meat and dairy consumption, as these products can have a significant environmental impact. Instead, try some of the delicious plant-based dishes available in Pogradec.
Take time to explore more than just the main tourist areas. This approach can help you discover hidden gems and support local businesses that may not be as well-known. Tushemist is a small village next to Pogradec, which has some interesting attractions. Ask a local where to go.
Finally, support the arts and attend local events. This activity can help you learn more about the local culture and support the local community. Visiting the Christmas markets is a great start.
If you want to leave a review of Pogradec Xmas Market, please comment below.
—
Recommendations are independently chosen based on personal travel experiences and extensive research. This post contains affiliate links to hotels and tours in Pogradec, Albania. This means I get a small commission from any bookings at no extra cost to you.